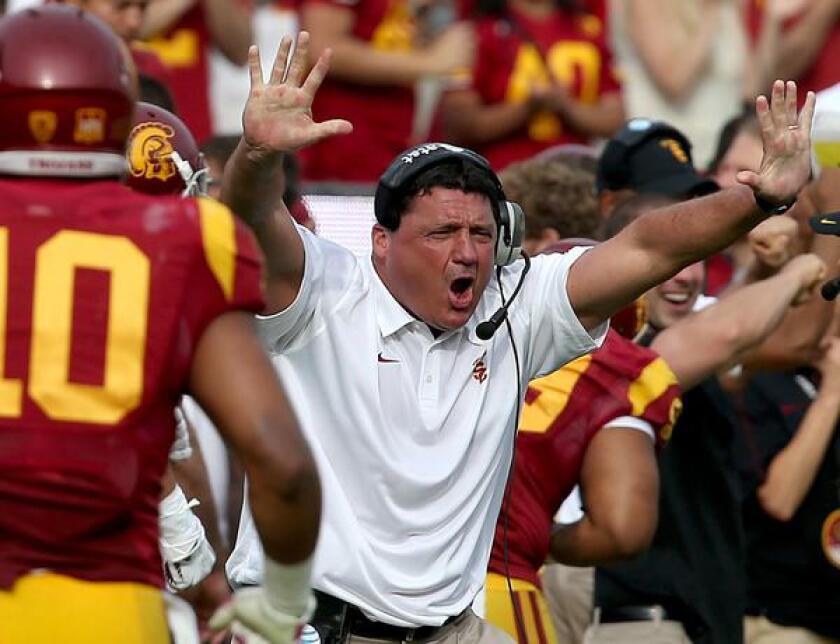 As recruiting coordinator and interim coach at USC, Ed Orgeron has identified his quarry.
There is the wide receiver, regarded as perhaps the best in the nation. Tight ends, linemen, linebackers and several defensive backs also have been targeted.
"They're the No. 1 recruits on our board," Orgeron said.
Orgeron is not discussing high school or junior college prospects.
He is talking about USC's draft-eligible juniors and third-year sophomores.
Like all major programs, USC annually faces the possibility of players' leaving for professional football before they have exhausted their eligibility.
But this year, with another potential coaching change looming, the stakes for USC are enormous.
USC has one more year of NCAA sanctions that limit the roster to 75 scholarship players and prohibit the Trojans from signing more than 15 new players each year. (USC has 19 slots available for the 2014 class, including four scholarships available for mid-year signees in December and January who count against the 2013 class because USC signed fewer than 15 players last February.)
USC's roster includes 32 juniors and third-year sophomores who are eligible for the draft.
Receiver Marqise Lee, tight ends Xavier Grimble and Randall Telfer, quarterbacks Cody Kessler and Max Wittek, tailbacks Tre Madden and Javorius Allen, offensive linemen Marcus Martin and Aundrey Walker, defensive linemen George Uko and J.R. Tavai, linebackers Hayes Pullard and Lamar Dawson and defensive backs Dion Bailey and Josh Shaw are among the players who could seek draft evaluations and, potentially, leave the program.
Losing any player — because of a transfer or the draft — would prove costly because he cannot be replaced with an additional signee. So an exodus of any size would not only adversely affect the 2014 team, it would also thin a roster that must be rebuilt during post-sanctions seasons.
"We'll go through the whole recruiting process again," Orgeron said. "We want them to stay."
Gil Brandt, a former Dallas Cowboys executive and longtime NFL draft guru, said the vast majority of players benefit from exhausting their eligibility before entering the draft.
However, Brandt acknowledged that Lee is regarded as a premium prospect despite injuries and production that has fallen from a school-record 118 catches last season to 38 entering Saturday's game at the Coliseum against No. 5 Stanford. The reigning Biletnikoff Award winner is expected to make himself available for the draft. Others would not be potential high-round picks in 2014, but that might not prevent a flurry of departures.
"I can see that happening," Brandt said, citing the aggressiveness of some agents.
Last year, receiver Robert Woods left after his junior season and was drafted in the second round by the Buffalo Bills. Cornerback Nickell Robey was not drafted, but he signed as a free agent with the Bills. Both are playing extensively.
"Nickell Robey is an exception," Brandt said. "If there were 10 Nickell Robeys, nine wouldn't make it."
Several current players said they will finish this season before seriously considering their options.
The lure of NFL dollars, the fear of injury and navigating another possible coaching change is expected to weigh heavily in their decisions.
Fourth-year juniors such as Bailey, Pullard, Grimble and Uko have gone through tumultuous careers. They committed to USC when Pete Carroll was the coach, then saw him leave for the Seattle Seahawks before they arrived. They played for Lane Kiffin, endured a two-year bowl ban, last season's collapse and Kiffin's firing in late September this year.
Now they are facing the possibility of transitioning to another head coach and a staff of new assistants.
"I'll look at all the pros and cons of leaving and staying and weigh which will benefit me the most," said Bailey, who has played for two defensive coordinators and five position coaches at USC. "The possibility of having a new coach definitely will play into it."
Athletic Director Pat Haden said after USC's Oct. 19 victory over Arizona that Orgeron had a shot to be the coach next season, but he did not elaborate on what Orgeron would have to do to secure the job.
The Trojans are 4-1 under Orgeron, who has galvanized players since Kiffin was fired.
"We absolutely love Coach O," Shaw said. "There were some guys leaning toward leaving. If Coach O was remaining as head coach, those guys would change their minds."
Said Bailey: "Coach O would be great. The guys love him, the connections are already there with the younger guys. It would be great if he had a chance."
Orgeron said he would sit down with players and their families after the season to discuss their draft situations.
But he could not predict the decisions.
"We don't know what they're going to do," he said. "I know this: They like what's going on right now."
Twitter: @latimesklein
---