Ten years later, 'that game' against UCLA still stings John David Booty and USC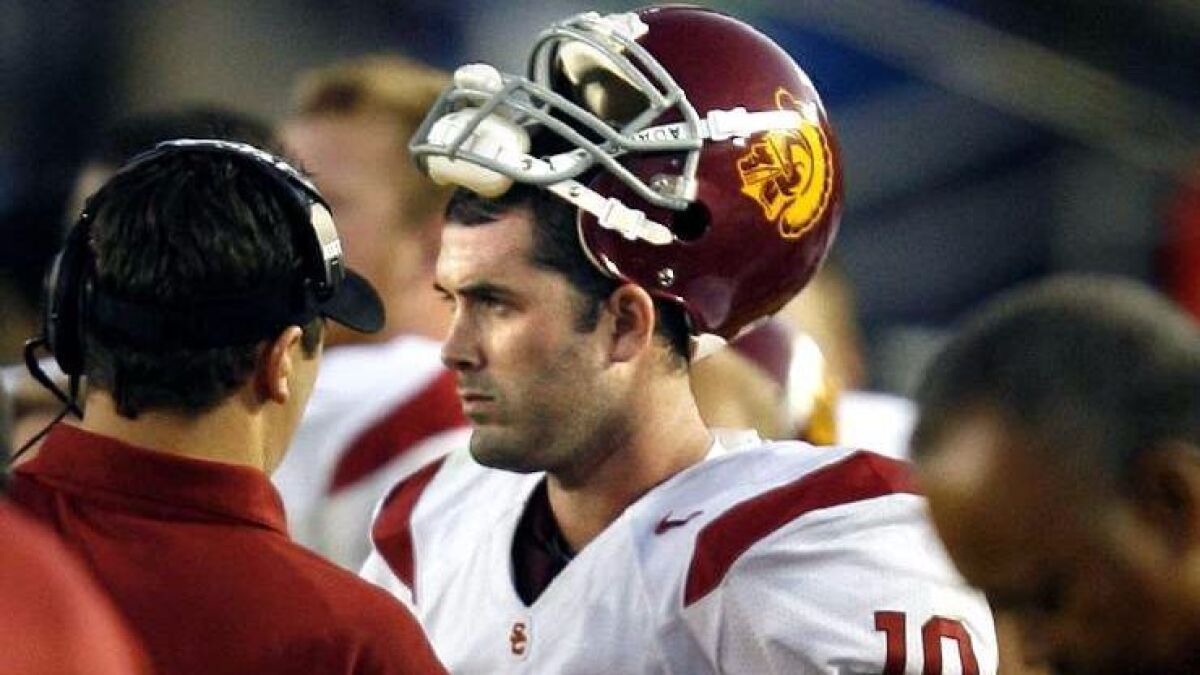 Time has taken the edge off the pain. Former USC quarterback John David Booty answers an inquiry with a laugh.
"Why do y'all always want to talk about that game?" Booty says over the phone.
Ten years have passed since that game, known in the USC-UCLA rivalry simply as "13-9," a crushing memory for the Trojans.
USC's calculus was simple: win its final game, and the Trojans would be 10-1 and set for a date against Ohio State in the Bowl Championship Series title game, their third championship game appearance in three seasons.
Lose and … well, that wasn't much of a possibility. UCLA, USC's final regular-season opponent, was 6-5. USC had defeated the Bruins seven years in a row.
That game, one of the most stunning in the history of the rivalry, serves as a cautionary tale of overconfidence as the current Trojans prepare to play another struggling UCLA team on Saturday.
"I always think about it this time of year," Booty says.
In hindsight, there were omens with eerie echoes to this season. USC, a juggernaut in those days, usually played its games later in the afternoon for prime-television exposure. UCLA usually played early.
That game was a rare early start.
"I remember we had to get up super, super early in the morning," Booty says. "We weren't used to doing that. You just kind of had that feeling that morning; something wasn't quite right."
Booty had dominated much of that season. He finished the year with 3,347 passing yards and 29 touchdowns, with nine interceptions. UCLA wanted to make him as uncomfortable as possible.
"As far as I was concerned, it was me against Booty," UCLA's defensive coordinator, DeWayne Walker, explained after the game. "If I could get into his head, we could win."
USC, sleepy and a bit arrogant, played flat and left Booty exposed. The Bruins pounded him.
"He couldn't plant his feet, pressure was coming from the left and right, it was just crazy," receiver Dwayne Jarrett said afterward. "Every time I looked around, he was on the ground."
USC held a 9-7 lead at halftime, and then-coach Pete Carroll said he expected his team to overpower UCLA in the second half, "just like we always do."
But UCLA's defense kept coming. The secondary kept shifting. USC didn't score in the third quarter, and UCLA took the lead. Then the Trojans stalled deep into the fourth.
USC had one final chance. With about one minute left, the Trojans drove inside the UCLA 20-yard line. On a third down, Booty dropped back. The weakside linebacker, a local kid named Eric McNeal, blitzed. Booty let go what would become a defining pass for both players.
McNeal tipped it, lunged and caught it. UCLA had won, 13-9.
USC was stunned. Carroll later appeared outside USC's showers fully clothed but with no socks or shoes. "I don't have a lot of practice at this," he muttered.
The game has become part of the rivalry's lore. The wound festers, even though the Trojans won the Rose Bowl game that season.
The quarterback who threw that pass ended up doing just fine. He was MVP of the 2008 Rose Bowl, then played in the NFL. When his playing career was over, he helped start an oil and gas company with a friend in Louisiana. When the recession eased, he moved back to Southern California to work as a real-estate developer.
But every year about this time, Booty's phone rings.
"It's funny. It's really only about the games we lost," Booty says. "But I always enjoy talking about football. Even though those were tough times, it also made us who we are, you know?"
On the 10-year anniversary of 13-9, USC is in a familiar position. It will send a confident, overpowering quarterback against a defensive front that remains fearsome, despite a poor record. And USC has typically played in the afternoon slot, with UCLA kicking off later at night.
So Saturday's 7:30 p.m. kickoff is again an unusual start time for the Trojans.
Booty hopes the lesson has not been forgotten.
"We were definitely the better team, but they came to play harder than we did," he says. "That's the biggest thing. UCLA, these rivalry games, anything can happen. So SC's gonna have to bring it."
Follow Zach Helfand on Twitter @zhelfand
Get the latest on L.A.'s teams in the daily Sports Report newsletter.
You may occasionally receive promotional content from the Los Angeles Times.