After two routs leave 1-1 USC's potential murky, Stanford should provide an answer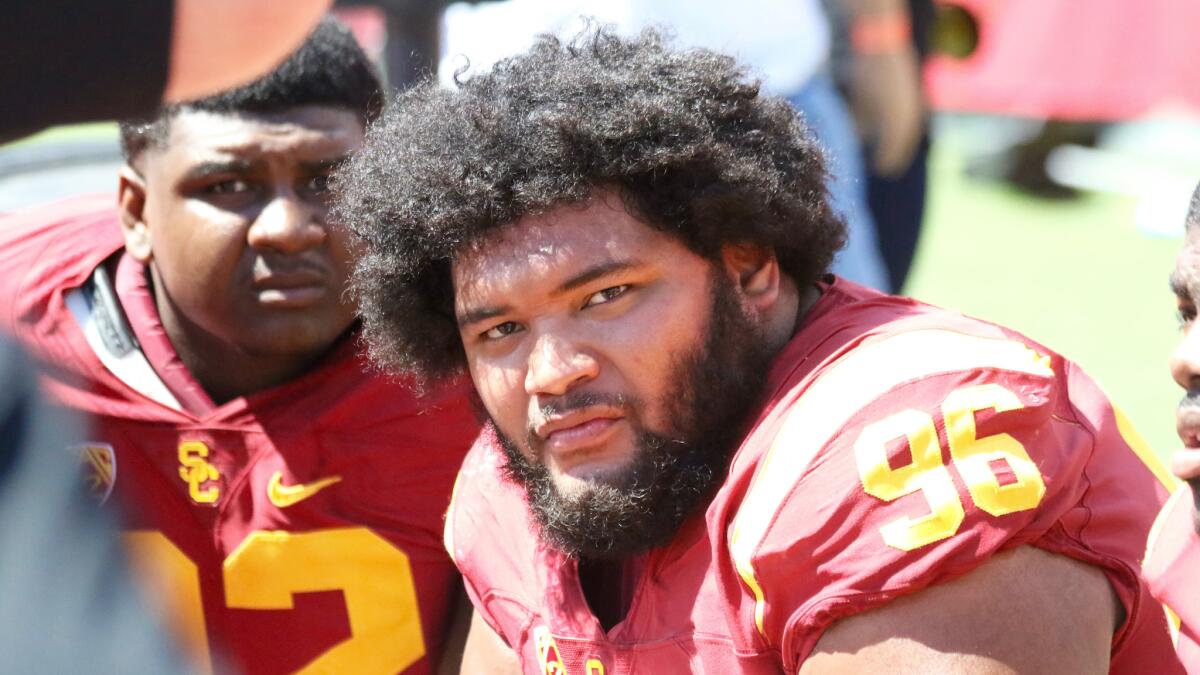 Were he a professor, Stevie Tu'ikolovatu might be one that students try to avoid. As a grader, he is blunt, sometimes harsh.
After his first game at USC drew rave reviews from outsiders, the graduate transfer defensive tackle said he would give himself a D. A 45-7 rout of Utah State on Saturday, when a defensive line depleted by injuries shut down the Aggies' run game, had earned him merely a B.
His evaluation of the team was similarly demanding. The Trojans barely received a passing grade.
"I feel we're probably 70% there," Tu'ikolovatu said outside USC's locker room Saturday. "We can do a lot better. We've got to do a lot better with Stanford coming up."
USC players, like the fans, are trying to tease out how, exactly, to evaluate USC.
Are the Trojans as helpless as they looked against Alabama? Alabama can, after all, warp perceptions. Ask Michigan State, a playoff team last season that looked just as overwhelmed when it lost, 38-0, in the national semifinals.
Or is USC as overpowering as it looked against Utah State?
"You have two polar opposites," quarterback Max Browne said.
An answer will likely arrive Saturday, when USC plays Stanford, the reigning Pac-12 Conference champion. Publicly, no one went so far Saturday as to say USC had played well enough to defeat the Cardinal.
But, some said, if a 46-point loss is bad no matter the opponent, a 38-point win is impressive, too. And, right tackle Zach Banner argued, Utah State was no pushover.
"If you guys undermine Utah State, you're stupid, you don't know football," Banner said. "They're a good football team."
Players said they can take positive signs into the week leading up to the Stanford game. Utah State averaged just 1.9 yards per carry — encouraging, considering Stanford prefers to grind teams down with its All-American running back, Christian McCaffrey. USC ran 81 plays, to the Aggies' 65. Browne looked to be in control, throwing for 182 yards and two touchdowns, with an interception.
"Was it a perfect game? No," Coach Clay Helton said in a teleconference with reporters on Sunday. "Am I happy with 45-7? Yes."
But he acknowledged, "There's a lot of cleaning up to do before we play Stanford. I understand that as a coach."
Edoga demoted
Left tackle Chuma Edoga will not be disciplined by the Pac-12 following his ejection for making contact with a referee Saturday, Helton said. But Edoga will be demoted from his starting role.
The demotion was probably imminent anyway. Edoga had assumed the role after a foot injury hobbled Chad Wheeler. Wheeler reported that his foot "felt good" after he played nearly the entire game following Edoga's ejection.
Edoga was penalized less than two minutes into the game when he briefly tussled and swiped at an official. Helton indicated that the timing played a part in the Pac-12's decision.
"His ejection in the first series of the game constituted a full game for the player," Helton said.
Edoga's ejection was the second in two games for a USC player. Two weekends ago, linebacker Jabari Ruffin was ejected after stomping on an opponent's groin. He was suspended for the first half of the game against Utah State.
Helton said he was disappointed in both incidents but rejected criticism that the team lacks restraint.
"I feel like we provide the discipline that is needed for our football team," Helton said.
He said he's trying to educate them on trying to control their emotions during games.
After Saturday's game, Banner said he hoped the penalties didn't reflect poorly on Helton, saying he was not to blame.
But, Helton said, "When decisions are made like that, it's a reflection of the head coach. I understand that."
Quick hits
Running back Ronald Jones II, who was knocked out of Saturday's second half because of a rib contusion, will probably be available to play against Stanford, Helton said. … Defensive tackle Noah Jefferson, who missed Saturday's game because of a shoulder sprain, is "getting a little better," Helton said, and will be reevaluated Monday. … Marvell Tell III felt dizzy after making a hit Saturday and underwent concussion tests, but he tested above his baseline. He will be retested Monday. … Jamel Cook, who returned to practice last week after suffering a broken foot, could return to game action Saturday. … The Trojans resume practice Tuesday.
Twitter: @zhelfand
Get the latest on L.A.'s teams in the daily Sports Report newsletter.
You may occasionally receive promotional content from the Los Angeles Times.