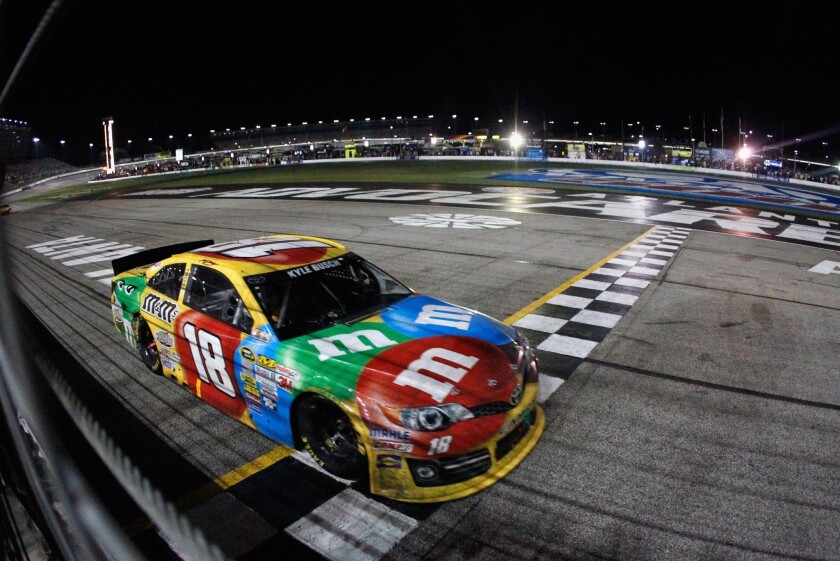 HAMPTON, Ga. — In a feisty and long night Sunday at Atlanta Motor Speedway, Kyle Busch won the AdvoCare 500.
The next-to-last race before the Chase field is set greatly ratcheted up the pressure — and the stakes — for drivers on the bubble. It set up a wild night in Richmond, Va., come Saturday, with five spots open for the postseason Chase for the Championship. Busch, Jimmie Johnson, Clint Bowyer, Matt Kenseth, Kevin Harvick and Carl Edwards are locked in, and Kasey Kahne will take one of the two guaranteed two wild-card slots by virtue of his two victories.
That leaves a handful of drivers scrambling for the last five spots.
They include Busch's brother Kurt, who entered Sunday night 12th in points but moved up to 10th by virtue of his fourth-place finish. Joey Logano was second, followed by Martin Truex. Jeff Gordon finished sixth and is now six points out of a top 10 spot.
"We'll take the momentum of these last two decent finishes to Richmond and see what we can do," Gordon said. "I'm having fun these last two weeks. That's all you can ask for."
Busch and Gordon were two of the fortunate ones on Sunday. Brad Keselowski, not so much.
The 2012 Sprint Cup champion, Keselowski was leading and 10th in the points standings when his engine started to give out on Lap 244 of the 325-lap run.
That effectively killed his chance of defending his title unless he wins at Richmond and a lot of crazy things happen to the top contenders.
"Some things you can't control," Keselowski said. "We didn't put all the pieces together."
It was a frustrating night for Keselowski, who had to be calmed down by crew chief Paul Wolfe on Lap 190: "You've got to give me feedback about what's going to get us the most speed and stop ... about it."
There were expletives all around.
Bowyer went out with engine trouble on Lap 192.
Talk about a double-whammy: Bowyer was not only leading the race but leading the points standings when his engine gave out.
"Everybody has engine issues," Bowyer said. "We're pulling hard to win the Chase. [The race] was ours to lose and unfortunately we found a way to lose. I'm going to have a beer."
Fourteen laps later, it was Denny Hamlin's turn to take the hit after Paul Menard tapped him, an apparent retaliation for a previous incident.
"Right front is gone," Hamlin said over his radio. "This year — it pretty much sums it up."
Keselowski, Gordon and Kurt Busch — all former Cup champions — were fighting to stay alive in the Chase and make another title run.
Gordon has done it four times. Keselowski and Busch both have done it once.
"We won't have any type of cushion whatsoever," Busch said before the race.
"The Chase for us started a few weeks back. We've had to be perfect and run sixth and run third and run these top fives up against the stats every week. When we had a week like we had last week with the right rear hub falling off while we are leading the race, those are things that are tough to overcome."
Busch could have been the official spokesman for all three guys.
No cushion.
Ultimately, the most controversial twist in the story may involve Keselowski. He has taken a 31-point hit in penalties — 25 points for having an illegal rear suspension in the Texas race in April and six points for failing a post-race inspection (too low) at Dover, Del.
"When you're racing for a championship, you're racing to prove you're the best," Keselowski said. "When you're racing to make it in the Chase, you're racing for survival, you're racing to prove that you just belong."
For Keselowski, Gordon and Busch, it's a matter of survival now.
And then, and only then, will they have a chance to prove they are the best.
---