Discontent intensifies with stumbling USC football team heading into crucial stretch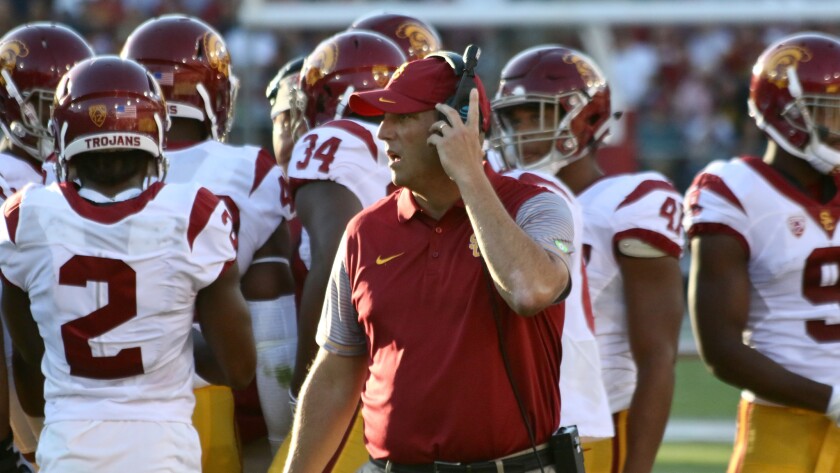 Less than a year ago, Keyshawn Johnson stood before USC's football players, an emissary of sorts from the Trojans' glorious past.
USC had just fired its coach, Steve Sarkisian, and chosen Clay Helton as the interim leader. Among fans and pundits, names of possible permanent replacements swirled. But players on the team, and many former players, thought they already had their man: Helton.
"All you're gonna hear, 'Well, he's not the guy. Get him out of here. Why don't we go get Chip Kelly?' " Johnson, a former USC receiver, said as he stood in a semicircle of players. "Enough of that. It's your opportunity to make him the head coach."
Pat Haden, then USC's athletic director, obliged. He removed Helton's interim tag late last season.
Since then, though, Helton's support from outside the program has waned. He lost the two games last season after becoming the full-time coach.
He has begun this season with more stumbles. USC has three losses to top-25 teams and a win over Utah State.
As Helton and USC prepare to face Arizona State on Saturday, discontent with the program has intensified. After last Friday's loss to Utah, even Johnson, once a Helton advocate, needed to vent.
"I'm so stressed this is starting to feel like HACKETT years," Johnson posted on Twitter, referring to former coach Paul Hackett, who had a record of 19-18 in three seasons at USC.
Attached, Johnson posted a Photoshopped image with the face of a crying Michael Jordan — a popular Internet meme — attached crudely to the heads of USC's mascot, the horse Traveler, and its rider.
It captured a prevailing sentiment, one of stress and frayed patience among USC partisans. Pundits have begun speaking of USC's season as if it were already lost — after just two conference games, USC already needs significant help to win the Pac-12 South Division.
Helton said he understood the criticism but remained undeterred.
"We're in a production-based business," he said. "If you don't win, especially at this level, there's gonna be griping. And it's well deserved."
Johnson, elaborating during an interview, said he had not abandoned Helton.
"I was one of the guys who said I think he'll be OK," Johnson said. "I still think he'll be OK."
Johnson said he and his contemporaries worry about a USC program that values recruiting rankings over pursuing hard workers. He also complained the offense lacks continuity, and that it is missing the rhythm it had when Helton was calling plays as offensive coordinator. Tee Martin is now in Helton's old post, and has been responsible for the calls this season.
The defense, Johnson said, is not generating enough pressure. Helton and coordinator Clancy Pendergast have acknowledged that has been an issue, and they said they plan to make pressuring the quarterback a point of emphasis against Arizona State.
"Coach Helton doesn't remind me of Paul Hackett," Johnson explained. "It's just the team reminds me of Paul Hackett."
Some USC players have rallied to Helton's defense. Outside USC's locker room after Friday's loss to Utah, safety Chris Hawkins said the team was letting Helton down.
"It's up to us to go perform to keep him. We have to do that," Hawkins said after practice this week. "We asked for him. Now we have to go — we haven't done that over the course of these four games."
He added: "We're not playing good enough right now. Everybody always wants to blame stuff on what the coaches are calling. No matter what play they call, the question is, why aren't we executing?"
The displeasure in some corners is a natural side effect to a dismal start. USC has begun seasons, and coaching tenures, fitfully in the past, but those seasons are rare. John McKay started 0-3 in 1960. Pete Carroll began 1-4 in 2001.
Those coaches recovered to become two of USC's most revered. This time, USC's start and an unforgiving schedule over the final month of the season have begun a game of depressing math for the Trojans.
USC needs to go 6-2 to finish with an above .500 regular-season record. To do it, the Trojans might need to sweep their next four games, against Arizona State, Colorado, Arizona and California.
"You know the expectations going in, and I welcome them," Helton said. "If you don't want to be the best or play the best, you shouldn't be here."
zach.helfand@latimes.com
Twitter: @zhelfand
---
Get the latest on L.A.'s teams in the daily Sports Report newsletter.
You may occasionally receive promotional content from the Los Angeles Times.