This year's USC basketball team isn't ranked like last year, but it's feeling much better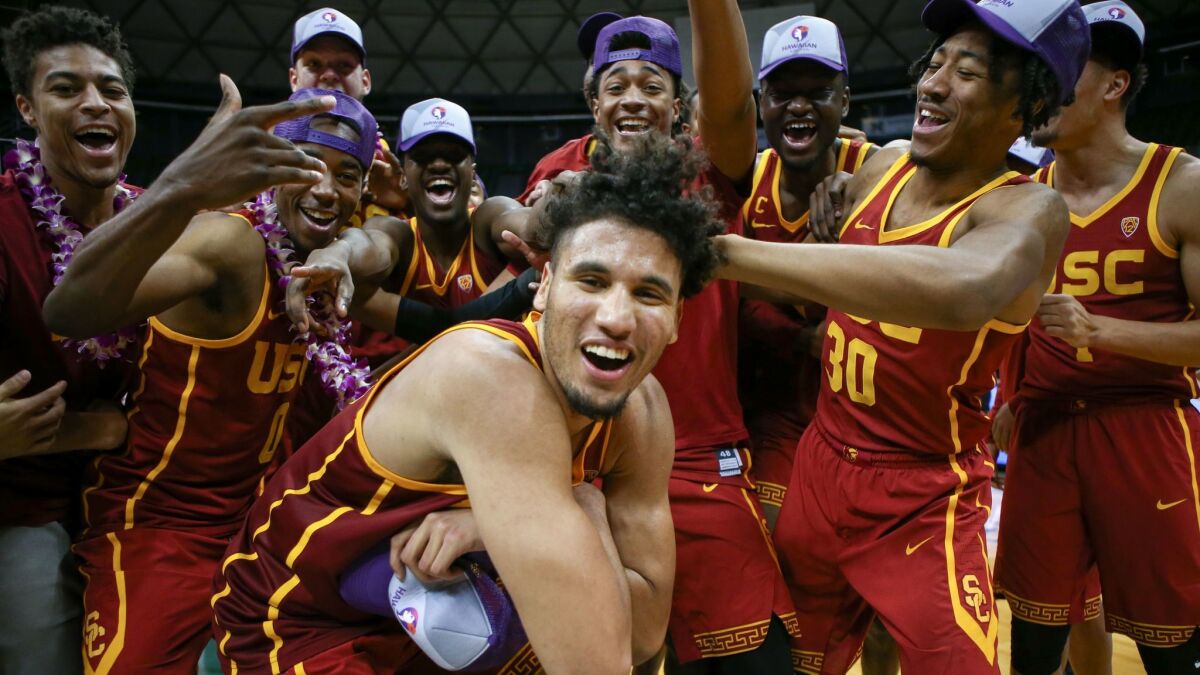 A year ago, after his team's first practice of the season, Andy Enfield wanted so badly to talk about basketball. But, no matter how many times he deflected the topic back to his hyped-up group of USC Trojans, the reporters assembled in the stuffy, windowless room at the Galen Center wouldn't let him.
When asked if the FBI's arrest earlier that week of then-USC assistant coach Tony Bland on a slew of federal charges tarnished the program's reputation, Enfield responded, "When you look at the players we have on the roster, we're excited for the season."
Enfield repeatedly said he could not comment on anything related to the arrest. All he could offer was that it was "very challenging and emotional for all of us." And while USC did recover admirably from the loss of an assistant and the suspension of future NBA draft pick De'Anthony Melton to win 24 games and finish second in the Pac-12 regular-season standings and conference tournament, the whole saga soured what could have been a true breakthrough season for Enfield's program.
"It took a toll," junior guard Jonah Mathews said, "not just on us, on the coaches as well."
Last Thursday, as Mathews and the Trojans practiced for the first time in preparation for the 2018-19 season, the atmosphere couldn't have been more different. The sun fought through the practice facility's tall, shaded windows and the palm trees outside. Sneakers squeaked as Enfield barked out commands establishing basic man-to-man defensive principles. A less-proven group of returning players that won't have preseason top-10 expectations showed their hunger — exemplified best by a put-back slam by Charles O'Bannon Jr.
Another difference from a year ago? Only one reporter attended this team's debut to the public. Enfield could more comfortably discuss topics such as how senior star forward Bennie Boatwright and promising freshman point guard Elijah Weaver are recovering from offseason surgeries, or how he expects Mathews to take the next step, or how the Trojans have somehow brought in commitments from more high-profile recruits after the FBI scandal than before it.
Enfield even appeared relaxed enough to approach a discussion of the year anniversary of the beginning of his program's trying season.
"The long investigation by the Louis Freeh group and the results of that were favorable to our program," Enfield said. "So we haven't thought about those issues for many, many months. In the offseason, we've been focused on recruiting as a staff and developing the players on our team. Obviously the year anniversary was this week, and there was a lot of media publication about the situation, but our players have done a really good job of staying focused on the task at hand."
The first trial tied to the FBI's investigation into college basketball corruption began Tuesday in U.S. District Court in New York, and there's no telling where this and the ensuing trials will go, especially for schools like USC that were involved in the indictments. Yahoo Sports' Dan Wetzel said in a tweet Tuesday that jurors were informed of a list of schools that may come up during the trial. USC was on the list.
If Enfield is sweating courtroom news updates, he didn't show it. He mentioned several times his program winning 71 games the last three seasons, and, even with the losses of program cornerstones Chimezie Metu, Jordan McLaughlin, Elijah Stewart and Melton, Enfield projected confidence for this season.
"This team has a chance to be just as good or better than last year's team and the previous year's team," Enfield said.
USC, which was shocked on Selection Sunday to find out it was not in the NCAA tournament, has had a long offseason to reflect on what went wrong — past the off-the-court issues that were out of the players' control.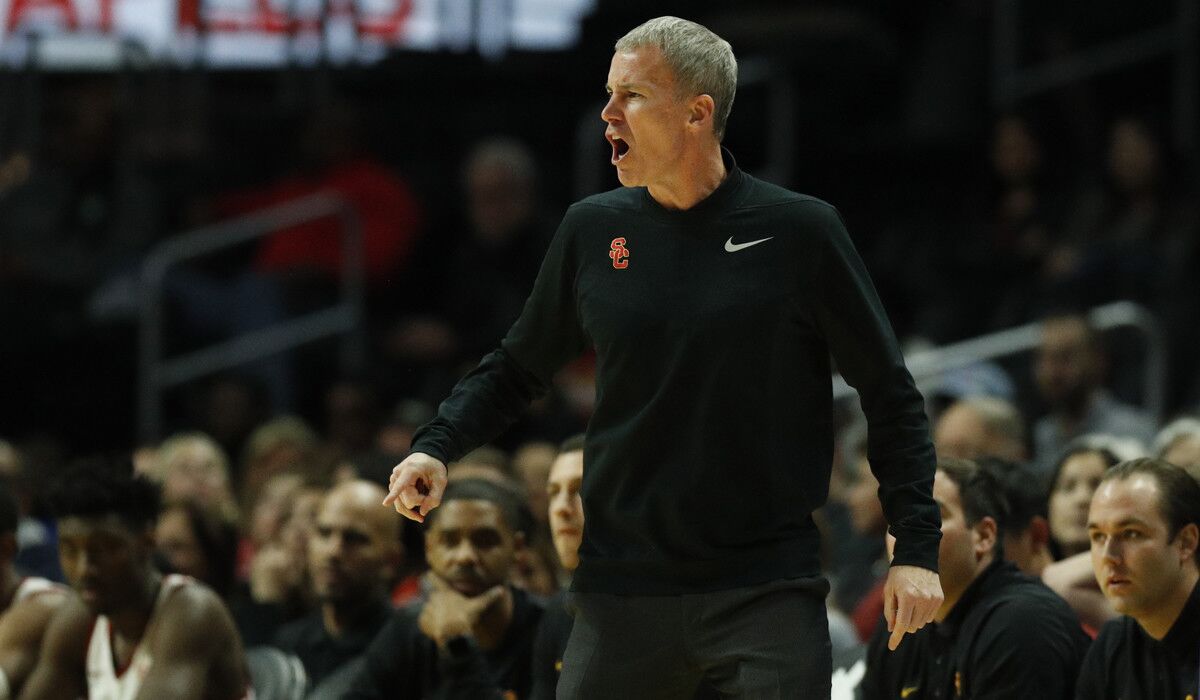 "I just feel like, once we heard we were No. 10, we kind of relaxed, like, we're that team," Mathews said. "This year, we're not going to be ranked, it's not going to be, 'Oh, watch out for USC.' We've gotta get to that point."
Despite returning Boatwright and adding three top recruits including much-ballyhooed wing Kevin Porter Jr., the Trojans' biggest challenge may be getting fans to stop looking ahead to 2019 and pay attention to them now.
USC has the No. 1-rated 2019 recruiting class, featuring Chino Hills center Onyeka Okongwu, Rancho Christian forward Isaiah Mobley, Santa Margarita Catholic forward Max Agbonkpolo, Moorpark guard Drake London and Norcross (Ga.) point guard Kyle Sturdivant.
The Trojans' momentum picked up in the spring as soon as they hired Eric Mobley to replace Bland as assistant coach. Mobley, a longtime AAU coach in Los Angeles, is father to Isaiah Mobley and center Evan Mobley, one of the top-rated players in the 2020 class.
Enfield, because of NCAA rules, can't discuss specifics of players who have committed to USC. He was more than happy, though, to discuss his general assessment.
"We wouldn't have been able to do that four years ago when we were last in the Pac-12," he said. "Now that we've had three straight good seasons, recruits see us as a potential destination."
Injury update
Enfield said that Boatwright, who had offseason knee surgery, is about two weeks from being cleared for non-contact work.
"We expect to have him back by the end of October, then by the first game Nov. 6 he should be ready to go," Enfield said.
Enfield said Weaver, who had ankle surgery in late August, will have a timetable of Dec. 1, depending on how his recovery goes.
"He can put pressure and weight on his foot and his ankle, which is a good sign," Enfield said.
Twitter: @BradyMcCollough
---
Get the latest on L.A.'s teams in the daily Sports Report newsletter.
You may occasionally receive promotional content from the Los Angeles Times.