USC's Andy Enfield keeps pushing for victories against UCLA off the court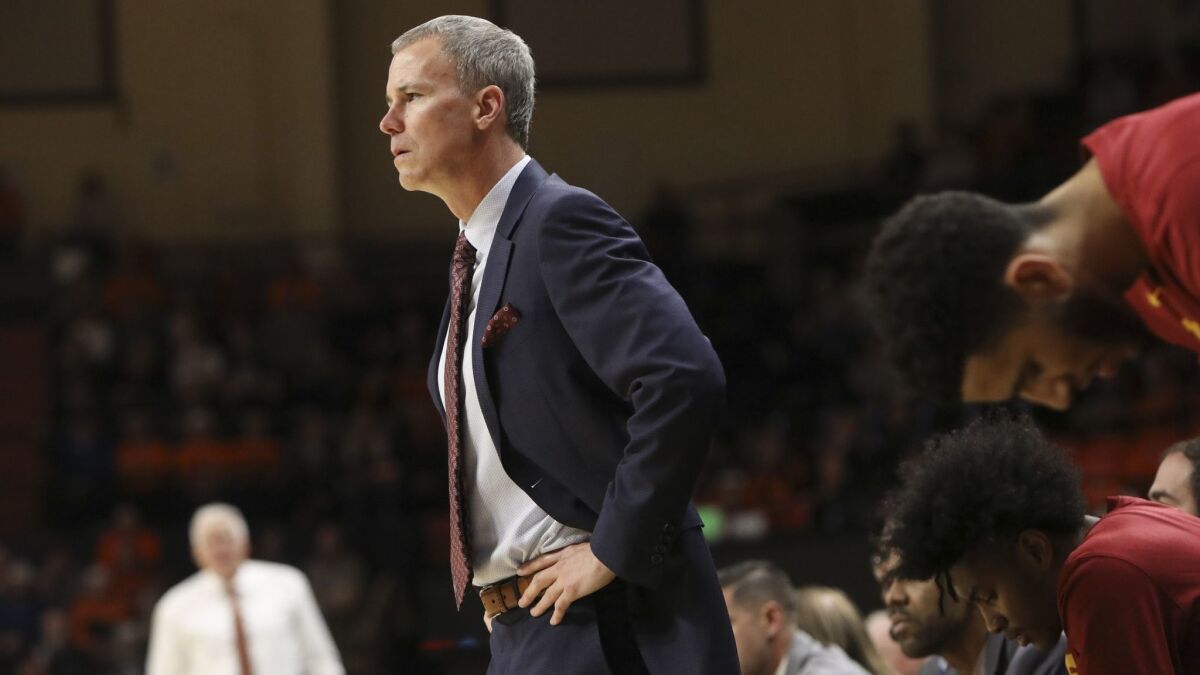 As an L.A. basketball lifer, USC associate head coach Jason Hart understands the prep basketball scene from all angles.
He played high school ball at Inglewood and Westchester before going on to Syracuse. When his decadelong career as an NBA point guard ended, he returned to coach AAU here and then landed the head coaching job at Taft High in Woodland Hills. After a year as an assistant at Pepperdine, Hart fielded a call from Andy Enfield upon Enfield taking the Trojans head coaching job in the spring of 2013.
To pull USC basketball out of the mess it was in, Enfield, fresh out of Florida Gulf Coast's Cinderella run to the Sweet 16, knew he had to surround himself with coaches who had L.A. running through their veins. If he could do that, then theoretically those people would know how to go about trying to compete with a certain iconic crosstown rival to the west.
That meant beating the UCLA Bruins where it really counts — in recruiting.
"Here's the deal," Hart said Friday night, on the eve of Saturday's latest battle against the Bruins, a 1 p.m. tip at the Galen Center. "I'm born and raised in South Central Los Angeles. As a kid, your dream school was UCLA. Everyone in our neighborhood wanted to go to UCLA. I had to choose another school. When UCLA doesn't recruit you early, then kids, they have a chip on their shoulder."
Sign up for our daily sports newsletter »
Hart had a formula in mind. It wasn't going to be enough to just find kids that UCLA wouldn't want. They had to look for players who the Bruins would end up pursuing with a scholarship offer, but the Trojans had to get to them first.
"The main thing for us is identifying early," Hart said. "We don't have a chance if we just notice that a kid is good at the end of his 11th-grade year. We have to identify early and build the relationship earlier so we can give ourselves a chance. That's what we've done since Andy's been here. UCLA has a tremendous fan base and a lot of NBA players, so your strategy has to be a little bit different."
It started with point guard Jordan McLaughlin, USC's first signee who carried a UCLA offer. It followed to big men Bennie Boatwright, who was considered a strong Bruin lean, and Chimezie Metu, who blossomed late and received UCLA interest long after USC had embedded itself. The momentum has continued to this 2019 recruiting class, a consensus top-three group of five players that includes four blue-chip talents from across L.A. who luckily for USC did not have a preference for blue blood.
"They're going for the elite talent, which they should," Hart said of the Bruins. "We have to find guys we can develop on and off the court who have an underdog mentality. UCLA typically gets the best of the best. We want to get the best players with a chip on their shoulder that want to beat UCLA."
With McLaughlin, a top-50 player nationally from Etiwanda High who had visited the UCLA campus often, the message from Enfield and his assistants was simple.
"They gave me the pitch I could be a hometown hero," said McLaughlin, who has had a successful rookie season with the NBA G League's Long Island Nets. "When I first committed, people were like, 'Oh why you going there? They're not that good for basketball.' "
Four years later, McLaughlin felt a change in the way USC was viewed when he returned home to the Inland Empire.
"He wanted to be a trendsetter and have kids follow him," Hart said. "If he had went to UCLA he would have had steeper competition. He wanted to come somewhere and leave his mark. Any USC alum, everyone knows who Jordan McLaughlin is. To us, he's our Henry Bibby, he's our Bill Walton. He's our guy. That's why he chose USC."
Hart had known Boatwright, the senior leader of the current Trojans team, since he was an eighth grader. Hart was recruiting Boatwright, who grew up in Chatsworth, to choose to attend Taft. That took identifying early to a new level. Once at USC, that connection proved invaluable. Despite most predictions having Boatwright ending up a Bruin, Hart never doubted.
"USC basketball's always going to be perceived as an underdog with elite talent," Hart said. "When he committed in 2014, our program was just starting to get moving in the right direction. UCLA already had Zach Lavine, Shabazz Muhammad. It's just easier for those scouting services to say UCLA, but he didn't know those coaches. He was very familiar with me."
Boatwright wanted the chance to start as a freshman and play through mistakes. That would not have happened at UCLA.
"I just had a better connection with Coach J-Hart," Boatwright said. "They have a great culture over there. They won a lot of games, John Wooden, and I respect them. We weren't the best team at the time, so Chimezie and I took the chance coming here."
With UCLA in the midst of a major program shift after firing head coach Steve Alford and USC bringing in its touted 2019 recruiting class, there's an opening for the Trojans to assert themselves more consistently in the rivalry.
Hart said the Trojans put together this class playing the same old game. USC has been recruiting five-star Chino Hills big man Onyeka Okongwu hard since the ninth grade. There was one twist, though, with five-star Rancho Christian forward Isaiah Mobley. Enfield hired Mobley's father, Eric, formerly an AAU basketball coach, as a USC assistant.
"We hired Eric Mobley and obviously his son wanted to come play for his dad," Hart said.
But usually, Enfield and his assistants are staying with what has worked in the past.
"We've had hope that kids want to do something different," Hart said, "and that's our motto. We had to find kids who wanted to blaze their own trail and leave their own mark in their college basketball careers."
USC vs. UCLA
When: 1 p.m. Saturday.
Where: Galen Center.
On the air: TV: Ch. 2; Radio: 570, 710.
Update: USC (9-8, 2-2 Pac-12) could be playing with just eight scholarship players Saturday. Enfield said there is no timetable for a possible return for suspended wing Kevin Porter Jr. and that the player knows the expectations he has to meet to be reactivated for games. Enfield also said sophomore wing Charles O'Bannon Jr. now plans to sit out the rest of the season with his finger injury in the hope of a medical redshirt. UCLA (10-7, 3-1) has prepared as if Porter will play. "Definitely preparing as if he will play," UCLA interim coach Murry Bartow said. "We're going to talk about him." The Bruins were pleased by their Oregon trip, which saw them complete a miraculous comeback win over the Ducks and lead midway through the second half against the Beavers. Now, it's on to USC and a chance to build more momentum. "This is my first experience playing USC," freshman center Moses Brown said. "I know it's a big rivalry and we've got to get that 'W' just for the whole school."
Twitter: @BradyMcCollough
---
Get the latest on L.A.'s teams in the daily Sports Report newsletter.
You may occasionally receive promotional content from the Los Angeles Times.