Former Trojans player Brian Baucham sues USC, ex-coach Lane Kiffin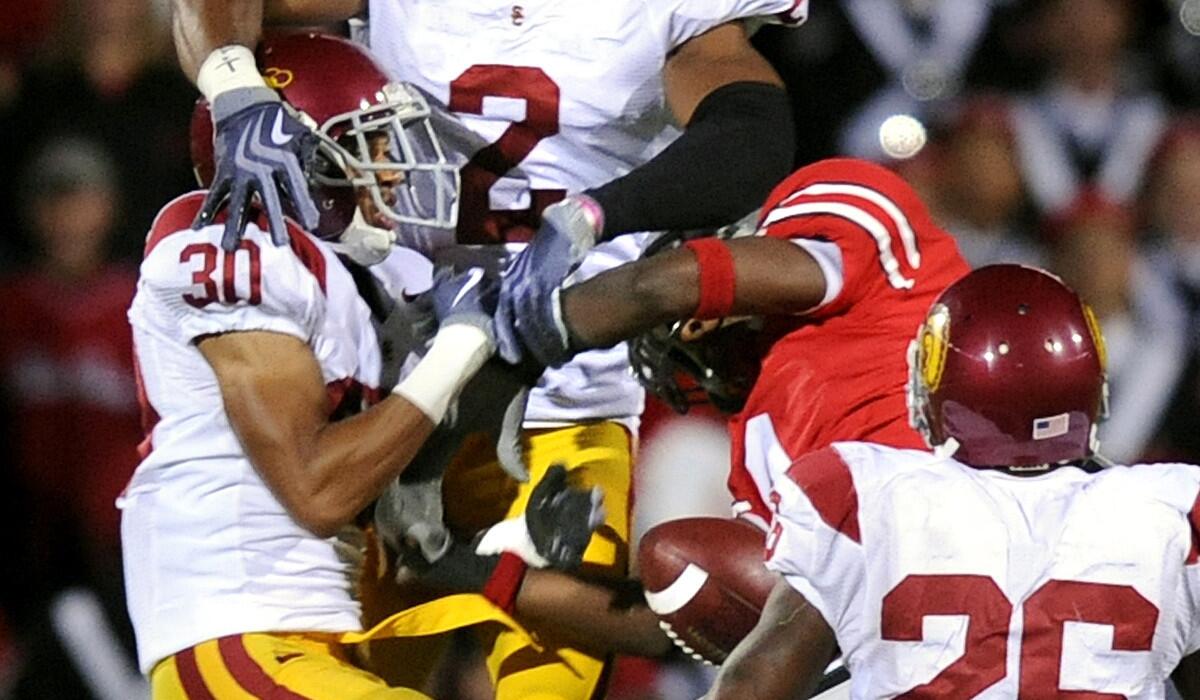 Former USC football player Brian Baucham on Monday filed a lawsuit against USC and former coach Lane Kiffin, claiming that they were negligent by forcing him to play in a game when he was ill and that they did not follow the school's injury-plan guidelines, leaving Baucham with cardiopulmonary damage and brain injury.
The lawsuit, filed in Los Angeles Superior Court, seeks unspecified damages.
"It wouldn't be appropriate for us to comment on this lawsuit, and due to privacy laws we cannot comment on the specifics of this case," USC Athletic Director Pat Haden said in a statement. " I will say that I am confident that we provide excellent medical treatment to our student athletes and that their health is always our primary concern ahead of any athletic competition."
Kiffin, now offensive coordinator at Alabama, declined comment.
Baucham, a cornerback who graduated from West Torrance High, was on the Trojans' roster from 2008 to 2012.
The suit claims that Baucham sustained a concussion approximately two months before Sept. 20, 2012 and that he had been cleared to play.
On the evening of Sept. 20, two days before a game against California, Baucham suffered from "high fever, chills and abdominal distress," the suit claims. The next morning, he went to USC's health clinic with a fever of 103 degrees and was diagnosed with "influenza-like illness, viral pharyngitis and dehydration." He was given medications and four liters of intravenous fluids and was told by the medical staff that he was in no condition to play.
The suit claims Baucham was instructed by coaches to watch practice and that Kiffin arranged for him to have a single room at the team hotel the night before the game.
The suit claims Baucham played in the first half and was sent to the locker room before halftime where he was given additional intravenous fluids. During the fourth quarter, the suit says, Baucham collapsed and was carted to the locker room where he received more intravenous fluids.
Baucham began coughing up blood and fluids and experienced headache and blurred vision. He was taken by ambulance to USC Keck Medical Center.
"The excessive fluid pumped into the plaintiff caused an overload of fluid in his lungs requiring a ventilator to breathe for him for a number of days," the suit says. "Brain imaging by CT scan revealed that plaintiff had sustained a brain injury and had bleeding into the brain."
The suit also claims that after Baucham's discharge from the hospital, USC attempted to revoke his scholarship and have him attend a community college.
Baucham recently completed his degree at USC, his father said.
"It just seemed like they were trying to push him to the side and wanting for him to go away," the elder Brian Baucham said.
Former Trojans defensive lineman Armond Armstead, who was on the roster from 2008-2011, filed a lawsuit against USC and other defendants in August 2012, claiming he received improperly administered painkilling injections that caused him to suffer a heart attack and hurt his chances for an NFL career.
Twitter: @latimesklein
Get the latest on L.A.'s teams in the daily Sports Report newsletter.
You may occasionally receive promotional content from the Los Angeles Times.