In USC vs. California, eyes will be on quarterbacks Cody Kessler vs. Jared Goff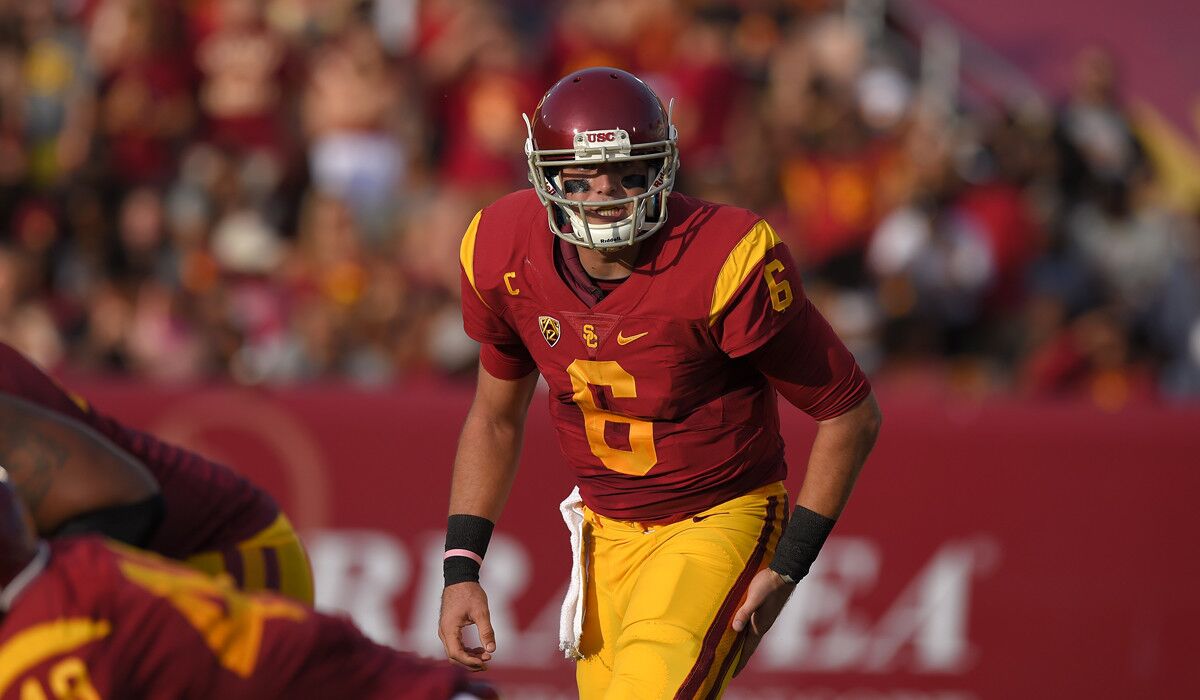 Reporting from BERKELEY —
California's Jared Goff began the season regarded as a Heisman Trophy candidate, and some people projected him to be the first quarterback chosen in the 2016 NFL draft.
USC quarterback Cody Kessler also was in the Heisman discussion as the fifth-year senior entered his final season of eligibility under the watchful eye of NFL scouts.
On Saturday, Goff and Kessler will be featured attractions when USC plays Cal in a Pac-12 game at Memorial Stadium.
"There's two NFL quarterbacks on that field Saturday," USC interim Coach Clay Helton said this week. "It's going to be a lot of fun."
Get the latest in sports with our free newsletter >>
Goff and Kessler both went through a stretch of struggles and dropped out of the Heisman conversation. But with five regular-season games, and perhaps a conference title game and/or bowl game still to be played, their NFL draft stock is still in play.
"I enjoy the challenge," Kessler said this week.
Said Goff: "It's always fun…. It will be our third game against each other. He's gotten me twice now. I'd like to get him back this time."
The Times asked three NFL scouts to evaluate Goff and Kessler. The scouts requested anonymity because they are prohibited by their organizations from speaking publicly about prospects.
Goff, 6 feet 4 and 215 pounds, is completing 66% of his passes, 20 for touchdowns, with nine interceptions. Last season, he completed 29 of 47 passes for 279 yards and three touchdowns in a 38-30 loss to the Trojans.
Goff led the Golden Bears to a 5-0 start this season, but he had five passes intercepted in a 30-24 loss at Utah. He completed 32 of 53 passes for 295 yards and three touchdowns, with no interceptions, in a 40-24 defeat by UCLA.
"He needs to fill out and get stronger," Scout 1 said of Goff. "He sees things well, he's an intelligent guy. He can anticipate. He's got a good arm, accurate. He can throw with touch.
"I think he's going to be a pretty solid first-round pick. He'd be one of the first two QBs taken in this year's draft if he were to come out."
Scout 2: "He's an elite-arm talent guy and he's got a much higher ceiling than Cody does. [Goff] needs to protect the ball a little better and needs to play a little bit more and kind of know what he can do and can't do."
Scout 3: "He's got more arm talent [than Kessler]. Prototypical NFL. He's 6-4, real skinny though. We'd need him to get stronger…. They're probably similar athletes."
The 6-foot-2, 225-pound Kessler last season passed for 39 touchdowns, with only five interceptions. This season, he is completing 69% of his passes, 18 for touchdowns, with five interceptions.
Kessler finished the first three games without an interception. But he had one pass picked off against Arizona State and then two in losses against Washington and Notre Dame.
In last week's 42-24 victory over Utah, Kessler completed 21 of 28 passes for 264 yards and a touchdown, with no interceptions. He scored on a fourth-down sneak in the third quarter and connected with receiver JuJu Smith-Schuster for a 25-yard touchdown in the fourth.
"He's pretty good pre-snap," Scout 1 said. "He's accurate short to intermediate. He does not have a big arm. He's not a great deep-ball thrower…. They throw a lot of screens and hitches and bubble routes, everything really quick. If he's forced to hold onto the ball and it goes to second or third in progression, he's not nearly as decisive with it. He gets a little tied up in his progression. He just needs to work on that."
Scout 2: "Obviously, they've had some issues there this year and it's been tough for all those kids, but he's a notch down [compared to Goff] across the board. Totally different ceiling on those two guys.
"You've got to give him credit for doing a good job of protecting the football."
Scout 3: "He's got all the intangibles. Smart, accurate for the most part. He has a hard time pushing the ball down the field. He's got a better cast [than Goff] around him."
Cal Coach Sonny Dykes is hoping the Golden Bears can do more to help Goff.
"We just have to play better, offensively," Dykes said. "We have to be able to run the ball better. That will take a little bit of pressure off of him.
"It's not just Jared. It's really our offense."
Helton said he expects Kessler to continue playing as he did against Utah, when the quarterback was unfazed despite several injuries that sidelined receivers and offensive linemen.
"The calm in the middle of the tornado," Helton said, adding, "That's the area I think he's got to finish this season with, just his poise and his leadership."
Twitter: @latimesklein
Times staff writer Sam Farmer contributed to this report.
MORE:
Bruins look for another win, without a doubt
USC proposes $270 million in Coliseum upgrades
Column: Pat Haden's resignation should be a cautionary tale for CFP
Get the latest on L.A.'s teams in the daily Sports Report newsletter.
You may occasionally receive promotional content from the Los Angeles Times.