Coliseum renovation leaves USC football fans adjusting to the construction zones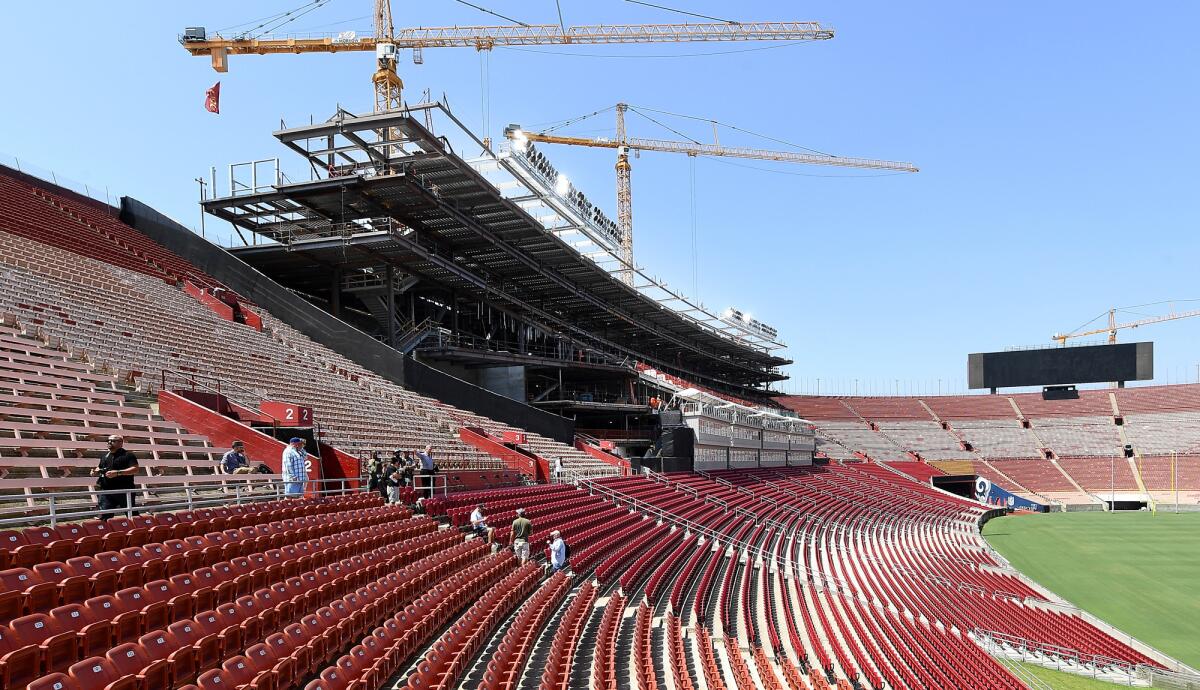 Warned to be wary of traffic, USC football fan Tim Diggs arrived at the Coliseum 2½ hours before kickoff, parked in his usual spot and set out to find his friends tailgating before USC's season opener against Nevada Las Vegas on Saturday.
Diggs' usual path to the tailgate area was blocked by construction for the Coliseum's $315-million renovation. After taking a longer route, he couldn't find his friends. They'd moved to a different parking lot because of the construction, which has closed several lots for the season. Diggs spent the rest of the pregame texting his friends but was unable to track them down.
"Part of the experience to come to the game is the tailgating part," Diggs said. "Finding your friends, doing the stuff. And they were in a spot last year, and now they're not even in that spot no more."
The renovation project will replace the stadium's seats, install WiFi, add luxury boxes, reduce seating capacity, renovate the press box and upgrade concession stands, among other updates. The project is on schedule to be completed by next season, but until then, it creates road closures, worsens traffic, limits parking options and restricts pedestrian access around the stadium.
Fans were encouraged to leave early for the game and take public transit instead of driving. There wasn't a wait to enter the stadium, but the concourse before the game was crowded as ticket holders scrambled to find their new seats before kickoff. Saturday's attendance of 58,708 was the lowest for a USC home opener since 2001. The Trojans went on to win the game 43-21.
Domingo Perez and his family sat in some of the newly replaced seats and praised their improved comfort. Season ticket holders since 1996, they typically come early to avoid traffic, and Saturday was no different. They arrived at 9:30 a.m. and found parking with no disturbances from their routine.
Nathan Corrales and his father, Thomas, also heeded the warnings and arrived at the Coliseum by car at 11 a.m., with enough time to visit friends and get settled into their new seats — high in a corner of the stadium, on the opposite side of where they sat last season.
Seating locations for season ticket holders were shuffled as construction reduced the number of seats available. Although their view of the field is worse than it was last year, Thomas Corrales had a positive impression of the renovation.
"They're making it to improve the stadium, so I think it's a plus," he said. "So we'll see when they're done."
Diggs, who has a Trojans pass, usually sat midway up, overlooking the 50-yard line — a section of the stadium that is now a construction zone, with trailers installed for the temporary press box. With construction limiting access to the concourse, Diggs said he couldn't greet many of his friends sitting farther away.
Diggs is one of many fans who will have to readjust their game-day routine to accommodate the construction — from where to park to when to arrive.
Dominguez Perez understands the effort that will take.
"There's no way around it," he said "It's a big commitment, no matter how you look at it. It doesn't matter what time the game is, it's a day's commitment."
Get the latest on L.A.'s teams in the daily Sports Report newsletter.
You may occasionally receive promotional content from the Los Angeles Times.