USC FYI: Brett Hundley is Trojans' main concern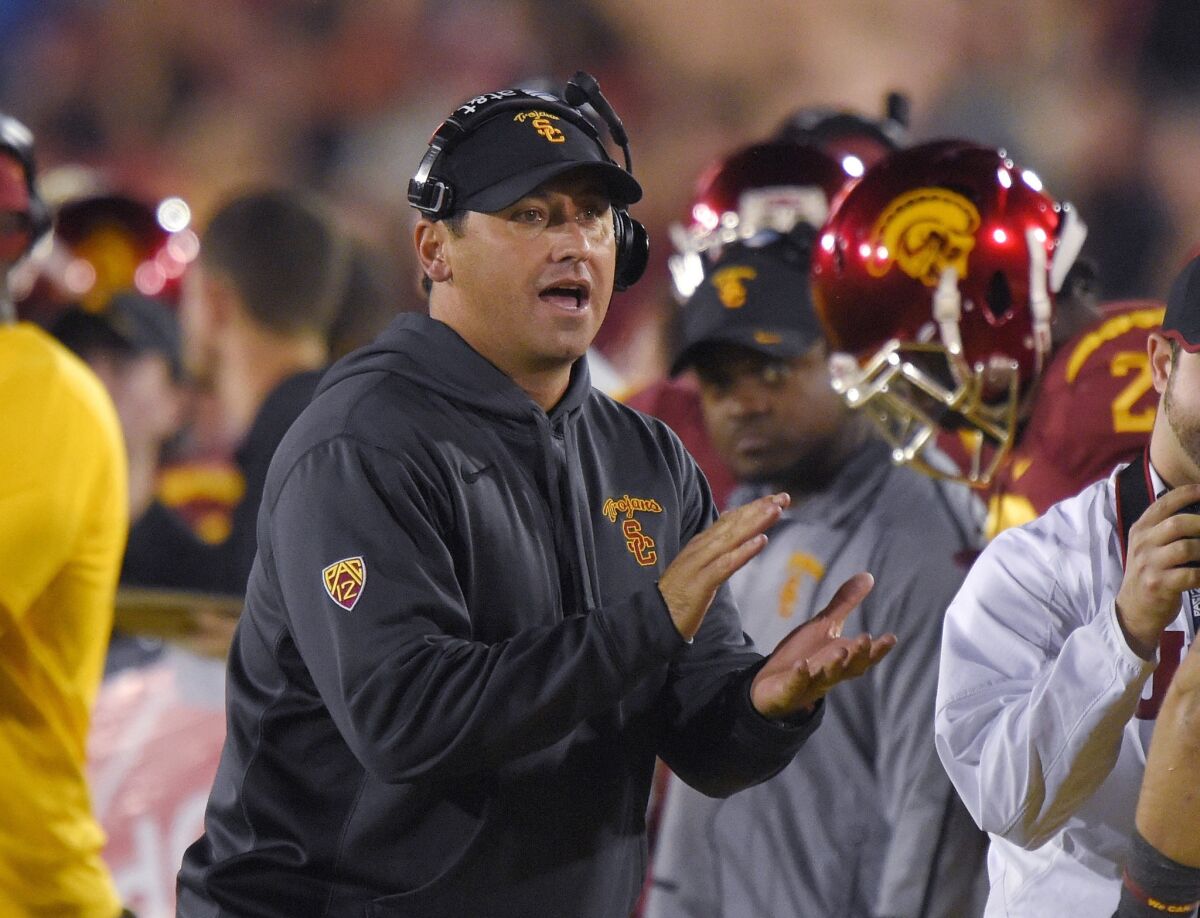 Steve Sarkisian and his staff will have plenty of material to dissect as USC prepares for its Nov. 22 showdown against UCLA and Bruins quarterback Brett Hundley.
Hundley led the Bruins to victories over USC in 2012 and 2013, which predated Sarkisian's hiring at USC.
But Sarkisian and defensive coordinator Justin Wilcox got an up-close look at Hundley during the Bruins' 41-31 victory over Washington last season.
"We'll look at all of it," Sarkisian said Friday during a teleconference with reporters. "You have to, especially when you have extra time like we have."
USC and UCLA are idle Saturday.
USC is coming off Thursday night's 38-30 victory over California. UCLA defeated Washington, 44-30, last Saturday.
Last season, Hundley passed for 208 yards and ran for 80 and two touchdowns in a 35-14 victory over the Trojans at the Coliseum.
Sarkisian said the junior presents "some interesting problems" for a defense.
"One, he can make every throw, so it's not like you're going to take something away in hopes that he can't do something else," Sarkisian said, adding, "and then, obviously, the athleticism kicks in, especially on third down."
Sarkisian said Hundley's skill-set is a challenge because "you just don't see that every week."
"We want to rush the passer, but we've got to be able to try to contain him and keep him in the pocket," he said.
Sarkisian was 1-2 against UCLA during his five seasons at Washington.
UCLA defeated the Huskies, 24-23, in 2009, and 41-31 in 2013. Sarkisian guided Washington to a 24-7 victory over the Bruins in 2010.
Dixon's status uncertain
Sarkisian provided no update on the status of freshman tight end Bryce Dixon, who was suspended for the Cal game because of an unspecified "student conduct issue."
Dixon's absence leaves senior Randall Telfer, who caught a touchdown pass against Cal, as the Trojans' only scholarship tight end.
Jalen-Cope Fitzpatrick was ruled academically ineligible before the season, and walk-on Chris Willson suffered a foot injury in the season opener.
Converted lineman Nathan Guertler played as a blocking tight end against Cal.
"No season is going to go perfect," Sarkisian said, adding, "We'll have plan in place if Bryce can play. If he can't, we'll plan accordingly."
Penalty problems
The Trojans were penalized 14 times against Cal for a season-high 159 yards. It was the second time this season the Trojans were penalized 14 times.
Some of the penalties were deserved, Sarkisian said, because the Trojans "didn't execute our assignments properly or there was extracurricular activity that took place."
There were others, he said, "that I don't agree with." Those he will submit to the Pac-12 for review.
The penalties, especially personal fouls and unsportsmanlike infractions, are a concern.
"There has to be a level of accountability," Sarkisian said. "Some of those penalties we took [Thursday] night were very selfish penalties and they're not OK, and they won't be tolerated."
USC is averaging 9.2 penalties a game. Only three major college teams have been penalized more.
Three infractions cost the Trojans touchdowns: A 78-yard reception by Nelson Agholor was called back because of a holding penalty. Adoree' Jackson lost a 42-yard reception because of a holding penalty. And a scoring catch by Steven Mitchell was negated because of an offensive pass interference penalty against another Trojan.
Cal was penalized 11 times for 117 yards.
"It was not a clean game and it was pretty chippy out there," Cal Coach Sonny Dykes said.
Follow Gary Klein on Twitter @latimesklein
Get the latest on L.A.'s teams in the daily Sports Report newsletter.
You may occasionally receive promotional content from the Los Angeles Times.