Adoree' Jackson could have a big role on defense <i>and</i> offense for USC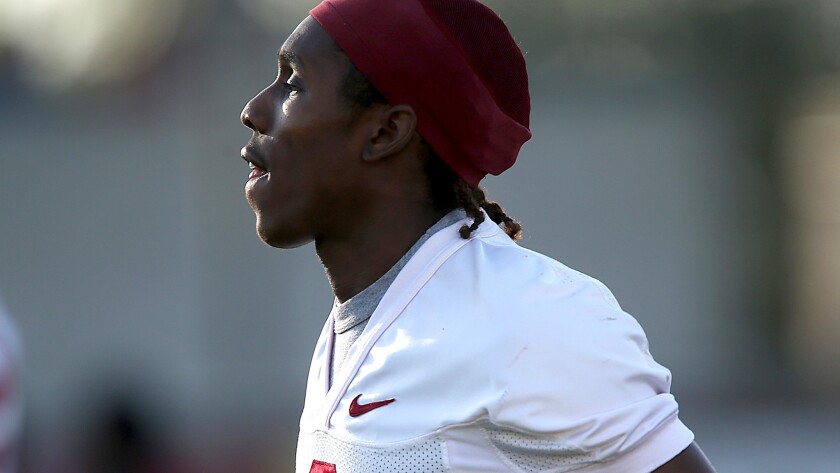 Adoree' Jackson lined up in the backfield, caught a short pass from Cody Kessler and then shot through a circle of five would-be tacklers on his way to a spectacular touchdown against Nebraska in last season's Holiday Bowl.
The play left USC fans shaking their heads in joy and disbelief.
The dazzling catch-and-run display – coming after an earlier kickoff return that Jackson punctuated with a flip into the end zone – hearkened to Reggie Bush.
"They got to see my vision when I have the ball in my hand," Jackson said.
It also left fans wondering: Why didn't we see more of this?
As USC prepares for its Sept. 5 opener against Arkansas State, one of Coach Steve Sarkisian's greatest challenges will be finding ways to deploy the multitalented Jackson more on offense.
"He gets the ball in his hands, he really doesn't believe he's going to be tackled," Sarkisian said. "I don't think so either."
The 5-foot-11, 185-pound Jackson, the Trojans' first three-way player since Chad Morton in the mid-1990s, appears on his way to becoming the lockdown cornerback USC has lacked for years. He already is one of college football's top kickoff return threats, and Sarkisian said Tuesday that Jackson also will return punts.
Last season as a freshman, Jackson played on offense and defense in the first four games and the last four. He averaged 67 plays in those games. He played a season-high 13 plays on offense in the opener against Fresno State and nine against Stanford but no more than six thereafter.
Jackson touched the ball on offense only 11 times. He converted three of his 10 receptions into touchdowns. He is expected to play a larger role this season as a receiver who can also play from the backfield.
He will spend 11 training-camp practices on defense before moving exclusively to offense for six. From then on, he will alternate.
Jackson would welcome a larger offensive role — "Everybody wants to get 10 to 15 touches a game," he said — but he is more concerned about helping the Trojans win the Pac-12 Conference South Division and playing for a title.
Kessler has plenty of talented receivers to target, Jackson said.
"I know Cody is going to the play well and get it to who deserves to get the ball," he said.
Kessler, who passed for 39 touchdowns last season, can envision increased opportunities for Jackson.
"Selfishly," he said, laughing, "I'd like to see him on offense every play."
Jackson, however, is a cornerstone on defense.
Last season, most opponents appeared to shy from testing him. He deflected 10 passes but did not intercept one.
He intends to remedy that this season.
"Shoot for as many as possible," he said of interceptions, "and do whatever I can defensively."
Jackson is the target of good-natured ribbing from USC defensive backs and receivers, who love him when he is in their position group, but long to beat him when he is on the opposite side of the line of scrimmage during practice.
For fun, senior cornerback Kevon Seymour said he occasionally removes Jackson from a defensive back group text.
"He's like, 'Man, put me back in the group!' " Seymour said. "And I say, 'Nah, you're a receiver.' We do things like that and he gets mad."
Jackson has made no secret of his desire to win the Thorpe Award as college football's top defensive back, the Heisman Trophy as the most outstanding player, and also to participate in the Olympic Games in the long jump.
Those declarations might read as boastful. But Jackson, who won the Pac-12 long jump title last spring, delivers them in an assured, matter-of-fact manner.
Last year at this time, Jackson was trying to learn USC's defensive system and impress his teammates and coaches.
Now, he plays with confidence.
"I'm just being myself," he said, "just playing with the swagger that I know I have."
Sarkisian has described Jackson as a talent fans, players and coaches cannot look away from for fear of missing something extraordinary that will become the talk of the game.
"You watch because you don't want to miss it," Sarkisian said.
So Sarkisian and his staff are eager to make the most of Jackson's multipurpose skills. His reception total will almost certainly increase and his presence on the field will allow such players as receiver JuJu Smith-Schuster to benefit from more one-on-one opportunities.
But there is a fine line, Sarkisian said, determining Jackson's play-load on offense.
"I'm not going to put him out there to run 12 go-routes a game just to wear him out," Sarkisian said. "We've got to be smart the way we use them."
Twitter: @latimesklein
---
Get the latest on L.A.'s teams in the daily Sports Report newsletter.
You may occasionally receive promotional content from the Los Angeles Times.