Steve Sarkisian says USC is still working on playing with 'bully' mentality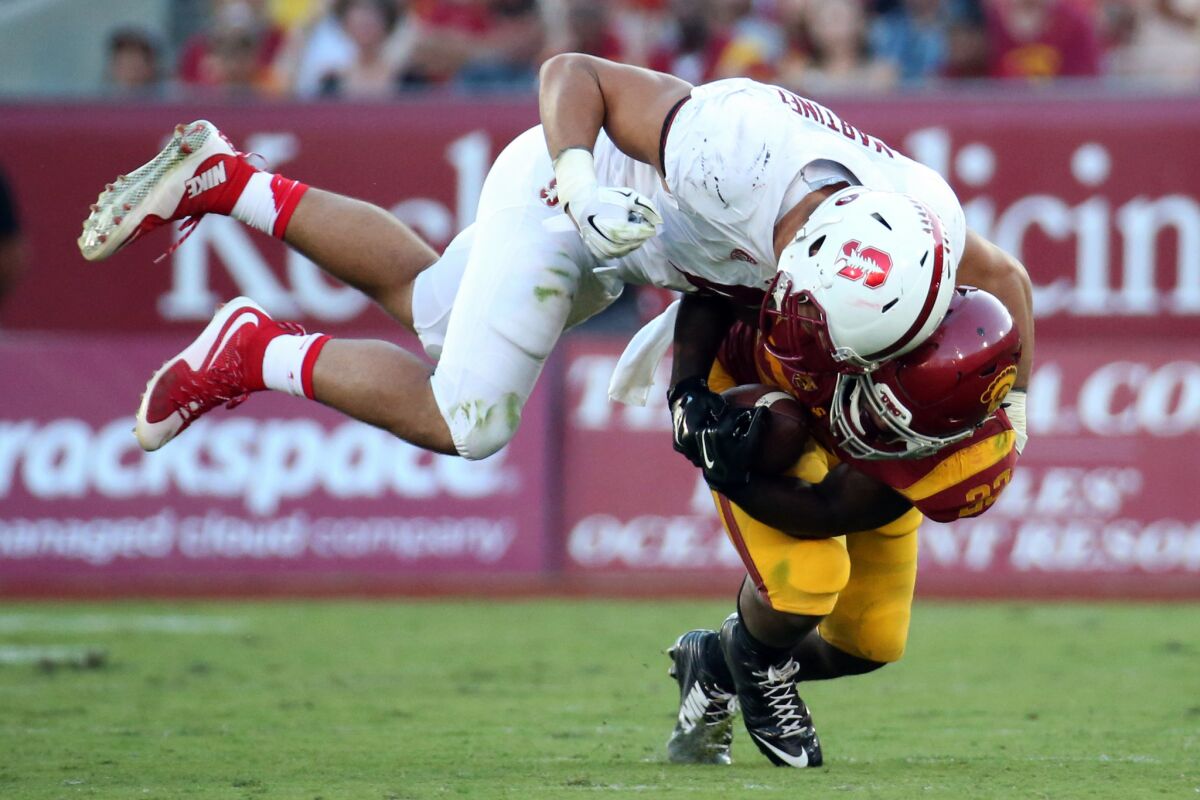 In February, after USC announced the signing of a top-rated recruiting class, Coach Steve Sarkisian acknowledged that in 2014 the Trojans at times "got pushed around a little bit."
He said the goal this season was to instill the defense with a "bully" mentality.
A day after USC got pushed around by Stanford in a 41-31 defeat at the Coliseum, Sarkisian said achieving that goal remained a work in progress.
"None of those things come overnight," Sarkisian said Sunday night during a teleconference with reporters. "They're not a light switch you can turn on and off. You have to develop it."
USC does not get much chance to recover.
After three home games, the Trojans play at Arizona State on Saturday night.
In the wake of the Stanford defeat, the Trojans plunged from sixth to 19th in the Associated Press media poll and from seventh to 18th in the coaches' poll.
"We just lacked execution at critical moments," Sarkisian said of the loss. "That goes back to us as coaches."
Last season, USC blew an 11-point second-quarter lead against Boston College and trailed at halftime on its way to a 37-31 defeat.
On Saturday, the Trojans forged a 21-10 second-quarter lead, but let Stanford come back to go ahead, 24-21, by halftime.
The Trojans are giving up 395.3 yards per game, which ranks 80th among 127 major-college teams.
USC, which played Arkansas State and Idaho before Stanford, failed to contain Cardinal quarterback Kevin Hogan and could not stop Stanford's running game, especially on first down.
"I've talked about this containment issue now for three consecutive weeks," Sarkisian said. "We need to be better at it because we're going to face more and more athletic quarterbacks as the season goes on."
Defensive linemen need to win more one-on-one matchups, he said.
"Utilize fundamentals to defeat the man across from us with desire and passion," he said. "We're not doing that consistently enough for my liking, quite honestly."
USC's third-down conversion rate also is troubling.
The Trojans have converted only eight of 26 (.308), which ranks 117th nationally.
With Stanford controlling the clock, USC got only two possessions in the third quarter and two in the fourth.
Sarkisian said he considered kicking a field goal on fourth and 13 in the final moments and then trying to recover an onside kick. He opted instead to have quarterback Cody Kessler attempt a pass into the end zone.
"We nearly came up with it," he said, adding, "I just felt like that was the best thing for us at the time."
Try again
Adoree' Jackson did not sound upset after a 97-yard kickoff return for a touchdown was nullified because of a penalty.
"I was excited to get in the end zone and make a play," he said. "When it got called back I was just thinking, 'Just got to do it again. Get my team the momentum again.'"
Stanford stayed away from Jackson as a cornerback and repeatedly challenged freshman cornerback Iman Marshall.
Jackson played a season-high nine plays on offense. He did not catch a pass.
"I thought I was going to be on offense a lot more," he said. "But I wasn't tired out there. I was ready to go no matter what."
Jackson finished with five kickoff returns for 118 yards.
Jake Olson reflects on first week
Jake Olson would have preferred a victory in his first game as a member of USC's football team, but his experience on Saturday night at the Coliseum was still something he cherished.
Olson, a long snapper who is blind, began practicing with the Trojans last week. The freshman walk-on, who has been involved in the Trojans program since he was a preteen, is wearing jersey No. 61.
"It was awesome," he said afterward. "I was firing guys up and just being out there and contributing every way I could."
Olson, 6 feet 4 and 195 pounds, snapped on extra points and field goals for Orange Lutheran High. He said he had no timeline for when he expected to play in a game for the Trojans.
"I just started practice," he said. "I'm just out there showing people what I've got. I want to be treated like everyone else, so I don't want any special treatment in a sense of putting me above any other long snapper that's on the team just because I am who I am.
"I want to work my way up to it. And so I'm just a freshman…. I want to continue to improve. When the day comes, I just want to be out there and snap like anyone else and make PATs and field goals all night long."
Quick hits
USC's game at Arizona State will kick off at 7:30 p.m. and will be broadcast on ESPN…. Tailback Tre Madden "kind of tweaked his knee" catching a third-quarter pass and had only a limited role thereafter. Sarkisian said, "We don't feel it's serious."
Twitter: @latimesklein
Times correspondent Lindsey Thiry contributed to this report.
---
Get the latest on L.A.'s teams in the daily Sports Report newsletter.
You may occasionally receive promotional content from the Los Angeles Times.