Former Trojan Robert Woods addresses the team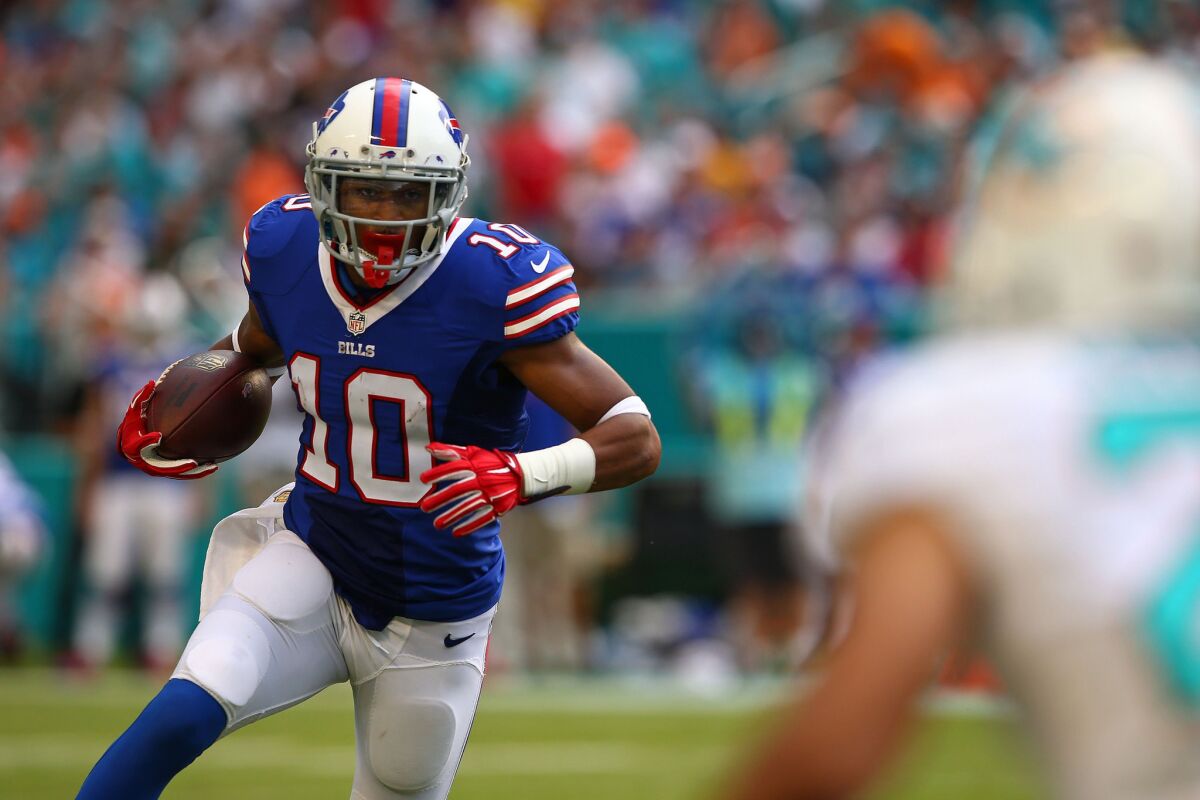 Former USC All-American receiver Robert Woods did not plan to speak to the Trojans' football team when he attended practice Tuesday.
But when interim Coach Clay Helton spied the NFL third-year pro on the sideline, he enthusiastically welcomed Woods and invited him to address the players at the end of the workout.
"He just grabbed me on the side and had me come speak to the guys," said Woods, in town because the Buffalo Bills have an open date this week.
It marked the second time in less than two weeks that Helton has connected current USC players with those from the past.
At least a dozen former players attended practice the day USC traveled to play at Notre Dame. Keyshawn Johnson, Keith Rivers and Willie McGinest spoke to the players.
The fencing that surrounds Brian Kennedy-Howard Jones Field was redone before this season to include images of former Trojans standouts. But under Helton former players also have had a regular voice.
Several weeks ago, before Helton took over for Steve Sarkisian, former defensive linemen Lawrence Jackson, Shaun Cody, Fili Moala and LaJuan Ramsey attended practice as a group. Cody was an All-American, Jackson a first-round NFL draft pick. All four players had NFL careers.
The players visited with USC personnel but they were not asked to address the defensive linemen or the Trojans.
If his short tenure is any indication, Helton probably would not have let that opportunity pass.
Helton said Woods was "the example of what a Trojan is," and that his work ethic was passed down to former teammates Marqise Lee and Nelson Agholor and current Trojans receiver JuJu Smith-Schuster.
"That tradition's carried on at the wide receiver position and he was the one who really had a great hand in it with those kids," Helton said.
Woods said he was happy to pass on a few words of advice, and that current and former players benefit from the connection.
"It makes you feel like you're part of it, and it's still all one big program," he said. "We're all still winning, and losing, with them."
Return to form
Quarterback Cody Kessler no longer has a streak of turnovers weighing on him.
Kessler, who had two passes intercepted in losses against Washington and Notre Dame, did not commit a turnover while leading the Trojans to a 42-24 victory over previously unbeaten Utah.
"I got the ball where it needed to go," he said after practice.
Kessler completed 21 of 28 passes for 264 yards and a touchdown, with no interceptions. He scored on a fourth-down sneak in the third quarter and connected with Smith-Schuster for a 25-yard touchdown in the fourth.
"One of the things that really stood out to me in that game was his poise," Helton said. "And that's what you want from a fifth-year senior, especially down the stretch."
Kessler has passed for 18 touchdowns, with five interceptions.
Rodgers ready to start
Khaliel Rodgers made a big impact when he filled in at center against Utah, after Toa Lobendahn suffered a season-ending knee injury in the first half. Helton described Rodgers as one of the stars of the game.
"We just prepare so hard and execute in practice, you expect to be ready in the game," Rodgers said.
Rodgers, a fourth-year junior from Delaware, started three games last season at left guard. This Saturday, he will start at center for the first time.
Rodgers said he received congratulatory messages after the Utah game from Lobendahn and Max Tuerk, who suffered a season-ending knee injury against Washington on Oct. 8 and had surgery last week.
Wheeler returns
Left tackle Chad Wheeler, who sat out against Utah because of a concussion, returned to practice and worked with the first-string offense.
Wheeler said he was injured when the crown of his head hit a Notre Dame player's knee.
"Like hitting concrete," he said.
Wheeler also suffered a concussion when he was accidentally struck in the head with a medicine ball during practice.
Quick hits
Receivers Steven Mitchell Jr. (ankle) and Darreus Rogers (hamstring) took part in a few drills…. Adoree' Jackson, who spent last week at receiver, practiced at cornerback.
Twitter: @latimesklein
MORE USC NEWS:
Cody Kessler returns to efficient form
Khaliel Rodgers ready for starting role at center
USC linebacker Cameron Smith named Pac-12 defensive player of week
Get the latest on L.A.'s teams in the daily Sports Report newsletter.
You may occasionally receive promotional content from the Los Angeles Times.