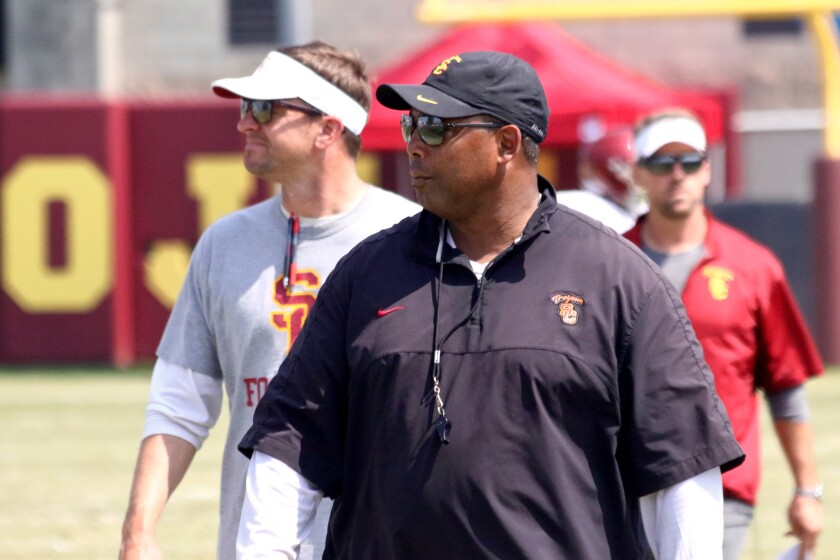 USC is headed to the Holiday Bowl to play Wisconsin, and the Trojans will do it with a coaching staff depleted by firings.
Trojans Coach Clay Helton on Sunday dismissed defensive coordinator Justin Wilcox, defensive backs coach Keith Heyward, defensive line coach Chris Wilson and offensive line coach Bob Connelly.
"I made the decision to go in a different direction," Helton said during a scheduled teleconference with reporters that occurred a few hours after the Trojans learned their bowl fate and shortly after news broke about the firings.
The dismissals occurred a day after USC lost to Stanford, 41-22, in the Pac-12 Conference championship game. The loss, coming five days after Helton was named permanent head coach, dropped the Trojans' record to 8-5.
Peter Sirmon, who coaches linebackers and serves as recruiting coordinator, was the only defensive coach retained. Receivers coach Tee Martin, quarterbacks coach Marques Tuiasosopo and running backs coach Johnny Nansen will remain with the staff.
Helton said the remaining coaches and graduate assistants would prepare the Trojans for Wisconsin (9-3) and the Dec. 30 Holiday Bowl at Qualcomm Stadium in San Diego. USC defeated Nebraska in the Holiday Bowl last season.
Helton also said that he would relinquish play-calling duties next season.
"I want to be a head football coach and a CEO of the football team and cover all aspects of the team," he said, adding, "To be able to do all that and try to be a coordinator and a play-caller, that's a tremendous amount."
Helton became interim coach in October after Athletic Director Pat Haden fired Steve Sarkisian. Haden removed the interim label last week, awarding Helton with what he said was a five-year guaranteed contract.
Asked whether Haden made firing certain assistants a condition of his hiring, Helton said, "This was entirely my decision," adding that Haden "has given me the right to run this football team exactly with the vision I see."
Wilcox was a lightning rod for fan criticism for much of the last two seasons. The heat dissipated during a four-game winning streak, but it returned after Oregon dominated the Trojans. USC rebounded with an impressive defensive effort against UCLA before Stanford's Christian McCaffrey tore through the Trojans for 461 all-purpose yards Saturday.
Helton said he would search for a defensive coordinator that would "fit the overall system that we're looking for at USC, about being extremely aggressive on defense and fitting the personnel we have."
Many USC fans on social media have pined for the return of former Trojans defensive coaches Ed Orgeron and Clancy Pendergast.
Asked whether one or both could return to his staff, Helton said he would be "looking at all avenues" and "talk to several coaches."
"I'm not going to rush into this," he said.
Wilcox, Heyward, Sirmon, Nansen and Tuiasosopo worked under Sarkisian at Washington. They came to USC with him after he was hired to replace Kiffin in December 2013.
Heyward said Helton met with him to deliver the news of his dismissal. He said he was surprised.
"I was told it was nothing other than they wanted to go in another direction," Heyward said. "This is the business.
"Coach Helton has a vision and I respect that. I wish him well and USC well."
Heyward said he thought he coached well, especially with a group that suffered numerous injuries. He said he was confident he would find a job and continue on a career path to become a defensive coordinator and head coach.
Helton thanked the fired coaches for their "tireless work" and said that he made the moves in the "best interest" of helping them begin job searches.
"Instead of waiting till the 30th, I wanted to give them the best opportunity to move forward with their career," he said.
Twitter: @latimesklein
Lindsey Thiry is a Times correspondent.
---