Holiday Bowl routines are becoming familiar to USC football players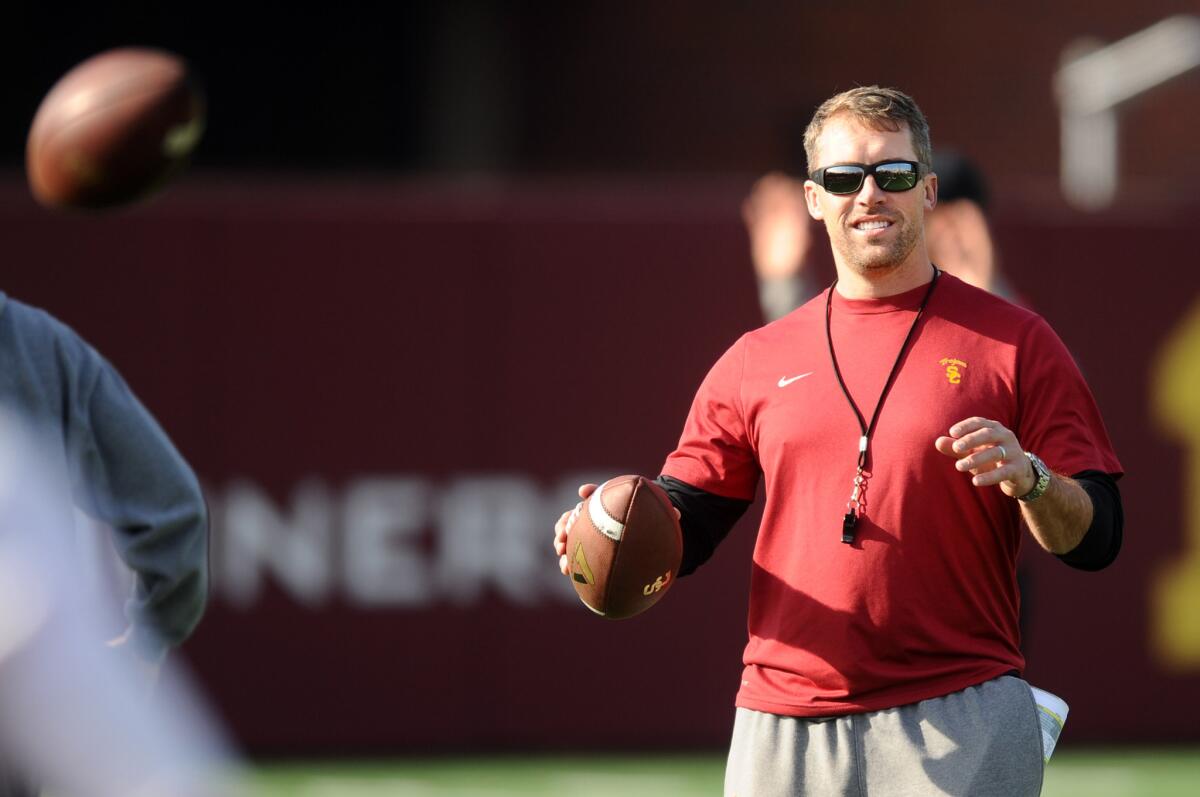 USC has been through this drill before.
Last season, the Trojans played in the Holiday Bowl for the first time and defeated Nebraska, 45-42.
On Sunday, they resume practice for Wednesday's Holiday Bowl game against Wisconsin, another opponent from the Big Ten Conference.
The Trojans arrived in San Diego on Saturday. They will practice twice and have a walk-through before playing the Badgers at Qualcomm Stadium.
USC players will again visit the San Diego Zoo and tour a Navy ship, but there will be some slight differences in their itinerary.
Last year, the Trojans practiced at San Diego State. This week, they will work out at Southwestern College in Chula Vista.
Coach Clay Helton's staff features several coaches and graduate assistants who have moved into temporary roles to make up for the loss of four fired coaches — including defensive coordinator Justin Wilcox.
Helton assigned linebackers coach Peter Sirmon defensive coordinator duties for the Holiday Bowl.
Wilcox called defensive plays from the coaches' booth in the press box. Sirmon will do so from the field.
Sirmon indicated there would not be major changes in approach against a Wisconsin offense that has averaged 148.1 yards rushing and 229.3 yards passing per game.
"It's not about me designing new schemes," he said. "I need to design things that give us opportunities versus certain personnel groups that we haven't faced a lot this year.
"So there will be those differences but I don't think it will be drastic."
Fresh look
Freshman linebacker Porter Gustin could start for the third consecutive game in the Holiday Bowl.
The 6-foot-5, 250-pound Utah native has made seven tackles for losses, including 5 ½ sacks.
Gustin was among the most heralded recruits in the 2015 class. He said it took him awhile to acclimate to the college game, and that he was looking forward to coming back better in 2016.
"I've got a lot to improve on," Gustin said. "It's good to see, playing at this level, exactly what I need to work on."
The firing of coach Steve Sarkisian, the hiring of Helton and the firing of Wilcox taught Gustin some unexpected lessons.
"College football," he said, "it can change so fast."
Next stage
Quarterback Cody Kessler and fullback Soma Vainuku, who will participate in the Senior Bowl, are not the only USC seniors with NFL evaluation commitments after the Holiday Bowl.
Defensive linemen Antwaun Woods and Greg Townsend Jr., cornerback Kevon Seymour and running back Tre Madden were invited to the NFLPA Collegiate Bowl that will be played Jan. 23 at the StubHub Center in Carson.
Former NFL coaches Mike Martz and Mike Holmgren are the coaches for the game.
Woods and Townsend are expected to start in the Holiday Bowl. As of last week, Seymour was considered questionable for the game because of a high ankle sprain. Madden had recent arthroscopic knee surgery and will not play against Wisconsin.
Quick hit
Oluwole Betiku, a defensive lineman from Gardena Serra High, made a verbal commitment to the Trojans, giving USC 15 players in the Class of 2016 who have signed scholarship agreements or made commitments. The Trojans have five more available scholarships.
Follow Gary Klein on Twitter @latimesklein
Get the latest on L.A.'s teams in the daily Sports Report newsletter.
You may occasionally receive promotional content from the Los Angeles Times.