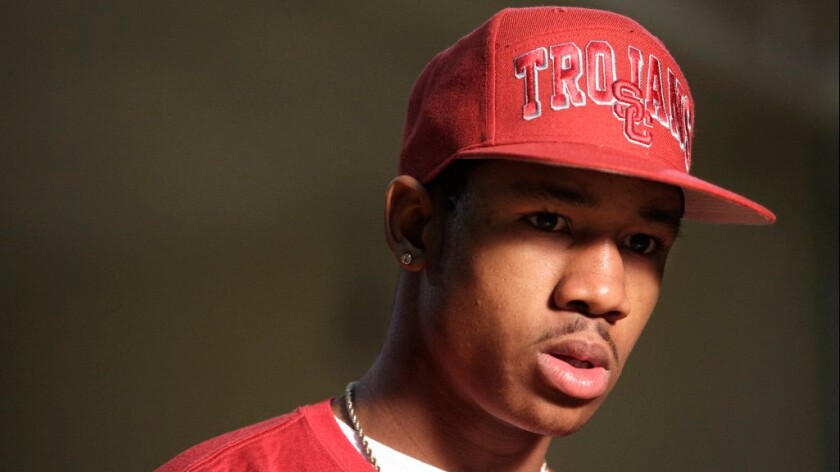 USC's freshman cornerback Jack Jones thinks Heisman Trophy handicappers have made an oversight. In their preseason predictions, he says, they've overlooked an important player: Jones himself.
"I expect myself to win the Heisman this year," Jones said. "I know that's pretty big for a freshman to say, but that's just the expectation I have. I feel like if I play to the best of my ability and I let my technique and my game and my will do the talking, I feel like I can be one of the best players in the collegiate level. That's just how I feel. I don't want to disrespect anybody if anybody took that the wrong way, but that's just how I feel."
Jones, a highly sought recruit from Long Beach Poly, is expected to be a talented cornerback in the long term. He is already contributing on special teams.
He is not, however, a starter, nor is he likely to win the job this season while Adoree' Jackson and Iman Marshall are healthy and available at cornerback.
Teammates and coaches, though, appreciate the confidence.
USC's freshmen, Coach Clay Helton said, "feel like they're the best in the world. And that's the approach you gotta take. I want that."
Marshall, who played with Jones at Long Beach Poly, said Jones is "a wonderful dude. That's part of his game. That's what fires him and fuels him. And as a DB, you've got to have a certain swag. And that's his swag."
Marshall and Jackson are expected to be two of the best cornerbacks in the conference this season. Jones is undeterred.
"I would definitely tell them, 'I'm coming for your spot,' " Jones said. "I don't say that in a mean or bad way. I say that as a brother and competing and getting each other better. Don't get me wrong. Just because I'm trying to take their spot, I'm still trying to learn from them, I'm asking them questions when I'm out on the field."
Jones also thinks he can contribute on offense, though USC's coaches have given no indication that is likely this season.
Before this week, Jones had not been available to speak to reporters. He made up for the lost time quickly.
Helton viewed his pronunciations with amusement.
"Will he do the Heisman this year?" Helton said, laughing. "I don't know. But I'm very proud that he's a confident person."
Jefferson healthy
One day early in training camp, Noah Jefferson trudged in the heat up and down the Coliseum steps. His teammates were practicing. He was climbing the stairs.
Jefferson, hobbled earlier in the preseason with a back injury, spent weeks without practicing. Instead, he worked with trainers on the sideline to strengthen his core. That day at the Coliseum, he made it around the stadium 1½ times.
Jefferson, one of the most important players on a thin defensive line, believes his days spent laboring away from the field are over. He returned to practice last week and said he has had no more issues with his back. Will he play against Alabama?
"For sure," he said. "I'm gonna play."
Jefferson has undergone a transformation in the offseason. Last season, he said, he weighed between 330 and 345 pounds. This season, he has dipped down to 290 to 295 pounds, he said, making him quicker when he plays on the edge.
"I love his quick twitch," Helton said. "I think he's really hard on offensive guards.
"I expect him to do big things early this season."
Quick hits
Left tackle Chad Wheeler (foot) participated in USC's walk-through and did individual drills before sitting out the rest of practice. … Safety Marvell Tell III participated in team drills.
Follow Zach Helfand on Twitter @zhelfand
---