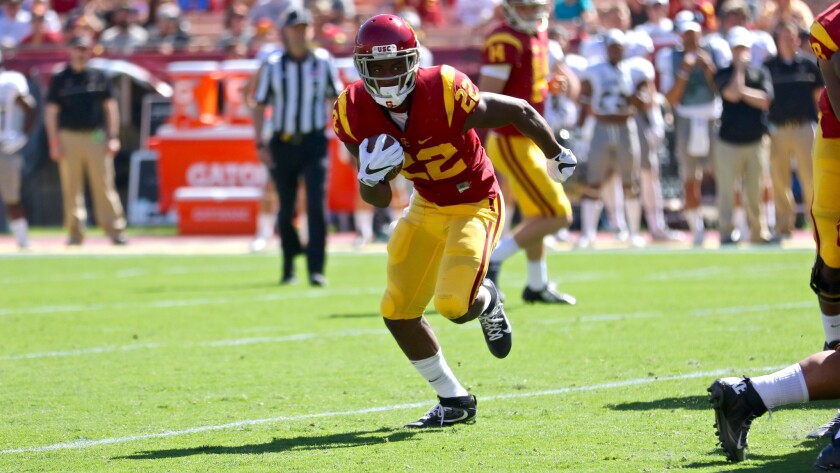 USC running back Justin Davis hopped around behind the line of scrimmage during Sunday's practice, but he was just a spectator.
He was wearing a practice jersey, but no pads. His sprained ankle was not encased in a boot, but he was in shorts. He did not bring a helmet.
Davis' high ankle sprain has improved. Two weeks ago, he did not attend practice. Last week, he showed up hobbling around in a walking boot. This time, he could shift weight and move around on the injured limb, but he remained far from game ready four days before the Trojans' Thursday night date with California.
"He is 50/50 at best for this game," USC Coach Clay Helton said. "Probably a little bit less than that to be honest with you."
For Helton to feel comfortable playing him, Davis would need to practice at full speed at some point during the week. The training staff will gauge his readiness on Monday, but an appearance in practice this week appears to be a longshot.
A more likely return date is Nov. 5 against Oregon.
"It's one of those things, with running backs and wideouts in my experience, you've got to feel right," Helton said. "You've got to be 100%. And right now, [he] just doesn't look it."
Davis' absence did little to slow USC's rushing attack last week against Arizona's sieve-like defense. The Trojans rushed for 320 yards and averaged 7.4 per carry.
Few defenses are as forgiving. California is among those that are. The Bears rank 126th in the nation, third from last, in rushing defense. They surrender almost 271 yards rushing per game.
The loss of Davis is more likely to be felt in the passing game. Against Arizona, Ronald Jones II was the only running back to catch a pass — he caught one for seven yards. Dominic Davis and Aca'Cedric Ware have more natural pass-catching abilities, but Jones saw more time, and neither backup was targeted.
Justin Davis "is a little bit better pass catcher than RoJo," quarterback Sam Darnold said. "He and Ced have great hands. But it doesn't change what we do at all."
Ruffin suspended
Linebacker Jabari Ruffin has been suspended indefinitely for a "student conduct issue," Helton said Sunday.
Ruffin, who plays mostly on special teams, had been disciplined earlier this season for stomping on the groin area of an Alabama player. He was ejected from that game, suspended for one half of another game and was forced to write an apology letter.
"I cannot go into details about it," Helton said of the latest issue. "I don't have a crystal ball on it for when he could return."
Ruffin is the third USC linebacker to be suspended this season. Osa Masina and Don Hill were suspended following allegations of sexual assault.
Veteran presence
Nate Boyer, the 10-year Army veteran and former Texas football player who stood next to Colin Kaepernick the first time the San Francisco 49ers quarterback kneeled during the national anthem, attended USC's practice on Sunday.
Boyer played for USC running backs coach Tommie Robinson at Texas.
Kaepernick has credited his decision to kneel for the anthem — instead of sitting on the bench, as he'd done before a previous game — to a conversation he had with Boyer. Boyer had penned an open letter to Kaepernick in the Army Times, which led Kaepernick to invite Boyer to meet with him before an exhibition game.
"We just sat in the lobby for a couple hours, talked about this whole thing," Boyer said.
Kaepernick invited Boyer to the game. Boyer stood next to a kneeling Kaepernick during the national anthem.
Quick hits
Receiver JuJu Smith-Schuster (back) has returned to nearly full strength and practiced without issues Sunday. … Offensive lineman Jordan Simmons (knee tendinitis) and linebacker Olajuwon Tucker (knee) also returned to practice. ... Safety Leon McQuay III (groin, hip flexor) was a limited participant in practice. … Defensive back Ajene Harris (bruised knee) did not practice.
Follow Zach Helfand on Twitter @zhelfand
---