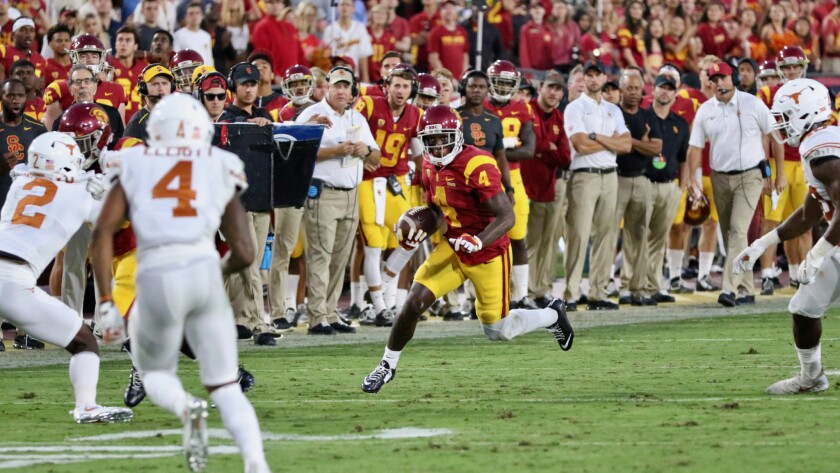 There were many reasons why Lane Kiffin did not last at USC, but the thing that turned the fans against him was clear. It was all those bubble screens.
The screens so agonized the Coliseum crowd during a loss to Washington State in September 2013 that after every timid pass behind the line of scrimmage — and there were a lot — the fans booed. They chanted "Fire Kiffin."
Eventually USC did fire Kiffin. The screen game mostly subsided to its normal, ancillary, role in the offense.
That is, until USC revived it last weekend against Texas. The strange part? It worked.
USC's screen game was the most efficient part of its offense. USC gained 12 yards per attempt on screens. Downfield passes averaged 7.1 yards per attempt. The running game eked out 1.9 yards per attempt. In fact, USC began using screens as substitutes for runs.
"We consider it a run," coach Clay Helton said. "If you're averaging 12 yards a run, you're happy."
USC didn't bring back Kiffin's scheme, exactly. The Trojans mostly used tunnel screens, in which the receiver turns to the quarterback, instead of the bubble screen, when the pass catcher loops away from the quarterback. And many were run-pass options. But it was a screen renaissance nonetheless.
Where did it come from?
Partially, it was offensive coordinator Tee Martin's response to Texas' defense, which loaded the box to stop the run, leaving mismatches on the outside.
"You basically have three receivers on two defenders," Helton said.
But scheme alone didn't account for USC's effectiveness. The Trojans have also leveraged one of quarterback Sam Darnold's best attributes: a quick release.
Screens hinge on timing. A split-second delay can squander the personnel advantage. Darnold actually has a fairly long, loopy delivery that he has tried to shorten. But he makes up for it in the screen game in other ways.
"Obviously he has a super quick release," said receiver Jake Russell, who is Darnold's roommate. "But I don't think people see why he has that. Sometimes when he throws the ball he won't even have the laces at all."
Tight end Tyler Petite said young pass catchers have to adapt to Darnold's speed. During film study, Petite said, he sometimes warns freshmen tight ends, "Hey, get your head around fast because Sam will put it on you."
Darnold has a quick trigger at all times, not just on screens. According to Pro Football Focus, Darnold has the second quickest time-to-throw among top quarterbacks, at 2.42 seconds, behind only Oklahoma State's Mason Rudolph (2.32 seconds). For perspective, last season Drew Brees also had a 2.42 time-to-throw, third fastest in the NFL.
But Darnold's urgency is greater on screens. USC views them as free yards.
"If they're going to keep giving us those easy-access throws," Darnold said, "we're gonna take 'em."
Gustin has biceps tear
Helton said for the first time Thursday that outside linebacker Porter Gustin's injured right biceps was torn, not strained. Gustin played against Texas with a right biceps strain and two screws surgically inserted into his fractured right big toe.
The biceps tear does not require surgery, Helton said. But the injury typically takes multiple weeks to fully heal.
"I think it's gonna be a little time for two injuries and trying to heal both," Helton said.
Two injured defenders returned to practice Thursday. Defensive end Rasheem Green (ankle sprain) and defensive back Ajene Harris (knee hyperextension) both participated, though Helton said even if Harris plays against California, "I don't know if he can go the whole game."
Receiver Steven Mitchell Jr. (groin) and running back Ronald Jones II (thigh contusion) did not practice. Earlier in the week, running backs coach Deland McCullough said he expected Jones to play.
Quick hits
Helton said receiver Michael Pittman Jr., who has not played this season because of an ankle sprain, could play against Cal. … USC will bring freshman receiver Randal Grimes, a redshirt candidate, to Berkeley. USC will use him if it needs an extra receiver, Helton said.
Follow Zach Helfand on Twitter @zhelfand
---