USC's Lynn Swann turns from athletic director to football recruiter for Trojans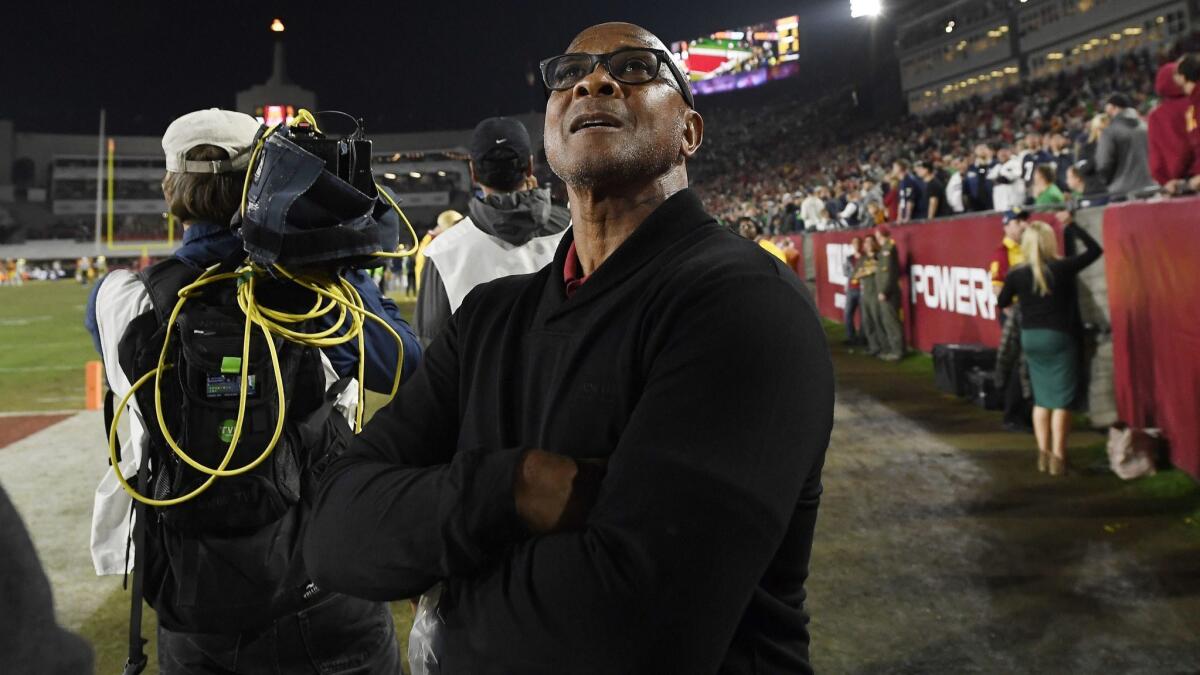 Throughout USC's unsettling November swoon, as speculation mounted that coach Clay Helton was suddenly occupying the hottest seat in the nation, he spoke with conviction that he had the unwavering support of athletic director Lynn Swann.
Swann publicly backed Helton after the Trojans' loss to Arizona State on Oct. 27 and stuck by that vote of confidence by ignoring fan and donor pressure in announcing the day after USC's season-ending loss to Notre Dame that Helton would return as coach.
Behind the scenes, though, Swann was doing even more for Helton in the world of recruiting, where USC's opponents have been having a grand old time spreading negativity about the Trojans' stability under Helton. Perception is everything when trying to convince recruits and their parents to sign away the next four or five years of their lives to a coach and an institution, and Swann, despite his limited experience in college athletics administration, has shown an unprecedented level of commitment to being hands-on with a part of the operation most in his position don't touch.
"Probably the most active AD I've ever seen," said Greg Biggins, a national recruiting analyst with 247Sports. "I've talked to several players and parents, and Lynn Swann is talking to them regularly. I've never heard of that before, an AD actually talking to the parents. This was after the Cal game, after the UCLA game, after Notre Dame, they're saying, 'I'm talking to the man himself.' Swann was adamant to every parent I talked to that Helton was never going anywhere."
With the early signing period for recruits beginning Wednesday morning, it remains unclear just how much Swann's big bet on Helton and the athletic director's extra effort on the recruiting trail will benefit the Trojans in their 2019 class. Perennial top-10 dwellers in these rankings, they sit 28th nationally with 15 commitments but appear well-positioned with some blue-chip players to try to imitate the finishing kick USC is known for on signing day.
It will not be a vintage Trojans class, but it can still be one that won't set them back, anyway.
"It's going to end up a really good class," Biggins said. "It was tough. I've always said this: The rumor of a potential coaching change is always way worse than the coaching change itself. It's not knowing. Every kid and every parent wants to know who is going to be there."
Said Adam Gorney, a national recruiting analyst for Rivals: "It's been a difficult thing. No one knew what was going to happen to him at the end of the season. I think that if he was actually fired they could have revitalized this class in a different sort of way. A lot of 2019 kids will see their freshman season as kind of if it's another failure, another 5-7 season, the likelihood is that he's gone. There's been a lot of reservation in 2019 kids to come to USC or to flood like they have in the past. But that isn't to say keeping him was a bad decision. They will still be closing strong."
Biggins and Gorney emphasized how popular Helton remains with recruits. Gorney said five-star Santa Ana Mater Dei receiver Bru McCoy, one of the top uncommitted players left nationally, wanted Helton retained at USC. McCoy is expected to end up with the Trojans, along with fellow uncommitted five-star receiver Kyle Ford of Orange Lutheran.
The biggest loss USC suffered from the 2019 class this fall was the decommitment of St. John Bosco cornerback Chris Steele, one of the top defensive backs in the nation. Steele has kept USC in contention and will be deciding soon between Florida, South Carolina and the Trojans.
Cornerback is a major position of need for USC, which will lose seniors Iman Marshall, Isaiah Langley, Ajene Harris and Jonathan Lockett. The Trojans have secured a commitment only from four-star cornerback Max Williams of Junipero Serra and three-star cornerback Trey Davis of Federal Way, Wash.
USC has more receivers committed (three) than offensive linemen (two). McCoy and Ford would add to a monstrous haul at the receiver position just in time for the arrival of offensive coordinator Kliff Kingsbury, who has generated the expected amount of excitement with skill players the last few weeks.
The Trojans will look to add depth to their offensive line haul between now and February's signing day, but Kingsbury's quick-tempo, pass-happy offense should make it less of a necessity that USC end up with a class full of blue-chip linemen.
"That has not been a major focus of the 2019 class," Gorney said. "It's clear to me they don't think they can win this battle by getting the biggest, baddest offensive linemen in the country and pounding student body right, student body left. When you have Kliff Kingsbury come in, you don't need to have JT Daniels sit in a pocket that's collapsing. If they want to blitz you, the ball is out in a second. It's not what the USC offense is typically known for, but Kingsbury is going to be able to come in and sell that."
McCoy and Ford's decisions will say plenty about the effectiveness of what Swann, Helton and now Kingsbury have been selling about the future of the USC offense.
"Kingsbury is saying we're going to play seven, eight guys [at receiver], and you're going to see three or four guys with pretty big numbers," Biggins said.
Twitter: @BradyMcCollough
Get the latest on L.A.'s teams in the daily Sports Report newsletter.
You may occasionally receive promotional content from the Los Angeles Times.