USC's Clay Helton can't wait for next season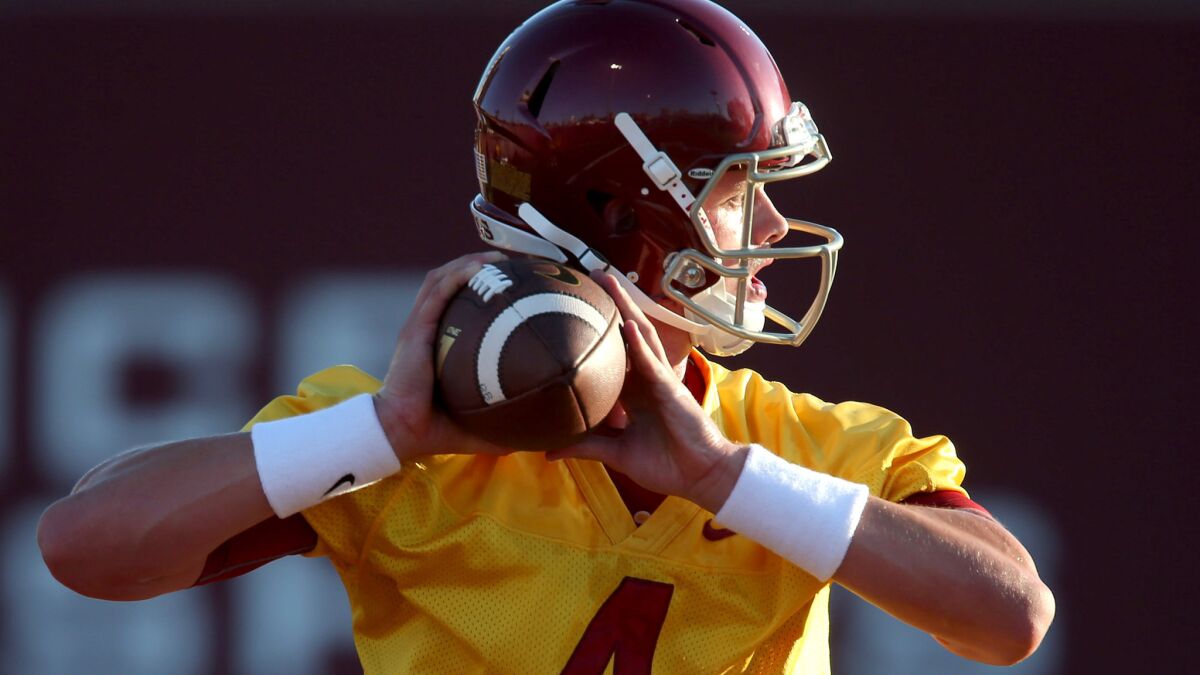 Clay Helton could not wait to finish an end-of-season teleconference Thursday night.
The call with reporters was conducted during the first half of Alabama's national semifinal victory over Michigan State.
USC opens the 2016 season against Alabama, so USC's coach was eager to return to his television.
"I'm always scouting," he said, chuckling. "As soon as I get off the phone I'll be pushing unpause … and watching the Alabama game with much interest."
The 2016 season will be Helton's first with his own staff, which he said he is in the process of putting together by mid-January. Helton must hire a defensive coordinator and several assistants. No hires have been finalized, he said.
"I've been blown away by the interest and the number of calls I've received," he said.
In the aftermath of a tumultuous 8-6 season that ended with losses to Stanford in the Pac-12 Conference title game and to Wisconsin in the Holiday Bowl, the "No. 1 priority" going into his first full season as permanent head coach would be instituting "physicality in the trenches," Helton said.
The spotlight for fans, though, will be on the quarterback position, where Max Browne and Sam Darnold will compete to replace three-year starter Cody Kessler.
Browne and Darnold said during preparation for the Holiday Bowl that the competition already had begun.
Browne, 6 feet 5 and 220 pounds, will be a fourth-year junior. He considers himself the front-runner after two seasons as a prepared-but-seldom-used backup.
"Being the older guy, I have to take that mentality — and that's what I'm going to take into spring," he said. "But I definitely have to prove it and earn every bit."
The more mobile 6-4, 215-pound Darnold will be a redshirt freshman.
Darnold said he "absolutely" believes he will get a legitimate shot to win the job.
"I'm just going to play my game and Max is going to do the same," Darnold said.
Helton said Thursday he probably will not name a starter until the end of spring or the fall.
"The guy that is producing the best will go out and play," he said.
The Trojans have several talented and experienced offensive skill players returning, including receiver JuJu Smith-Schuster, tailbacks Justin Davis and Ronald Jones II and multipurpose standout Adoree' Jackson.
"We have a lot of talent," Davis said of the roster. "We can do some big things."
The Trojans, however, have work to do before spring practice begins, Smith-Schuster said.
"We have to come back stronger," he said. "Getting ready for our quarterback situation and … all the young guys who have to step up and play more."
Steven Mitchell Jr., Darreus Rogers, Jalen Green, Deontay Burnett, Isaac Whitney and De'Quan Hampton are other returning receivers.
The tight end position will be deep with Taylor McNamara, Tyler Petite and transfer Daniel Imatorbhebhe.
Versatile offensive lineman Toa Lobendahn is on his way back from knee surgery to fortify a line that could return every starter from the second half of the season. Helton said Thursday that Khaliel Rodgers, who played center after Lobendahn's injury, would undergo shoulder surgery soon.
Defensive linemen Rasheem Green, Noah Jefferson and Jacob Daniel got valuable experience as freshmen. The spring will be critical, Helton said, as young defensive linemen prepare to step in and help a unit that loses three starters.
"I like what they've done through the year," Helton said, "and we've got a long way to go to be able to win a Pac-12 championship."
Linebacker Cameron Smith was the Trojans' second-leading tackler as a freshman despite sitting out the final four games because of a knee injury. He will anchor a position group that is young and deep.
Jackson and Iman Marshall return at cornerback, Chris Hawkins, Marvell Tell and John Plattenburg at safety.
Helton plans to fortify the roster with another strong recruiting class in February.
When the Trojans open spring practice, Helton and a new staff will begin to put their own stamp on the program. New offensive coordinator Tee Martin will take over play-calling duties.
"What I'm really looking forward to is being a true head football coach," Helton said.
Davis, who will lead the tailback corps as a senior, is optimistic about the new start.
"We have a coach that's confident in us and it's going to pay off for the future," he said. "I can't wait."
Twitter: @latimesklein
Correspondent Lindsey Thiry contributed to this report.
---
Get the latest on L.A.'s teams in the daily Sports Report newsletter.
You may occasionally receive promotional content from the Los Angeles Times.