Quarterback Cody Kessler is USC's main man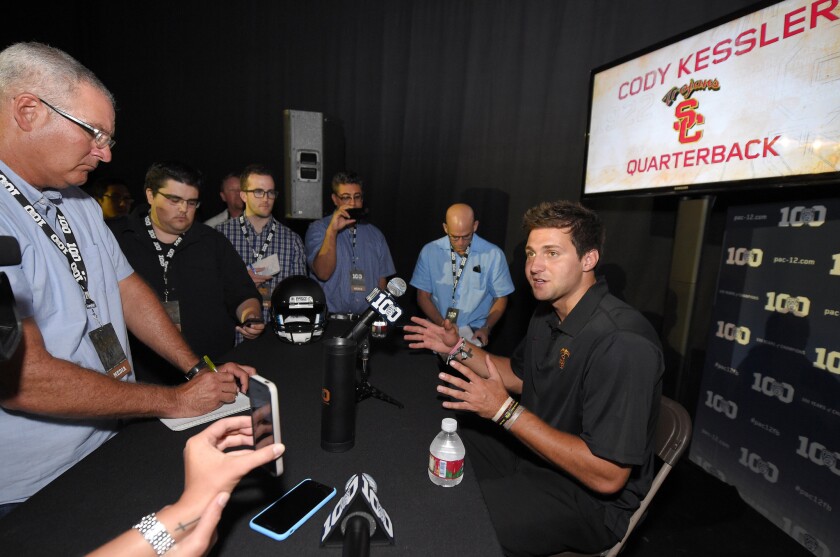 Cody Kessler did not court the attention that accompanies inclusion in the Heisman Trophy discussion.
"I'm from Bakersfield," USC's quarterback said Friday during Pac-12 Conference football media day. "I don't need a whole lot of anything."
Kessler's 2014 performance — a 70% completion percentage and 39 touchdowns passes with only five interceptions — has made him a staple of Heisman chatter. And on a Warner Bros. Studio lot that includes Batman and Harry Potter exhibits, Kessler was the main attraction during the Pac-12's annual preseason gabfest.
Kessler began the day by posing for a group photo with other marquee players, made his way through a gantlet of radio-row interviews, then drew the largest group of reporters for 30 minutes on a sound stage. Then it was off to fulfill television interview responsibilities.
The fifth-year senior is accustomed to staying on the move. Since spring practice ended, he worked as a counselor at an elite high school quarterback camp and participated in the annual Manning quarterback camp put on by football's first family in Louisiana.
In between, Kessler worked on sharpening his throwing mechanics with a private quarterback coach and organized team workouts on campus.
USC lost several key players from last year's team that finished 9-4. Defensive lineman Leonard Williams and receiver Nelson Agholor left with eligibility remaining and became first-round NFL draft picks. Leading rusher Javorius Allen and receiver George Farmer also turned pro, and four-year starting linebacker Hayes Pullard was drafted.
Despite the departures, for the first time since 2012 USC was picked to win the conference in a media poll. The Trojans are ranked 10th in the national coaches poll.
The main reason: Kessler.
With Heisman Trophy winner Marcus Mariota and Brett Hundley gone to the NFL, Kessler and California's Jared Goff are the most high-profile quarterbacks in the Pac-12.
USC Coach Steve Sarkisian tutored Carson Palmer, Matt Leinart and Jake Locker during senior seasons that featured Heisman implications.
He does not plan to change his approach with Kessler.
"I let them be them," Sarkisian said.
Kessler and Sarkisian acknowledged that Kessler's record-setting 2014 season will be difficult to duplicate. But repeating it is not a priority.
"What's going to define him is how he performs in the biggest games," Sarkisian said, "and how he performs at the critical moments."
Kessler blamed himself for last season's last-second losses to Arizona State and Utah because the offense failed to produce important first downs.
To prepare for his final college season, he said he picked the brains of Peyton and Eli Manning and stayed in touch with former Trojans quarterbacks such as Matt Barkley and John David Booty. He is scheduled to chat next week with Leinart.
"I want to win games," he said, adding, "I don't want to be 9-4 or 10-4 anymore. I want a chance to at least be playing for the Pac-12 title."
USC linebacker Su'a Cravens said Kessler's maturity will pay dividends this season.
"He knows how to withstand pressure," Cravens said. "I know we're going to be in some games this year where we need him to drive us down the field 90 yards to win a game, and I feel like Cody's in position and ready to do that."
Utah linebacker Jared Norris was Kessler's high school teammate and helped the Utes defeat the Trojans last season at Salt Lake City.
Norris said the hype won't get to Kessler.
"He's always been one of those guys that take what everybody is saying and kind of just keeps it to himself," Norris said. "He's a real humble guy."
USC's recent history handling lofty expectations is not good.
In 2012, the Trojans were ranked No. 1 nationally and were picked to win the Pac-12. USC finished 7-6, losing to Georgia Tech in the Sun Bowl.
Kessler was a redshirt freshman.
"That year I felt like they enjoyed that more than they should've," Kessler said of the hype, "and that's something we can't do."
After working their way through NCAA sanctions and coaching changes, Kessler said the Trojans are prepared to avoid a repeat of 2012.
"We're better suited to handle anything just because of what we've gone through," he said.
Twitter: @latimesklein
---
Get the latest on L.A.'s teams in the daily Sports Report newsletter.
You may occasionally receive promotional content from the Los Angeles Times.