USC linebacker Cameron Smith's surprising return for senior season has lofty goals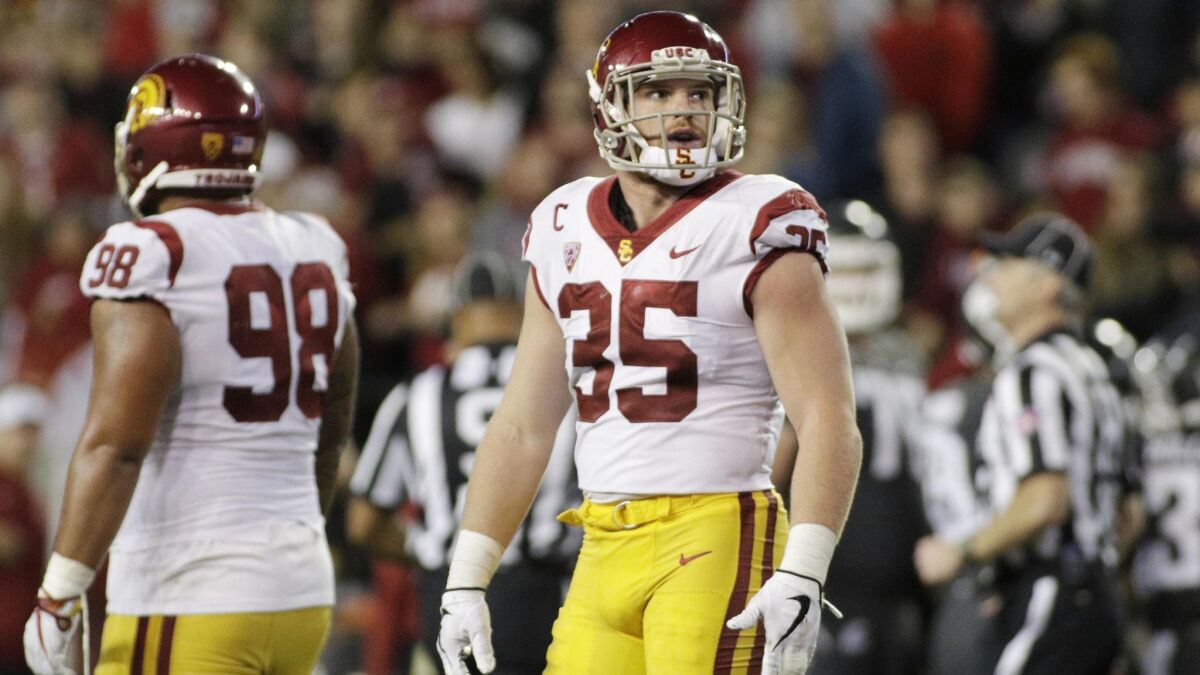 At last month's Pac-12 media day, Cameron Smith was unafraid to state a personal goal for his senior season — to be a first-team All-American linebacker.
The next week, before he could even put on his shoulder pads to begin backing up that statement, he left USC's second practice of fall camp with a hamstring injury.
Two weeks passed, with Smith missing the heart of his last fall camp as a Trojan. This was not what he had in mind when he decided to put off the NFL for one more year. For seven months, he had worked to change the way he ate and trained, shedding 22 pounds from the end of last season in an effort to play faster and lead this veteran USC defense. Now, he and everyone else would have to wait to see what the 233-pound version of Smith would look like.
"This is the lightest I've weighed since sophomore year of high school," Smith said. "In terms of what I wanted from this extra year, it's more than exceeded my expectations. I've wasted no time in getting better at the things I wanted to get better at."
Tuesday, Smith finally got his chance to try out his new frame and hit somebody. The return of USC's two-time captain to the lineup — Smith got the news Monday that he was voted captain again by his teammates along with Marvell Tell III, Porter Gustin and Toa Lobendahn — has contributed to some of the most physical practices of August.
"I feel like I have a lot more energy, and I'm able to run sideline to sideline," Smith said.
USC defensive coordinator Clancy Pendergast said Smith was just one of a large group of Trojans he challenged to trim down.
"I think he's moving better," Pendergast said. "He appears to look better in the individual drills and 7-on-7s and the areas where he's playing in space. So I'm real proud of him. I think he's going to have the opportunity to have a real good year this year."
To Smith, his injury ended up being a blessing. Somehow, he left the experience more motivated.
"You never really realize how much you want to practice or play until you're on the sideline watching everybody else play," he said. "It was hard for me the two weeks just because I love — more than playing football — being out there with my friends running around and having fun and laughing. I definitely missed that. It's a refresher. It's my last year, so it's more a, 'Here goes everything, it's all I got,' and I'm giving that to my teammates."
While he was out, Smith funneled his energy into watching more film of the defense as a group than he would have if he were healthy.
Because of his injury and Gustin's meniscus surgery, young outside linebackers like Kana'i Mauga, Hunter Echols and Juliano Falaniko got a chance to gain valuable experience with Jordan Iosefa moving to the inside.
Smith's understanding of Pendergast's attacking 2-4-5 defense has increased, which is hard to believe for a guy who has started 35 games and made 273 tackles.
"I took it to another level," Smith said. "I had more time to watch everybody. I've heard Clancy talk about what it's supposed to look like the last two and a half years. I more so have started applying it into the film and putting into my head from a coaching standpoint."
With his second term as captain beginning, Smith has a mandate to take the next step as a leader.
"I feel ready to serve for them," Smith said. "Something I lacked last year was the confidence to be more of a mentor. I think that's where I've grown, to be more of a mentor and share more of my wisdom of being here four years now."
Chippy practice
The offense and defense have been going against each other for 21 days now. It started to show Wednesday when several skirmishes broke out in live team drills. The most notable one came when safety Bubba Bolden and receiver Michael Pittman Jr. got tangled up after Pittman caught a pass. The two had to be separated by a mob of cardinal and white jerseys.
What USC's players already knew was that their coach actually kind of likes it when they don't play nice.
"Awesome," USC coach Clay Helton said. "Absolutely love it. Made it fun, didn't it? We talked yesterday about how we wanted to be competitive and not be lackadaisical at practices. But you have to let kids compete, and when you do that then hopefully Saturdays become really easy."
Etc.
Bolden has spent more time with the first team this camp than Ykili Ross, who missed time with a hamstring. But Pendergast said Bolden has not nailed down a starting safety spot. … Helton said running back Aca'Cedric Ware was pulled from practice with a sore knee. Cornerback Je'Quari Godfrey was pulled with a groin injury. Offensive tackle Bernard Schirmer left with a stinger and will have a MRI.
Twitter: @BradyMcCollough
Get the latest on L.A.'s teams in the daily Sports Report newsletter.
You may occasionally receive promotional content from the Los Angeles Times.