USC's quarterbacks came into Thursday's scrimmage at the Coliseum with a plan. They were going to pick on the young, swaggering cornerback, Jack Jones.
Jones played sparingly last season as a freshman, but by the spring he was pestering quarterback Sam Darnold like a mosquito at a picnic. He began creeping closer to the line, reading Darnold's tendencies and using his explosive speed to jump slant routes early. His confidence grew. So did his ambition.
"I want to play great, play legendary, every time I touch the field," Jones said after one practice.
By last Tuesday, he was ready to make a highlight. He recognized another slant pattern developing a fraction of a second early — perhaps, quarterbacks coach Tyson Helton later laughed, by standing close enough to the sideline to hear the offense's play call. Jones shot under the route, plucked the ball from the receiver and scored a rare pick-six off Darnold.
"It was the one interception Sam had all year where we really didn't talk about it," Helton said. "Because the minute he threw it, I looked at him and he looked at me, and we both were like, 'He's cheating his butt off.' "
Such plays show the appeal of Jones — and the risk. The Trojans knew they were adding a playmaker when they signed him out of Long Beach Poly High. He has also proven to be a daredevil. Now that he is a starter in place of Adoree' Jackson, USC would like him to smooth out the rough edges.
"His ceiling is so high because of his natural, God-given ability," head coach Clay Helton said. But, he added, "he's got a lot of work to do."
After Jones' interception, the quarterbacks knew they would counterattack. Jones was jumping the quick routes? Fine. They would prey on his aggression.
"Maybe at the high school level when he stepped on the field he was probably king of the hill," cornerbacks coach Ronnie Bradford said, "but you step on this field, you've got a lot of king of the hills."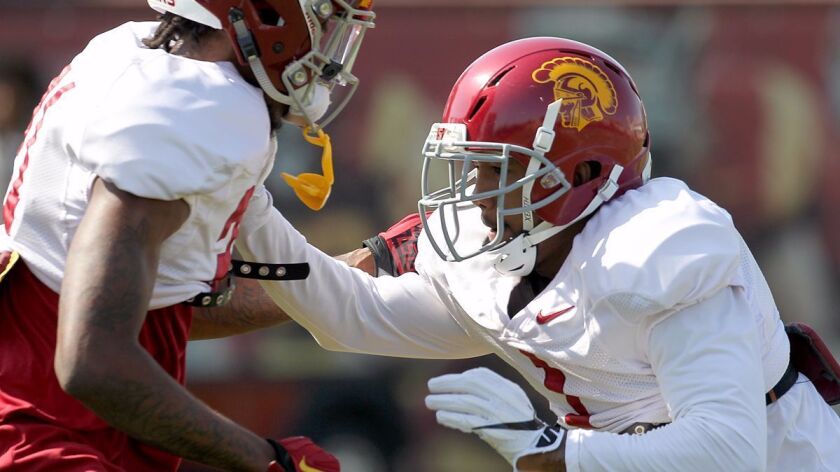 USC's undisputed king of the hill provided an education. On Thursday, Darnold burned Jones early with "sluggo" routes, in which a receiver fakes a slant then turns straight upfield.
"We got Jack a ton in the scrimmage," Darnold said.
The final play of Jones' day was another stutter-and-go from Michael Pittman. Backup quarterback Matt Fink lofted the ball. Jones grasped Pittman's jersey, but Pittman muscled through, jumped and caught the ball in the end zone.
The offense streamed onto the field and danced as if it had won a game.
Afterward, Clay Helton noted that Jones is "gonna have to not live on just athleticism. You better learn technique and fundamentals and you really better buy into the coaching that goes into that."
When Jones arrived at USC, he set his sights higher than the daily toil of perfecting coverages, leverages and tendencies. He famously announced that he intended to win last season's Heisman trophy, even though he was backing up Jackson and Iman "Biggie" Marshall.
"Basically I just wanted to be the best out here, and I knew it was going to be hard with Adoree' and Biggie," Jones said. "Instead of letting the plays come to me, I felt like I should go out and try to make every play. And that's what kind of set me back."
Jones showed promise in practice but was inconsistent. When pressed into game action, he was a mark for double moves because he hunted so purposefully for interceptions.
This spring, Bradford said, Jones has been more exacting. He has spent time honing his alignment and reading offenses. Privately, Bradford has talked to Jones about setting a goal: Try to be bored.
"Every play's not going to be an ESPN highlight," Bradford said. "Sometimes some of the best players are the most bored players because they never get the ball thrown to them. Deion Sanders will tell you, 'Hey, I didn't see no action.' Hey, that's not a bad thing."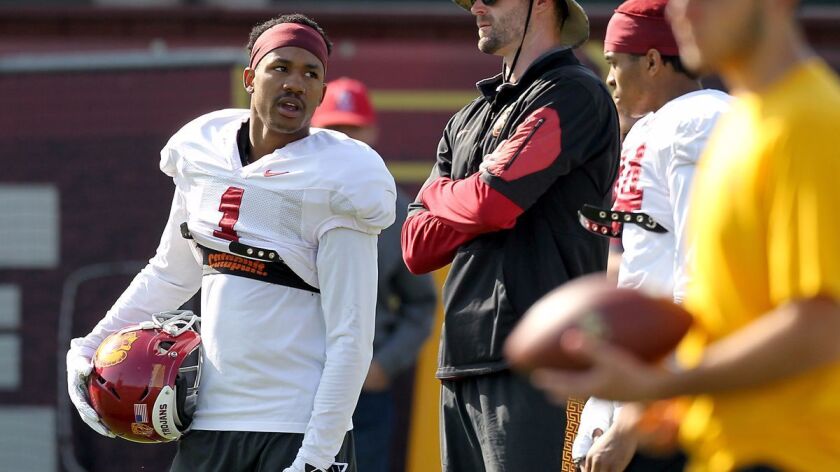 Jones said he is realizing that he can be one part in an 11-man defense "rather than trying to make every play like this is just some Madden 'My Player' or something like that," he said.
USC's receivers still seem to relish burning Jones more than any other defensive back. The celebrations, like after Pittman's touchdown, seem cathartic.
"Part of his game is kind of to get in your head," Pittman explained. "So when you make plays on him, you've gotta celebrate like he would celebrate on you."
Clay Helton has talked with Jones about being a target. The spring, among friends and teammates, would be a prelude to the season.
"You're the young buck that's going to be out there," Helton told Jones.
It was another way of saying Jones would no longer need to go out of his way to be part of the action.
Instead, it would be coming to him. Or, as Helton told him: "They're gonna come straight after you."
Follow Zach Helfand on Twitter @zhelfand
---