USC is happy with 'mad scientist' John Baxter's special teams creations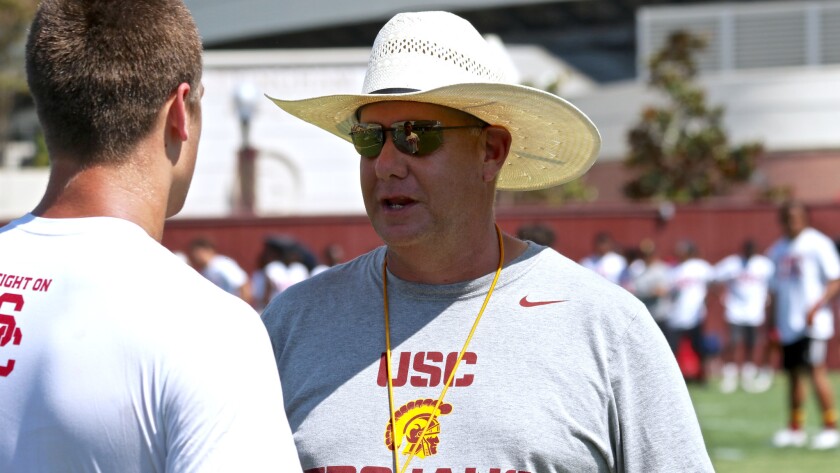 USC special teams coach John Baxter studies an opponent's punts and kicks like a hacker probing a computer network. A few weeks ago, he discovered a vulnerability in Arizona's punt protection and designed a specific play to exploit it.
There was limited time to practice the play, and on the first repetition, the key player, Jabari Ruffin, was lined up in the wrong gap. Baxter watched and stewed. Ruffin was blowing it.
Baxter told him as much. Ruffin was destroying the entire play, he screamed, loudly, in front of the entire team.
Bluntness is typical of Baxter's style. He says he is a fussy coach.
"To be honest with you, I'm really never happy," he said. "And that's really a problem. Because my wife always says to me, 'What are the players ever going to do that's going to satisfy you?' And I say, 'I don't know.'"
Dutiful repetition, he believes, has been the key to his highly successful career, and mistakes during drills are not tolerated. Since 1992, he has kept a journal documenting the drills and repetitions run each day, and he studies his observations often.
"Everywhere he goes, they're the best at special teams," safety Chris Hawkins observed one day recently. Then he laughed. "He be yelling at me a lot, though."
Hawkins said his teammates enjoy Baxter's passion and his regimented system because it gets results. Returner Adoree' Jackson is sixth nationally in punt return yardage and seventh in kick returns. USC is ninth in punt return yardage allowed: only 2.3 yards a game.
These are typical numbers for Baxter. In 13 seasons as Fresno State's special teams coach, his teams blocked 84 kicks and scored 39 touchdowns.
A previous stint at USC, from 2010 to 2013, yielded 27 blocked kicks and FootballScoop.com's Special Teams Coordinator of the Year in 2011, a distinction he recently compared, in an interview with Scout.com, to "peeing your pants in a dark suit. Gives you a warm, fuzzy feeling all over, but nobody can really see it and nobody really cares."
Baxter's career took off, he said, only after he started approaching each practice systematically. He'd skated by early, including a successful two-year stint at Arizona, before landing at Maryland, where he said his unit was lousy.
"And all of a sudden I started realizing that maybe it was just the players making plays [at Arizona]," Baxter said. "It wasn't that I was a very good coach."
Baxter began journaling, a habit that eventually evolved into a philosophy on learning in general. He adopted it into what he calls his Academic Gameplan, a method for teaching students how to best study.
Baxter came to believe that drills have only two purposes: to repeat the most commons motions that players will make and to anticipate and prevent mistakes.
Among casual college football observers, Baxter is most well known for his failure to prevent one very visible mistake. Last season, in the final seconds of a game, Michigan's punter mishandled a seemingly benign punt and gifted a shocking victory to Michigan State.
"Welcome to the latest episode of Truth Is Stranger than Fiction," Baxter told Sports Illustrated after the game. "That was the fluke of all flukes. And we'll choose to look at it that way."
The mistake was especially surprising because Baxter is so fastidious. Earlier this season, he ran around squirting skill position players with water, in anticipation of rain.
He has invented most of his unusual drills and views each as proprietary, requesting that reporters not share his techniques.
But earlier this year, USC Coach Helton discussed one of Baxter's unusual creations publicly: Baxter strung a wire between USC's goal posts, like a second, higher crossbar. A longer cord was affixed to it at the center and Baxter took this longer cord and stretched it out to where his holder was kneeling.
The cord traced a straight line from the holder to the dead center of the goal posts, tracking to the flight of a kick. Kicker Matt Boermeester could visualize his attempt. The defense could see exactly how high it needed to jump to block it.
"You see that line?" Helton said later, shaking his head. "The evil scientist."
This season, when teams started trying to avoid Jackson's dangerous return ability with low bouncing punts, Baxter began feeding Jackson information on each punter's tendencies. Helton compared it to a hitting coach diagnosing a pitcher's arsenal.
"They have a pitch they absolutely love to throw and a location they absolutely love to throw it at," Helton said.
This position, Helton said, is why Jackson persists in picking up big chunks of yardage. Jackson said that Baxter always seems to have the other 10 men in the correct position.
"I know they're going to do their job," Jackson said. "I ain't gotta worry about nothing, just attack one guy, seams will open up."
One of those 10 men a few weeks ago was Ruffin (who has since been suspended for a violation of team rules). But by game time, Baxter had ironed out the mistakes.
In the second quarter, the punt team made the call. Ruffin squeezed inside the line as Baxter had taught him and made for the punter. A block was so imminent that the punter recognized it right after the ball was snapped, got spooked, rushed and shanked his kick off the side of his foot for 23 yards, his shortest punt of the season.
It was the cherry atop a near perfect day for Baxter. In addition to the shank, Arizona didn't manage a single return yard on USC's 11 punts and kickoffs.
Later, Helton recalled, "That was one of the happiest I'd seen him."
Quick hits
USC's game Saturday against Oregon will kick off at 4 p.m. and air on ESPN. ... Its next game, Nov. 12 against Washington, will kick off at 4:30 p.m. and air on FOX. ... Helton handed out candy across USC's campus for Halloween on Monday. … USC resumes practice Tuesday.
Follow Zach Helfand on Twitter @zhelfand
---
Get the latest on L.A.'s teams in the daily Sports Report newsletter.
You may occasionally receive promotional content from the Los Angeles Times.