USC's Max Tuerk gets a new read on line by playing center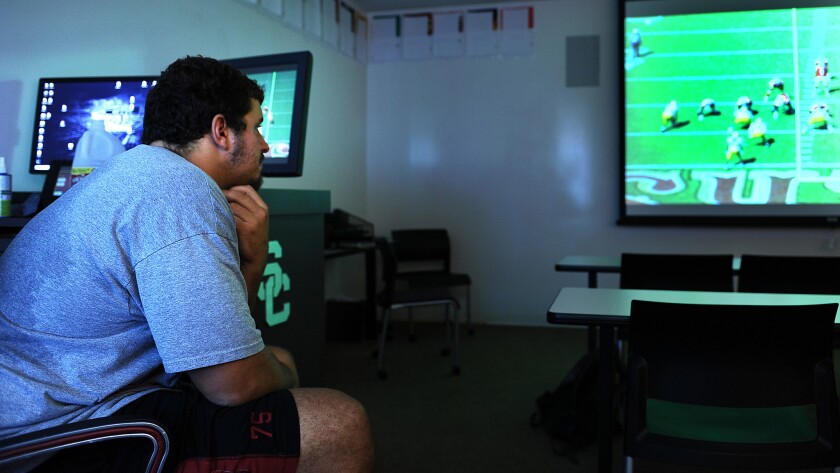 Stuffed in the large plastic bag Max Tuerk has been toting around the USC campus, there is a sandwich, two bananas, an energy bar, a pack of almonds and a whole avocado, as well as the remaining half of a fast-food chicken sandwich he had been gnawing on. All this, he says, is a snack.
"Never turn down food," Tuerk says with a laugh. "That's my motto."
Between bites, he swigs from a gallon-sized water jug. He drinks two of these a day.
As he sits in the lobby of USC's football facility, the John McKay Center, Tuerk looks every bit his part. He might be the Trojans' best lineman, surely the most versatile, and his broad chest inflates his stained T-shirt as wind might a sail.
He is 6 feet 6, 285 pounds, with hands that swallow lesser hands whole. And he is trying to add even more bulk.
On this day, though Tuerk is not headed to the weight room but to the video room — a place where he has spent a large portion of his summer.
USC opens camp Monday and Tuerk, a junior, is penciled as the Trojans' starting center, his third position in three years. He has plenty to learn — and more than a fair share of pressure.
In first-year Coach Steve Sarkisian's offense, the Trojans hope to play at a frenetic pace, meaning there will be no time for doubts or confusion.
As a center, Tuerk must identify the defense and make the proper line calls so whatever play has been called has a chance to work. That means he must not only know his assignment, but also that of everyone else on the line.
To prepare, Tuerk has made an almost-daily trek to the video room for an hour or two. Sometimes his roommate, quarterback Cody Kessler, tags along. Other times his linemates join.
Alone with a visitor this time, Tuerk sits in the back row of the room, holding a remote control. On the screen is a Green Bay Packers vs. San Francisco 49ers game from last season. He is testing himself on an NFL game rather one from college because he says the professionals react more quickly and confidently. He also admires San Francisco's blockers — all of them.
Tuerk studies the line as a package, each part a link in a chain. As he hits "play" and "rewind" in a quick rhythm, the players on the wall salsa to silent music.
While he watches, Tuerk guesses what calls are likely being made on the line. If he were the guard, he says, he'd be waiting on the center to identify the middle linebacker, or "mike." He would confirm the center's call with one of his own, then wait for the next set of instructions.
"Now, when I'm at center, I've got to be the first guy who makes the call," he says.
It was February when Tim Drevno, USC's new offensive line coach, summoned Tuerk to his office. Drevno believes in building a line from the inside out, starting at center. With Marcus Martin gone to the NFL, Drevno needed a leader as an anchor in the middle.
Tuerk is what Drevno calls a "flat-liner." He plays with intensity — during his junior year of high school he drew five personal fouls in the first five games — but also has a short memory. If a mistake was made, he simply moved on to the next play.
Asked to change positions, Tuerk went along. He was used to it. Trace USC's sanctions and coaching changes forward and the effects ripple toward Tuerk.
When the sanctions limited USC's scholarships and decimated its depth, Tuerk was thrust into action, becoming the first true freshman to start at tackle for the Trojans. As a sophomore, with a new line coach, he was briefly moved to center before settling in at guard. Now, with yet another coach, he is shifting again.
Gil Brandt, the former Dallas Cowboys vice president who is an analyst for NFL.com, said Tuerk might already be the second-best center in the Pac-12 Conference.
Tuerk studies in the video room hoping to carry that potential to the field.
When the linemen watch as a group, Drevno has encouraged them to communicate as if they were in the game. The center calls out the assignments; the rest respond accordingly. The chatter should ideally flow like a conversation.
"I like to watch every position," Tuerk says. "I've played all the positions, so …" His voice trails off, as it often does when he is intently studying the screen.
"Looks like another odd front," he says as the players prepare for another snap. His voice is higher and softer than normal, as if he's thinking aloud to himself. As the defense shifts, Tuerk narrates.
"No, they're moving around," he says. "This is an under front so strength's to the right, mike's to the right, and there's a shade on the right, so that means it's an under front."
He goes through his progression: make the front call, read the defense, find the middle linebacker. That linebacker often dictates where a pass will be directed and how the line should form to protect the quarterback. After another line call, Tuerk finally looks for the defensive tackle — the player he will typically block.
Tuerk learned the value of studying line play — and changing positions — while in high school.
His line coach at Santa Margarita High was Marty Spaulding, who recalls one of the first times he saw Tuerk play.
Tuerk was at tight end, and to Spaulding he was horribly out of place.
The coach recalls the conversation this way: "Hey Max, buddy, Marty Spaulding's the name, and let me tell you something, you are the real deal." He then told Tuerk he would be a starting tackle and would "get scholarship offers from any university of your choice."
Tuerk, the team's leading receiver the previous season, said nothing. "You could've knocked him over with a feather," Spaulding said.
In Spaulding's system, Santa Margarita linemen learned every position, and from play to play were shifted to where it was thought they would be most effective. The exception was the center, who never moved around. So when Tuerk tried center at USC before the 2013 season he had little experience with snaps, and he struggled.
For this second try Tuerk is starting off with more experience. When Kessler gets together with receiver Nelson Agholor for passing practice, Tuerk tags along to snap. He says he and Kessler even practice snaps at home, though, "We try not to. There's not much room in those L.A. apartments."
Now, with the start of training camp only days away, there is plenty of anticipation around their particular apartment.
Participation in voluntary summer workouts was at a high. Years of NCAA-mandated penalties have taken their toll on the roster, but on June 10 the sanctions officially expired.
Tuerk recalls what he did that day without consulting a journal or a calendar. It was not unlike most other summer days: He filled a bag with food, went to the football offices and watched some video.
Twitter: @zhelfand
---
Get the latest on L.A.'s teams in the daily Sports Report newsletter.
You may occasionally receive promotional content from the Los Angeles Times.