After major probation, USC's compliance office among best in nation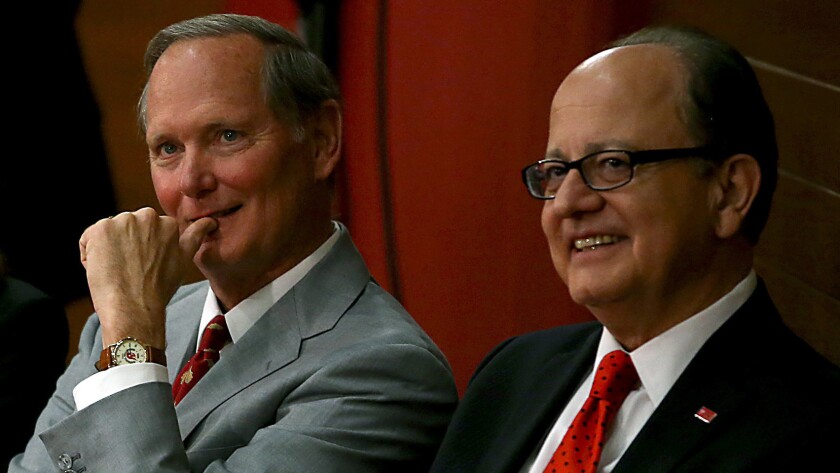 After 35 years as a private-practice attorney, David Roberts was ready to step away and spend more time on his golf game.
"To straighten my slice," Roberts said.
Then he received a request he couldn't ignore.
USC's athletic program was reeling from an NCAA investigation that resulted in some of the toughest penalties in college sports history. There were major infractions in football and men's basketball, even one in women's tennis, and the school's administration had been cited for "lack of institutional control," a tag dreaded by college presidents.
Max Nikias, who was preparing to take over as USC's president, invited Roberts on a bike ride and made an appeal.
"Basically, he said, 'Would you help us get these things straightened out?'" Roberts said.
So much for improving that golf game.
Bringing on Roberts, who had done legal work for the university, was among the first indications that Nikias received the NCAA's message loud and clear.
Roberts was hired as a school vice president and given the resources to beef up USC's compliance office, an on-campus watchdog charged with keeping the school and its coaches, athletes and boosters within the rules.
On Monday, USC serves the final day in four years of NCAA probation, one of the final vestiges of its penalties.
Tom Yeager, commissioner of the Colonial Athletic Assn., and a former chair of the NCAA's Committee on Infractions, said USC had made noticeable changes.
"There's a whole new administration at Southern Cal," Yeager said. "There's a different perspective, a different approach to everything."
In its 2010 report, the NCAA's Committee on Infractions noted, "concern that the institution's staffing commitment to compliance has been at times insufficient for an institution with an athletics program of the scope, depth and size as the one at USC. A serious commitment to Division I athletics must include a serious commitment to appropriate compliance."
At the time USC was penalized, the university had five compliance employees. Now, it is twice that size — among the largest in college sports. Administrators also have worked to foster a relationship with NCAA leadership and to be transparent when things do inevitably go wrong.
"They definitely have taken kind of a leadership position among Division I schools," said John Infante, a former compliance officer at Loyola Marymount and Colorado State who writes a respected blog about compliance issues.
The NCAA declined The Los Angeles Times' request to interview President Mark Emmert or its top compliance official to discuss USC's case, its effect on the college sports landscape and changes that have been made at USC since the sanctions were imposed.
Roberts and Pat Haden, who became USC's athletic director in August 2010, spoke from the outset of their tenures about creating a "culture of compliance." Roberts said that required a change in attitude throughout an athletic department that had been riding high on bowl game victories and unprecedented success.
"I won't say we were arrogant but we were certainly thinking a lot about ourselves," he said of USC's previous culture. "All those things led to, I think, a feeling where compliance just wasn't in the forefront of everyone's thought process."
USC's athletics compliance staff "educates and monitors its constituents; and, when necessary reports infractions and oversees the imposition of any remedial actions," according to the university website. The staff monitors issues related to recruiting, financial aid, initial and continuing eligibility, practice-time limits, agents, benefits, promotional activities and other topics as they arise. Athletes are offered printed materials, video and online presentations, seminars and one-on-one and small group meetings, and staffers are a constant presence at games and practices.
High-profile athletes receive the most attention, Roberts said, and are met with regularly for discussions about agents and other issues.
"You really have to get the athletic department to buy into this idea that we're not cops," Roberts said. "We're teammates."
Roberts and Haden also have made multiple trips to Indianapolis to meet with NCAA officials. USC administrators now serve on several NCAA committees.
The improved relationship has already worked to USC's advantage.
In 2012, USC and the NCAA launched an investigation after The Los Angeles Times reported that an employee in the Los Angeles County Assessor's office said he gave cash and perks worth thousands of dollars to football player Joe McKnight and basketball player Davon Jefferson while they were Trojans. McKnight last played for USC in 2009, and Jefferson in 2008, before the NCAA imposed sanctions.
"We found some things that we think happened but it wasn't a black-and-white situation," Roberts said. The NCAA treated the infractions as relatively minor "secondary" violations and agreed to USC's proposal to offer enhance education to its athletes on related topics.
"Now, would that same treatment have happened five years earlier?" he said. "Probably not. So I would say that the relationships that me, that Pat and that the president built there, and that all the people on my staff have built there, clearly helped us."
Other schools also may have learned from USC's experience.
USC self-imposed sanctions in men's basketball but not football during the NCAA investigation. Ohio State, Oregon and Miami, which were embroiled in high-profile NCAA investigations centering on the football programs, self-imposed sanctions and, in the end, were not penalized as much as USC.
The Ohio State case involved players who had received free tattoos in exchange for jerseys and other items, and it grew when it was determined then-coach Jim Tressel had lied to NCAA investigators. Oregon paid $25,000 to a scouting service, ostensibly so the founder would steer players to the Ducks. Miami booster Nevin Shapiro supplied Hurricanes players with cash and other benefits.
"Anybody out there now realizes if you have a major infraction problem with the NCAA, what you really should do is get in there and do some real examination and probably self-impose and take your medicine," Roberts said.
The NCAA cited Ohio State for "failure to monitor" — rather than the more serious lack of institutional control — and the Buckeyes lost nine scholarships. Oregon also was cited for failure to monitor and lost two scholarships. Miami was cited for lack of institutional control and lost nine scholarships.
Michael Buckner, a Florida-based attorney who has represented schools and coaches before the NCAA, said the USC case "changed everything."
"Looking back at it, said Buckner, who attended USC but has not represented the school, "it was the crest of the wave."
The NCAA's handling of Ohio State, its mishandling of Miami — which led to the ouster of the NCAA vice president of enforcement — and its rulings regarding Penn State had critics howling for consistency in the way cases were processed and ruled upon.
In 2012, in the wake a sexual-abuse scandal involving former Penn State assistant football coach Jerry Sandusky, Emmert imposed a four-year bowl ban, $60-million fine and a reduction in total scholarships to 65 — 20 below the maximum — for four years. A year later, the NCAA allowed Penn State to increase its scholarships to 75 in the 2014-15 academic year, 80 the following year and back to 85 after that.
When that modification was made, Haden appealed for relief for USC but was denied.
In August of last year, the NCAA implemented a new enforcement structure and penalty matrix designed, in part, to provide greater consistency and predictability.
USC hopes it never has to deal with it.
Though its probation is ending, under NCAA rules the school could be subject to "repeat violator" status if it commits a major infraction within five years of the start date of a major penalty.
"In essence, it's almost de facto quasi-probation," Roberts said.
There is also this: Roberts was asked whether, with the buildup in personnel and resources and the implementation of a high-profile athlete protocol, another Reggie Bush situation could occur at USC.
His reply: "Can a family 125 miles away from campus, who gets approached by an agent or guy, and who wanted to take money from that guy and say we're going to keep it totally quiet — and their son or daughter knows it's going on but they all want to keep it totally quiet — could it happen again?
"Sure it could."
---
Get the latest on L.A.'s teams in the daily Sports Report newsletter.
You may occasionally receive promotional content from the Los Angeles Times.