Frustration appears as USC searches for improvement near the midway point of the season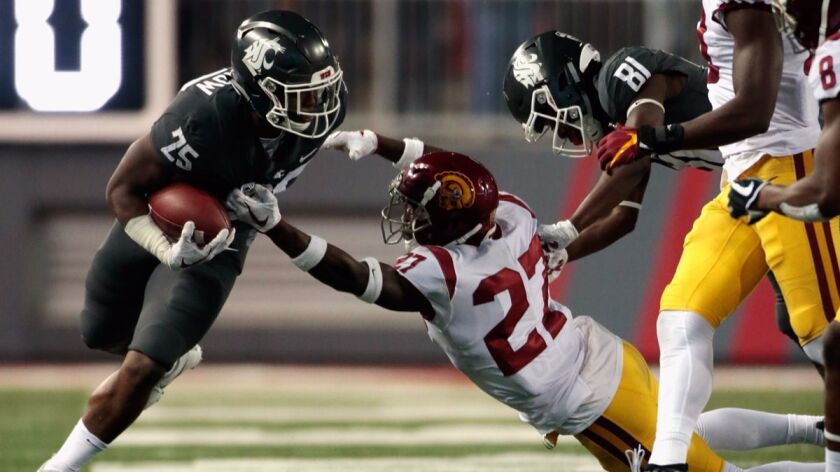 Stress wore on the faces and in the voices of USC team members this week as they approached the midway point of the season.
Clay Helton pronounced with a rare edge Tuesday that, "There's a lot of things to correct. I'm not gonna BS you." That is about as as profane as USC's mild-mannered coach gets publicly.
Offensive coordinator Tee Martin mounted a vigorous, and sometimes exasperated, defense of his offense and his play calling. "Newsflash," he said at one point this week. "We lost a lot of really good players that have gone off to the NFL right now."
Multiple players cried in the locker room last Friday after a loss to Washington State, USC's first loss in more than a year.
USC (4-1, 2-1 in the Pac-12 Conference) has responded to that loss differently than even a year ago, when the Trojans began 1-3. Partially, the expectations USC carries — it began the season a playoff favorite, the Pac-12 frontrunner and in the top five — have added tension. Helton has no easy maneuver that can cure all of USC's problems, as he had last season in quarterback Sam Darnold. And, USC's lack of a bye week has left the team battered by injury and dizzied by a month with no time to take a breath.
The first five games whooshed by with little time for reflection. USC escaped with precarious victories in each of its first four games before losing at Washington State.
The Trojans never had an easy game. Most troubling, they never showed consistent signs of progress on offense.
Saturday's game against Oregon State should provide an opportunity for both. Oregon State (1-4, 0-2) has been outscored by an average of 25.2 points a game this season. The Beavers' only win was by three points over Portland State, an FCS team.
Saturday probably will be about signs of improvement.
Helton was asked Tuesday if his offense had regressed. He danced around the question. He said the team had taken strides from a year ago and said he wanted to see similar progress from September to October.
Asked again Thursday if he'd seen improvements, he got more specific.
"I thought defensively that we've improved, especially with our younger kids," Helton said."Special teams have probably been the biggest bump up."
But for the offense, he said, "You go through the first month, 35 points of offense and [459] as far as offensive yardage, most teams would be like, 'Oh yeah, that's awesome,'" Helton said. "For us, we have extremely high standards."
The trend has been downward. USC began with 521 yards against Western Michigan, then zoomed to 623 against Stanford. Since, USC has steadily slid until it managed only 327 against Washington State.
USC has sustained a rash of injuries — fully half of the starting lineup has missed time in addition to several important reserves — but USC's execution has diminished, too.
Martin defended his offensive scheming this week.
"There has not been one game plan that I haven't liked," Martin said, before reconsidering with a laugh. "Probably Alabama [last season], those guys."
USC has also struggled to put away teams early. None of the Trojans' wins were comfortable.
Linebacker Cameron Smith said USC had to "take bigger steps throughout the rest of the season," but did not agree that USC had been living dangerously with close wins.
"I wouldn't say 'dangerously' is a word you say when you win a game," Smith said. "There's times when we would obviously like to have games that weren't going into overtime and close ones."
The loss wore on USC perhaps as much as the three losses combined did a year ago. Helton said the 45-minute bus ride from Pullman to the airport in Lewiston, Idaho, on Friday evening was dead silent. There was not a single word, he said.
By Tuesday's practice, some frustration remained. "I wish we played tomorrow to be honest with you," Helton said afterward.
But Helton and USC have resisted drastic change. Helton reversed USC's fortunes last season by remaining steady and calm, and USC's players responded.
"We're not gonna freak out," Smith said. "It's not something where we're gonna change what we've been doing for the last year. So it's something that us as leaders need to step up and show the younger guys how we react after a loss. And we're all [angry], and we're not OK with it at all. We didn't come here to lose games."
Players said they looked forward to having a target for their irritation.
"I'm sure everybody's gonna be mad," safety Chris Hawkins said. "So we play Oregon State. They're probably not going to be happy to play us after this one."
Follow Zach Helfand on Twitter @zhelfand
---
Get the latest on L.A.'s teams in the daily Sports Report newsletter.
You may occasionally receive promotional content from the Los Angeles Times.