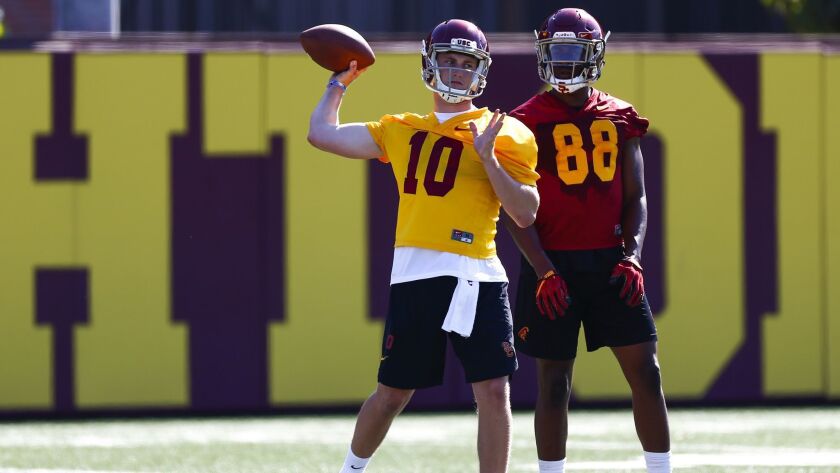 Two days after their first scrimmage of fall camp, USC's quarterbacks received their evaluations Monday from offensive coordinator Tee Martin and quarterbacks coach Bryan Ellis.
There were plenty of positives as the trio of JT Daniels, Jack Sears and Matt Fink combined to complete 72% of their passes, led by true freshman Daniels' 10 for 12, four of which went for touchdowns. The negatives could be summed up thusly: Get. Rid. Of. The. Ball.
The USC defense sacked the quarterbacks nine times in Saturday's scrimmage. The natural tendency would be to wonder if the offensive line — which gave up 30 sacks last season, 71st nationally — was going to be a problem again this season for the Trojans. But USC's coaches were adamant after Monday's practice that it had much more to do with young quarterbacks not following the team's motto of "Don't make a bad play worse."
"I'd like for us to get better seeing protection," Ellis said. "That's the No. 1 job as a quarterback, self preservation and protecting myself first. When I walk up there, what's the defense doing, where's the pressure coming from, and getting myself into the right protection, and then I can go complete passes.
"That's on us, and that's on me. I'll get that right. The O-line is working hard. There's only five of them. If [the defense] brings six, that's not the line's fault, that's our fault."
Coach Clay Helton said that three of the sacks came from a defensive player just beating an offensive lineman physically — two from defensive lineman Jay Tufele, who has been a force in camp, and one from outside linebacker Hunter Echols. Helton agreed with his assistants that the rest were on the quarterbacks.
"There were several times that the ball was just being held too long," Helton said. "Not every play is going to be a home run. Live to play another day, either pull the ball down and run with it or throw it away. That's part of the maturity that comes with training camp. It's not seven-on-seven out there. Gotta be able to get rid of it."
Competition brewing at corner
At Monday's practice, redshirt freshman cornerback Greg Johnson worked with the first-team defense on the opposite side from Iman Marshall. That spot — manned last season by the now-departed Jack Jones — had been mostly occupied by senior Isaiah Langley until recently.
Johnson, who played at Hawkins High, now finds himself in a real competition for playing time.
"Really pushing hard," Helton said. "I'm really proud of Greg. He's chomping at the bit to earn reps and has really caught our eye. He's really pushing Isaiah, and it's a good competition."
Pittman stays sidelined
Helton said that Michael Pittman Jr. could miss this entire week of practice with the shoulder sprain he sustained last week. Pittman also broke his nose and had it reset.
"Right now he just had nose surgery," Helton said. "That's going to take a week. Then he has a shoulder sprain. Until he gets full strength of motion in that … I'm hoping that it's soon, but I would imagine that next week would be the soonest we could look at it."
St. Brown could start
Since Pittman has been sidelined, true freshman wide receiver Amon-ra St. Brown has put together a string of dominant performances, including a three-touchdown day Saturday.
"He is unbelievable," Martin said of St. Brown. "I remember getting Robert Woods' freshman tape and saying that's the best freshman I had ever seen. If he continues to go the way he's going, we'll be saying that about him. He's stronger than advertised, faster than advertised, and he's just the total package. We'll continue to have him grow within what we do and compete for a starting spot."
St. Brown can play inside or outside, which means he could potentially take a starting spot from Pittman (outside) or Velus Jones Jr. (inside).
Etc.
Helton said true freshman inside linebacker Palaie Gaoteote IV had successful meniscus surgery Monday and will be out two to four weeks. … Senior linebacker Cameron Smith returned to practice after missing all of last week with a tight hamstring. … Right tackle Chuma Edoga (hip) also returned Monday.
Twitter: @BradyMcCollough
---