USC's road to the Rose Bowl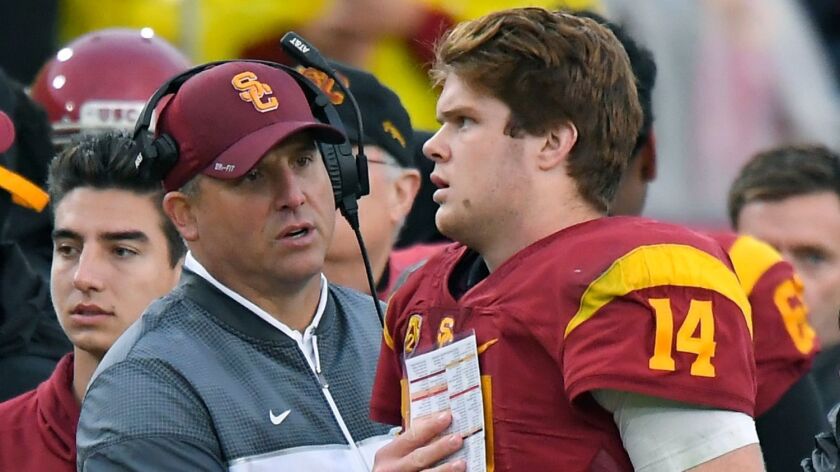 A game-by-game look at USC's 2016 football season:
Alabama 52, USC 3
Sept. 3 at Arlington Texas
The good: USC led 3-0 after the first quarter. The bad: pretty much everything that happened afterward. Alabama outgained USC, 465-194. USC rushed for 64 yards. USC blew defensive assignments, turned the ball over, stomped on the groin of an opposing player, dropped a punt snap and had an interception returned for a touchdown. Alabama running back Damien Harris rushed for 140 yards and two touchdowns in just nine carries. The loss was USC's most lopsided in 50 years.
::
USC 45, Utah State 7
Sept. 10 at the Coliseum
The Trojans took advantage of the one bit of mercy on its early schedule and pummeled the overmatched Aggies. Starting quarterback Max Browne completed 23 of 30 passes, and he and reserve Sam Darnold each threw for two touchdowns. JuJu Smith-Schuster had two touchdown receptions. Adoree' Jackson joined the fun, scoring his first punt-return touchdown of the season, a 77-yard dash.
::
Stanford 27, USC 10
Sept. 17 at Palo Alto
After saying they wouldn't be burned by Stanford running back Christian McCaffrey as they had been twice in 2015, the Trojans promptly left McCaffrey uncovered on a 56-yard swing pass that went for an early touchdown. Stanford never trailed and rolled to an easy win. The victory was made even easier by USC Coach Clay Helton, who made a controversial decision to punt on fourth-and-six from Stanford's 44-yard line when his team down 17 points and a little more than nine minutes left.
::
Utah 31, USC 27
Sept. 23 at Salt Lake City
Helton chose to replace Browne with Darnold at quarterback, saying, "When you're 1-2 and you've scored one touchdown against Alabama and Stanford, I wanted to see a spark in our offense." He did. Darnold passed for 253 yards and rushed for 44 as USC controlled much of the game. But three fumbles, two by Darnold, kept USC from extending a halftime lead. Utah scored 14 points in the final 10 minutes — once after Helton again decided to punt on fourth-and-short.
::
USC 41, Arizona State 20
Oct. 1 at the Coliseum
With their season foundering and their coach's job security already in question, USC's players called a team meeting. It was emotional; some players said they cried. But the Trojans emerged galvanized. Afterward, they pummeled Arizona State's porous defense. Darnold dazzled, passing for 352 yards and three touchdowns, all to Smith-Schuster, who had 123 yards receiving. Running back Justin Davis produced his second consecutive 100-yard game, with 123 yards and a touchdown.
::
USC 21, Colorado 17
Oct. 8 at the Coliseum
It was a catch that may have saved USC's season. With the Trojans leading for the entire game but struggling to hold on after four turnovers, Darreus Rogers snatched the ball away from Colorado defender Ahkello Witherspoon to set up a decisive fourth-quarter USC score. Darnold, who threw the pass, thought it was going to be intercepted. The Trojans out-gained previously-undefeated Colorado by 177 yards. Davis sustained a high-ankle sprain that sidelined him for the next three games.
::
USC 48, Arizona 14
Oct. 15 at Tucson
Even with Davis out, USC's running game was unstoppable. USC rushed for 320 yards, an average of 7.4 per carry. Even the reserves joined in: Aca'Cedric Ware rushed for 103 yards in 12 carries and Dominic Davis ran for 85 in seven carries. The game was probably USC's most dominant. The Trojans led, 34-7, at halftime and the starters were replaced for the fourth quarter.
::
USC 45, California 24
Oct. 27 at the Coliseum
The Ronald Jones II of 2015 returned. The running back who replaced Justin Davis as the starter burst for 61 yards on USC's first offensive play and was barely slowed thereafter. He finished with 223 yards rushing and one touchdown. It was the most yards by a USC running back since Reggie Bush in 2005. Darnold passed for five touchdowns and 231 yards. USC led 21-0 before California scored.
::
USC 45, Oregon 20
Nov. 5 at the Coliseum
The Ducks entered the game as the Pac-12 Conference's best rushing team. It lost that standing by the end of the game. USC limited the Ducks to 85 yards rushing and just 288 yards overall, a seven-year low. Jones stayed hot, rushing for 179 yards and four touchdowns, the most in a game since LenDale White in 2005. Darnold passed for 309 yards and two touchdowns.
::
USC 26, Washington 13
Nov. 12 at Seattle
In its biggest game of the season, USC smothered then-No. 4 Washington on the Huskies' home field, roiling the top of the rankings and showing that USC's resurgence was legitimate. USC's defense again stopped the Pac-12's best rushing offense. Washington rushed for 17 yards and star quarterback Jake Browning completed less than half of his passes and had two intercepted. The Trojans led by 11 points at halftime but allowed Washington back into the game on a 70-yard touchdown pass in the third quarter. USC responded in the fourth quarter and forced a safety to seal the game.
::
USC 36, UCLA 14
Nov. 19, at the Rose Bowl
Despite two long touchdown receptions by UCLA's Jordan Lasley at the beginning of the game, USC outgained the Bruins 527-266 and dominated possession time by almost 3 to 1. The Trojans ran 44 more plays than UCLA. Jones ran for 121 yards and two touchdowns. Darnold added two touchdown passes, both to De'Quan Hampton, who had not scored previously.
::
USC 45, Notre Dame 27
Nov. 26 at the Coliseum
Adoree' Jackson caught a 52-yard touchdown pass from Darnold, returned a punt 55 yards for a touchdown, and scored on a 97-yard kickoff return during which he leaped over the kicker and then struck the Heisman pose in the end zone. Jackson helped turn a disjointed, wet and sloppy game into a rout to end the regular season.
Follow Zach Helfand on Twitter @zhelfand
---
Get the latest on L.A.'s teams in the daily Sports Report newsletter.
You may occasionally receive promotional content from the Los Angeles Times.