USC's new offense gives receivers the freedom to just get open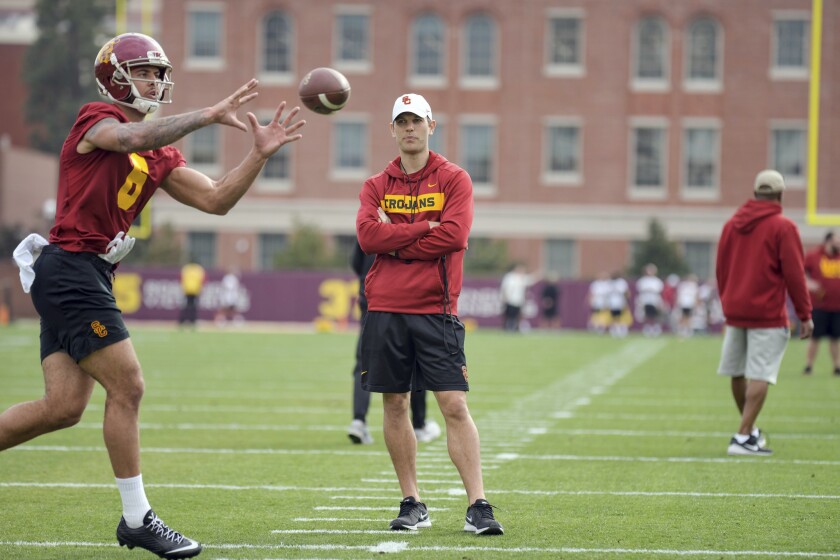 A new offense brings new terminology. For USC's gifted wide receiver group, learning Graham Harrell's version of the "Air Raid" offense has meant hearing one phrase over and over again: "Find the grass."
The translation is easy.
"Get open," USC senior wideout Michael Pittman said. "Just go feel it and get open."
Executing with that much freedom, though, is less easy.
"It takes a minute to adjust," said Harrell, the Trojans' new offensive coordinator who led the offense through its seventh of 15 spring practices Tuesday. "We've got a special group of receivers, and when you've got guys who are as talented as they are, really letting them play makes it fun for them. They are doing a really good job of understanding where their grass is. The place we can improve the most is figuring out where our grass is on hot routes."
A quick refresher on hot routes — hey, it is spring, after all. They are adjustments a quarterback makes pre-snap to a wide receiver's route when he is expecting a certain type of blitz and coverage. The execution in that scenario is harder to pull off because the receiver and quarterback have less time to identify where the open area will be.
"When they're hot," Harrell said, "that's when we can continue to grow the most. But the thing about it is, you can't simulate that unless you get full-speed reps. The only way you can work on your hot routes is to get blitzed. Just because the way practice is designed, you're only getting 'X' amount of those a day. When they're blitzing, sometimes you might bend it off, you may stay more vertical, you might throttle off the ball right where you are. That takes time to get a feel for it."
USC returns its top three receivers form last year in Pittman, Amon-ra St. Brown and Tyler Vaughns, plus a potential breakout sophomore in Devon Williams. Harrell has consistently praised the group, which should stay extra busy in the fall.
The Trojans' receivers have returned the praise back to Harrell and his offense.
"It's really cool for us as receivers," St. Brown said. "We get to play with a little more freedom. He's not really strict in terms of how we get open. He just wants us to find the grass and make the play. It takes some time to get used to. When they blitz, there are hot routes for us, and we have to learn those. It definitely takes some time for the chemistry with the quarterback and us, but once we get it down, it will be fine."
There are far fewer plays and route combinations for the wide receivers to remember in Harrell's offense. The trick will be becoming experts in how to get open in a way that's friendly to the quarterback's timing in going through reads.
Sign up for our daily sports newsletter »
"It kind of puts it all on us," Pittman said. "Where like, last year, we had routes that we had to run certain depths, certain spots, this year it's like get out there and get open. We can completely blow a play and still get a deep shot because we're just playing. That's what's so cool about it. You can blow up a play and still score a touchdown, I guess."
Hufanga has surgery
Sophomore safety Talanoa Hufanga fractured his collarbone during Saturday's practice and had successful surgery to repair it. A USC spokesman said Hufanga's recovery will take about eight weeks, which should make him available for the start of fall camp.
It was Hufanga's second broken collarbone of his young career. He broke it the first time against Arizona State on Oct. 27 and sat out the rest of the season.
Hufanga started five games, establishing himself as a likely starter in the upcoming season. He had 51 tackles in eight games.
Twitter: @BradyMcCollough
---
Get the latest on L.A.'s teams in the daily Sports Report newsletter.
You may occasionally receive promotional content from the Los Angeles Times.