USC coach Clay Helton emphasizes discipline on the last day of spring practice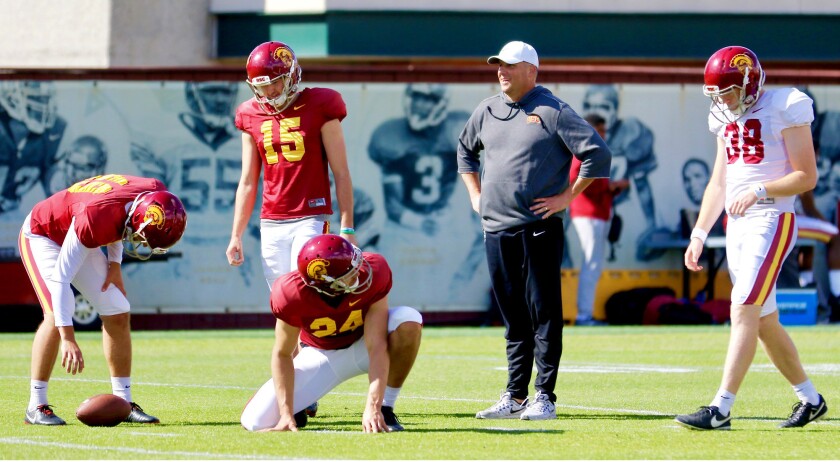 For USC's last practice of the spring, Clay Helton decided to stage one final scrimmage that would last the entire period. His hope was that the intensity of his players would rise again, carrying the Trojans onward into the long offseason with the new mentality Helton has been trying to forge within them.
In the middle of it, as USC's offense and defense waged battle using simplified schemes, freeing them of the strategic minutiae that has detracted from execution, Trojans from both sides of the ball became heated and a scuffle broke out. The officials, brought in for each spring practice to help team discipline in another key change from past years, threw a flag for a personal foul.
As he's done all camp, Helton stopped practice to address the penalty. This time, it being a personal foul, he wanted to prove a point. It was only five months ago in a loss to California at the Coliseum that senior Iman Marshall was flagged late in the fourth quarter for a personal foul that cost the Trojans a chance to get the ball back and win the game.
Helton demanded up-downs from every player on Saturday.
"That was probably the best learning lesson we could possibly have in camp," Helton said, "because we just played all day, and when you put guys in a competitive atmosphere, you are able to see are we going to be a team that cares more about wins, or are we going to be a team that cares more about perception?
"It's OK to have emotion, but have intelligent emotion. There's going to be guys that push and shove, and you can't push back. They've done a great job in this camp, but if we get a personal foul, I stop practice, and I'm going to up-down everybody. So they understand it costs everybody when you make that decision and let emotion get the best of you."
The Trojans, coming off a 5-7 season that shook the program's foundation and led to a winter of discontent, will have every reason in the fall to play with maximum emotion. There will be personal fouls, because that's just football. Helton's hope is that in those moments when the game is hanging in the balance, his players will have his voice — and more importantly, the fate of their teammates — in their heads before they act.
It might have been a tough winter, but spring appeared to wash away most of the bitterness of 2018. The Trojans look and feel like a different group. Helton told his team Saturday in his post-practice address that he loves their mentality.
"We understand that just because you have SC on your chest, it doesn't mean you're going to win," Helton told reporters later. "You have to earn it, and you have to work and compete to earn it, and that's what they've done in this camp.
"I hit our guys up. I said, 'Man, because we shortened these systems down, how much individual time are you getting now to become a better football player fundamentally and technique wise?' And they felt that."
The hiring of new offensive coordinator and quarterbacks coach Graham Harrell will be judged on Saturdays in the fall. To this point, he has been exactly what Helton wanted when he chose Harrell to bring his spin on the "Air Raid" to Troy.
"Just to be able to watch him work has been so fun to me," Helton said. "To be able to say we're going to do what we do and we're going to do it better than anyone else in the country, just as a coach, you love that. It's about your kids making plays, not you trying to out-think your opponent. The instant belief the kids have, how they have flocked to him, has been terrific."
Sign up for our daily sports newsletter »
Often during 11-on-11 scenarios, Harrell has gone above the box by the baseball field that overlooks the practice field to get a better view as he calls plays.
"Nothing is really scripted in those team situations," Helton said. "I think that's unbelievable because he's training himself as a play-caller. It's been fun to see him do his craft."
This week, Helton will sit down with his offensive and defensive staffs and come up with a depth chart based on who would play if the Trojans had a game next week.
"I'm going to have some honest conversations with some guys to give them real-time information," Helton said, "but obviously I'm going to tell each and every person, understand, it's about who can compete the best in the moment, and I'll announce the two-deep on that Friday [before the game], and the best ones will walk out there first."
Twitter: @BradyMcCollough
---
Get the latest on L.A.'s teams in the daily Sports Report newsletter.
You may occasionally receive promotional content from the Los Angeles Times.