USC-UCLA game gives receiver JuJu Smith another opportunity to grow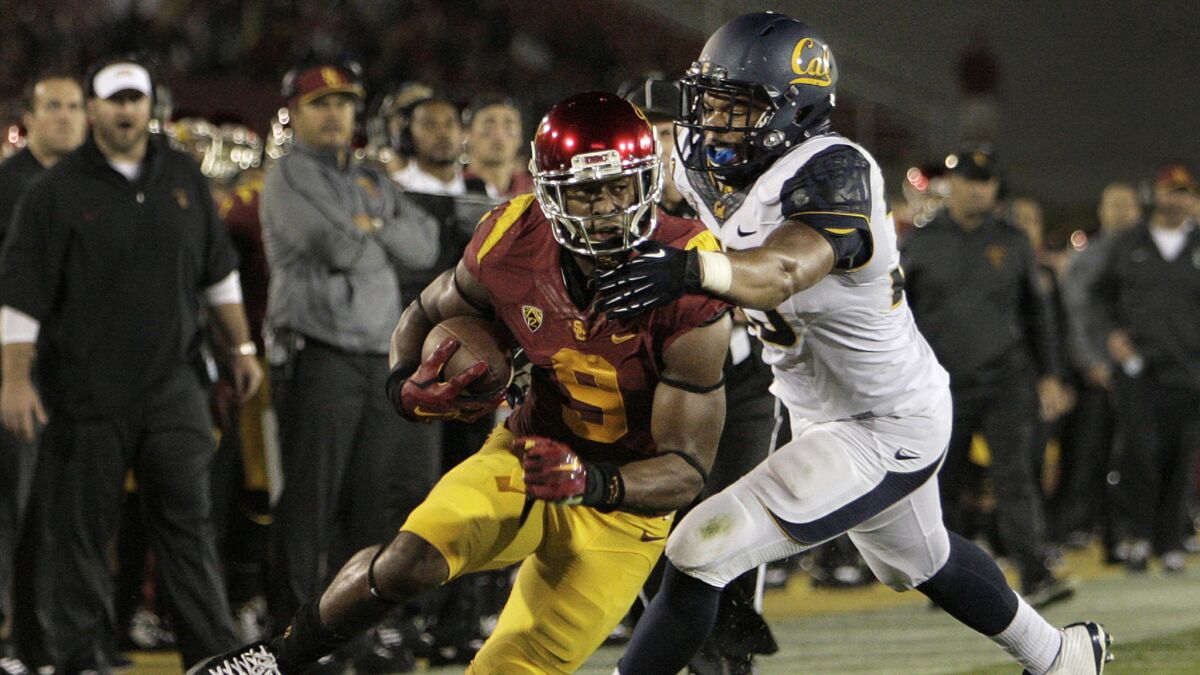 The annual showdown between USC and UCLA means something different for every player.
There's the rivalry. The opportunity to play against old friends. A chance to etch one's name into college football lore.
For JuJu Smith, this year's game means all of that — and more.
On Saturday, USC's freshman receiver turns 18.
His record-breaking performance in the opener against Fresno State? The three-touchdown effort against Washington State? They were achieved by a humble and physically gifted 17-year-old just starting to spread his wings.
Those games offered the most public glimpse of a talented young player finding his way on the field while negotiating a road to independence off it.
So the game against the Bruins is another chance for growth.
When Smith takes the field at the Rose Bowl, he will play with maximum effort, his way of giving teammates and an expected tailgate crowd of about 100 friends and family members a gift.
And then he will give one to himself.
::
Smith is not USC's No. 1 receiver. That mantle belongs to junior Nelson Agholor.
But the 6-foot-2, 210-pound Smith might have more upside.
USC receivers coach Tee Martin marvels at Smith's size, speed, hands and work ethic, noting the package is everything an NFL scout looks for.
"To still be 17 years old and pick up all the things he can pick up and process and still play fast and be productive is truly amazing," Martin says.
Cody Kessler has completed 42 passes to Smith, five of them for touchdowns. The freshman's attention to detail has impressed the junior quarterback, who is on pace for a record-breaking season.
"JuJu's one of those guys that really wants to stay after practice," Kessler says, "or talk about what he needs to do on what play."
Smith burst onto the national scene in the opener by catching four passes for 123 yards, the most yards receiving by a player in his debut in USC history.
"I didn't think it was going to be that way every game," Smith says, adding, "When the time came for me to shine I took advantage of it."
Smith eclipsed 100 yards receiving again against Colorado and scored three touchdowns at Washington State.
Coach Steve Sarkisian's eyes grow wide recounting Smith's execution on an otherwise routine-looking seven-yard scoring play. It required Smith to bluff a safety, wait for a cornerback to shift his eyes into the backfield and then break free. Most young players would become anxious and impatient. Not Smith. He executed the play perfectly.
"That's the sign of maturity to me," Sarkisian says, "that he's really starting to grow."
::
USC is only about 20 miles from Long Beach, but it did not take long for Smith to grow homesick.
Late on the second night in his apartment at USC, he called his mother, Sammy Schuster.
"I can't sleep," he told her. "It's too quiet over here."
"If that's all you have to worry about," she said, "you're fine."
Smith's given name is John, but he was only a few months old when a young aunt tried nicknaming her nephew John-John before opting for JuJu.
"It's a pretty catchy name," Smith says.
Smith was 4 years old when Sammy was introduced to Lawrence Schuster by a mutual friend.
"When I first met his mom," Lawrence says, "I fell in love."
Lawrence also embraced JuJu and older sister, So'omalo, whose father, Sammy says, was not involved in their lives.
"When you have two kids and try to get into another relationship, it's hard to find someone who is not only going to love you, but also your kids," she says. "It takes a man with a good heart, a loving heart to take on that responsibility."
Sammy and Lawrence dated for two years and then married 12 years ago. Their close-knit family has grown to include seven children.
Lawrence guided JuJu. He helped introduce him to football and made sure he stayed on top of his grades at Long Beach Poly High, where Smith starred as a safety, receiver, running back and kick returner.
Near the end of Smith's college recruiting process, Smith told his parents during dinner one night that he would attend Oregon.
His mother congratulated her son on his decision. Later, she dropped him off at his uncles' house.
"I just lost it," she says. "It was a reality stamp: My son was leaving me."
Two days later, during a ceremony at Poly, Smith surprised his ecstatic family by announcing he would attend USC. The Trojans football program, the academic opportunities and the chance to stay close to home played roles. So did his Christian faith and his connection to Temple of Hope in Wilmington, a First Samoan Full Gospel Pentecostal church.
"I'm a very strong Christian man," he says, noting that every school he considered offered a religious opportunity on campus. "I feel safer and better coming to my own church, so every Sunday I try to go home and it feels good.
"Everybody already knows you."
That is why Smith returned to Long Beach from USC that first weekend after calling home. He spent the day wrestling and playing with younger siblings.
"He wanted to hear the noise," his mother says, "the screaming and yelling.
"He was like, 'Oh, I'm home.'"
::
Long Beach Poly has produced more NFL players than any school in the United States.
But for all of that talent, former Poly coach Raul Lara described Smith as "one of those kids you get once in a blue moon."
It wasn't just Smith's ability, it was the way he conducted himself.
During Smith's senior season, he asked Lara if he could leave a Friday game so he could make a flight for a recruiting trip to Alabama.
"I'd like to see you at Monday's practice," Lara told him. "But if anything comes up you have to give me a call."
"No problem," Smith said.
Smith's flight home was delayed and his phone ran out of power. He failed to call Lara to let him know he would miss practice.
Lara told his star player he would be suspended for the first quarter of a playoff game.
"I hated to do it," Lara says, "but I had to hold him accountable."
Smith did not pout. Instead, he coached and encouraged his replacement throughout the week and on the sideline during the game. When Smith finally got in, he caught a touchdown pass a few plays later.
"The whole thing was remarkable, the way he displayed his leadership," Lara said.
After more than two decades as an assistant and head coach at Poly, Lara stepped down after last season. A few months later, Downey Warren contacted him and hired him to revive its struggling program.
Smith was one of the first former Poly players to visit Warren's campus and speak to the team.
"I've dealt with a lot of great athletes," Lara said. "This one is special."
::
When Saturday's game ends, Smith will exit the Rose Bowl and join dozens and dozens of friends and extended family members at a postgame "Team JuJu" tailgate.
It will double as a birthday party.
In the days that follow, as a legal adult, Smith plans to complete the process to change his last name. He is not sure yet whether he will adopt Smith-Schuster or simply Schuster.
"I want it for myself," he said, adding, "I just feel it's right for me to do."
Sammy said her son first inquired about the name change when he was 7 or 8. He brought it up again in high school.
"I thought he forgot about it," she says. "And just recently he says, 'You know, I'm turning 18. Can we start the process?'"
Lawrence Schuster is flattered and honored.
"His last name doesn't alter the fact of how much I love my son," he says. "It can be Smith. I love him the same."
Says Sammy: "It just puts a seal on the relationship [Lawrence] has with his son. … In our Samoan culture, your name defines you as a family. It defines you as a man."
Sammy and Lawrence are proud of Smith's growth on and off the field.
He remains a homebody, valuing family first. But he is starting to stay at school more often on weekends.
"He's kind of breaking away," Lawrence says. "He's starting to get the hang of it."
---
Get the latest on L.A.'s teams in the daily Sports Report newsletter.
You may occasionally receive promotional content from the Los Angeles Times.