USC runs a keeper, opts to keep Clay Helton as football coach
USC coach Clay Helton watches his team warm up before the game against Stanford at the L.A. Memorial Coliseum on Saturday night, Sep. 7, 2019.
(Luis Sinco/Los Angeles Times)
USC head coach Clay Helton and Athletic Director Mike Bohn share a laugh together at midfield after a 52-35 win over UCLA at the Coliseum.
(Robert Gauthier / Los Angeles Times)
USC head coach Clay Helton is congratulated by Athletic Director Mike Bohn at midfield after a 52-35 win over UCLA at the Coliseum.
(Robert Gauthier/Los Angeles Times)
USC head coach Clay Helton leads his team out of the tunnel to play UCLA at the Coliseum.
(Robert Gauthier / Los Angeles Times)
USC head coach Clay Helton celebrates after a 52-35 win over UCLA at the Coliseum.
(Robert Gauthier/Los Angeles Times)
USC head coach Clay Helton cheers his team on against Penn State in the fourth quarter Monday, Jan. 2, 2017, at the 103rd Rose Bowl Game in Pasadena. The Trojans won, 52-49.
(Luis Sinco / Los Angeles Times)
Interim USC coach Clay Helton is embraced by his wife, Angela, at midfield after the Trojans beat Utah 32-24 at the Los Angeles Memorial Coliseum.
(Robert Gauthier / Los Angeles Times)
LOS ANGELES, CALIF. -- MONDAY, NOVEMBER 30, 2015: Clay Helton, right, waits to be introduced as the permanent head coach of USC football program during a press conference at the USC campus in Los Angeles, Calif., on Nov. 30, 2015.
(Brian van der Brug / Los Angeles Times)
USC head coach Clay Helton is handed the ball by Marvell Tell after his interception return for a touchdown against Western Michigan at the Coliseum Saturday.
(Wally Skalij / Los Angeles Times)
After months of rampant speculation surrounding the future of USC's football program, a new athletic director and new president have opted to stick with the status quo.
The university's new leadership announced Wednesday that Clay Helton, whose uneven tenure as head coach included the Trojans reaching the Rose Bowl in 2016 and winning the Pac-12 Conference title in 2017 before stumbling the last two seasons, will remain USC's coach for the foreseeable future.
The controversial decision to keep Helton comes on the heels of an 8-4 campaign marred by injury and inconsistency in which the Trojans struggled to find a foothold even while managing for months to stay within striking distance of winning the Pac-12 South Division.
All along, Helton clung tightly to that hope of a berth in the conference title game. But any hope of this season amounting to more than a middling bowl appearance disappeared Saturday, when Utah took care of Colorado and won the division.
A little more than a year after departed athletic director Lynn Swann offered his own unpopular vote of confidence in the embattled coach, his successor, Mike Bohn, made the same decision to retain Helton, even as a frustrated fan base continued to call for his ouster.
Bohn took his support one step further.
USC athletic director Mike Bohn's letter to USC alumni.
"It's more than a vote of confidence," Bohn said. "This is a further escalation of resources and tools and some models we'll be bringing into the program to help us with our competitiveness. Our expectations are high just like they are as a fan base. We all want the same thing. As does coach Helton. As do our players."
Bohn said he was "keenly aware" of festering frustration within USC's fan base and what his decision might mean for that sentiment. He acknowledged it would "take some time" pull the fan base back together.
"As angry and frustrated as some of our base may be, first and foremost, for me as an athletic director, it's always going to be about the student-athletes first," Bohn said. "And I'm asking them to recognize that and ensure that collectively we can do something pretty special. This is a very talented team coming back. We lose four starters. Clay Helton was the coach that built [that] and he's deserving of the opportunity to keep that group together."
Bohn didn't offer many specifics on his decision-making process, which lasted 11 days after the end of USC's regular season. He said that he did not speak with anyone else about becoming USC's coach, noting that his "support of Clay and this team never really wavered."
Bohn told players on Wednesday at a team meeting, shortly before the public announcement, and apologized to them "for having to go through this," he said. In recent days, several parents of players expressed their frustration with the lack of a decision from Bohn and USC's leadership.
Many around the program had come to believe that Helton would be fired.
On Wednesday, before leaving on a recruiting trip, Helton said in a statement that it was "abundantly clear that we now have the support, resources, and tools to build a championship team."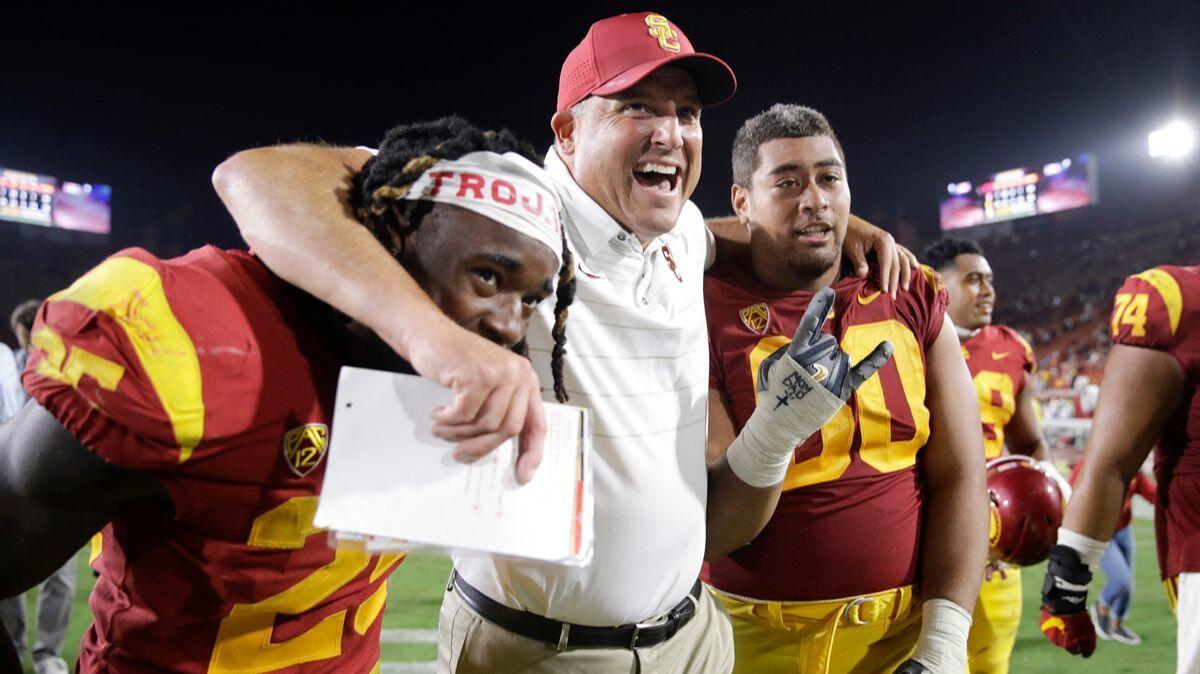 "We know the expectations of our fans are high, as they should be," Helton said. "Those are the same expectations I have for myself and that our staff and team have as well. Our future is bright. We have a young team on the verge of doing something special. We have seen what this team can do, having the season we have had despite going through adversity and injuries. We are headed to a great bowl and we plan to finish the season strong."
A year ago, Swann made his announcement on the morning after the Trojans' final game. A day earlier, a banner flew over the Coliseum, asking him to "Please Fire Clay Helton."
The process dragged on a bit longer for Bohn, who told The Times two weeks ago that a decision was "something we don't want to race into."
That wait sparked confusion this week from restless fans, as a report from Sports Illustrated on Sunday suggested Helton would be fired. Bohn called that timeline "irrelevant."
Now that a decision has finally been made, keeping Helton will at least save USC the trouble of footing a hefty bill for his buyout, after Swann in February of 2018 extended Helton's contract through 2023. Swann resigned three months ago.
Bohn said the buyout was "never a factor, never."
Instead of making a move to inspire the USC fanbase, athletic director Mike Bohn has opted to keep the football program mired in mediocrity.
But while USC's finances will be unaffected, the frustrations of the fan base are unlikely to abate with Helton returning for at least another season.
The Trojans are just 13-11 over the last two years, but finished the 2019 regular season with wins in five of their final six games, including a three-game win streak since Bohn's hiring last month. It's the third time in four full seasons under Helton that USC has finished the season on such a streak.
That was apparently enough to convince Bohn, who, when asked about Helton in his introductory news conference, noted that "good programs finish strong."
A month later, Bohn said he believed that, in spite of injuries and a tough schedule, "Clay Helton probably did his best coaching job this year."
Kevin Ellison was known for hard hits while playing for USC and the Chargers. Did that lead to increasingly bizarre behavior before his death?
Whether a respectful finish to a mostly frustrating season will actually affect the direction of the program under Helton is uncertain. Serious staff changes are expected, but Bohn refused to comment on which assistant coaches may be replaced, explaining only that "there is nothing off the table associated with what we're looking at to improve upon."
Bohn noted how impressed he'd been with offensive coordinator Graham Harrell, who reportedly has drawn interest for the same position at Texas, as well as head coaching positions at Texas San Antonio and Nevada Las Vegas.
Helton hired Harrell last season, amid other staff and strategy moves, in an effort to revamp a reeling program. But the results of those proposed changes were mixed.
After preaching accountability and discipline last offseason, the Trojans struggled with many of the same issues in 2019. Again, they finished among the most penalized (124th out of 130) and turnover-prone (112th) teams in the nation.
Recruiting also remains in a downward spiral, as the Trojans' 2020 class ranks 11th in the Pac-12 and 67th in the nation, according to the 247Sports.com composite rankings. None of the state's top 30 recruits are committed to play at USC.
Bohn said he "absolutely" weighed Helton's recruiting prowess in his decision. As he sees it, USC's recruiting efforts are "going dramatically better than anybody wants to admit."
Bohn added that frustration from USC's outspoken fan base with Helton "sometimes doesn't help us particularly with that."
USC fans sure are a vocal bunch. Here's a collection of some of the best tweets and letters sent to the sports editor.
Attendance at the newly renovated Coliseum is also a serious concern, as the average crowd for six home games in 2019 fell below 60,000 for the second straight season.
USC did show some tangible signs of on-field progress by this season's end, with freshman Kedon Slovis emerging as a potential star at quarterback. He'll be surrounded by a fleet of talented playmakers a year from now, all of whom should benefit from a year of experience.
In his first major move as athletic director, Bohn is betting on that possibility. The decision is likely to define the early part of his tenure, for better or worse.
Any recent reasons for optimism have often paled in comparison to the growing ennui surrounding the program over the last two seasons, a sentiment sure to be exacerbated by the return of a coach whose sincerity off the field has often trumped his success on it.
It was that reputation as a positive steward of the program that saw Helton promoted from quarterbacks coach under Lane Kiffin, to offensive coordinator under Steve Sarkisian, and finally to interim head coach in the wake of Sarkisian's midseason dismissal in 2015.
Under fire for his handling of Sarkisian, former athletic director Pat Haden removed Helton's interim coach tag a month later and lauded him as "a man with undisputed integrity."
The next season, Helton led the Trojans to a 10-3 campaign, capped by a thrilling Rose Bowl victory over Penn State. In 2017, USC won the Pac-12 title and appeared in the Cotton Bowl, losing to Ohio State.
But since, as star quarterback Sam Darnold departed for the NFL, USC and its coach have struggled mightily to match that success. Last season, the Trojans finished below .500, missing a bowl game for the first time since 2000. Paul Hackett was fired after that season and replaced by Pete Carroll.
This season, USC opened 2-0, but lost three of its next four games. The Trojans righted the ship from there with a 5-1 record in the second half. For a new athletic director who had come to respect the coach's approach, it was enough to be convinced that more was needed.
No coach since Carroll has lasted longer in the position than Helton, whose record, including his time as interim coach, is 40-21. That winning percentage (65.6) slots him directly between Sarkisian and Kiffin, two coaches whose tenures ended abruptly.
Get the latest on L.A.'s teams in the daily Sports Report newsletter.
You may occasionally receive promotional content from the Los Angeles Times.