Onyeka Okongwu surges in the second half to lift USC over Long Beach State
When a reporter admitted to not being able to pronounce USC forward Onyeka Okongwu's name after yet another stellar performance from the freshman, Andy Enfield extended an olive branch.
"I'll help you out," the USC coach said with a smile. "Just call him 'O.' "
Whether he goes by Onyeka — pronounced Own-yea-cuh — or his shortened nickname, he is quickly making his mark as a star at USC. He added another dominant performance Sunday with 28 points and 12 rebounds in an 87-76 win over Long Beach State at Galen Center.
The Chino Hills alum who leads the Trojans (9-2) in points, rebounds and blocks scored just four points on two-of-five shooting in the first half, but exploded for 16 of USC's first 17 points in the second half. He hustled up and down the court for easy layups that built up his confidence. Soon, he was soaring for alley-oop dunks on no-look passes and out-of-bounds plays.
Okongwu was the focus on Long Beach State's defense in the first half as the Beach (3-8) denied the star forward any post touches. The coaches advised him at halftime that the back of the 1-3-1 zone was open. He just needed to stay there. His teammates, to the tune of a season-high 25 assists, would find him.
"The first half, it took me a while to get going," Okongwu said. "The second half, I just came out, wanted to do more for my team, make more of an impact so I just went hard."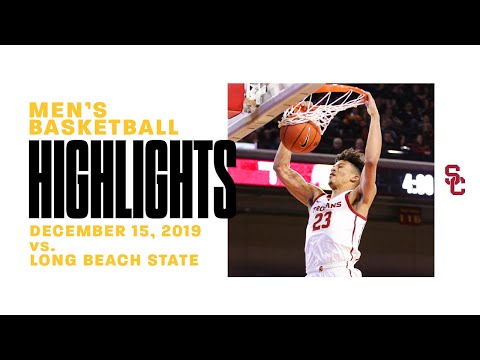 Highlights from USC's win over Long Beach State on Sunday.
USC shot better than 49% from the field for the third straight game, showing better flow in an offense that depends on young players. Freshman point guard Ethan Anderson orchestrated the unit with a career-high 12 assists. The Fairfax product didn't score a single point, missing all four of his shots, but had just two turnovers with two steals.
"He's never rattled," teammate Jonah Mathews said of Anderson. "He just sees the court differently than I've seen in a while."
Mathews finished with 18 points and made five-of-nine three-point shots as USC made a season-high 11 three-pointers. The senior hit the dagger that ended a Long Beach State comeback with 2:23 left. Mathews' open three-pointer, his second straight shot from long range, put the Trojans up by 14 after Long Beach State cut USC's 15-point lead to single digits. He moved into fifth on USC's all-time three-pointers made list with 204.
Sophomore guard Chance Hunter led four Long Beach State double-digit scorers with 18 points and six rebounds with three steals. Colin Slater scored all 15 of his points in the second half to help the Beach go on a 10-4 run that cut the deficit to nine with 4:49 to go, but Long Beach State squandered opportunities with only nine second-chance points on 12 offensive rebounds.
On notice
After USC received a formal notice of allegations from the NCAA last week, Enfield said he is hoping for a "quick resolution" to the two-year investigation that's hung over the school since former assistant coach Tony Bland was indicted during the federal investigation into corruption and bribery in college basketball.
"We've done our part as a university and a basketball program to do our best to comply and help out with everything," said Enfield, who added he did not hear of a possible timeline on the NCAA's judgment.
With the NCAA's notice of allegations, USC is in danger of facing penalties from postseason bans, show-cause penalties or scholarship reductions. Bland, who was fired by USC in January 2018, pleaded guilty to conspiracy to commit bribery last January.
Get the latest on L.A.'s teams in the daily Sports Report newsletter.
You may occasionally receive promotional content from the Los Angeles Times.