USC tries to convert skeptics into believers with dominant win over Oregon
That familiar doubt was swirling, those same vultures circling, the most critical juncture of its so-far charmed season closing in suddenly on USC, as Tahj Eaddy caught a pass at the top of the key Monday night, prepared to exorcise decades worth of demons on his own.
He and the Trojans had bounced back from deflating defeats before this season. But never were the stakes this high, with the Pac-12 race in a dead heat, or the turnaround this quick, with only one day between their tough loss to Arizona and a suddenly rescheduled matchup with Oregon.
So as the uncertainty about USC was simmering again, Eaddy decided to dispense with the suspense quickly. He knocked down one three. Then another. Then another, extinguishing any lingering doubt over the course of a 72-58 victory impressive enough to turn the Trojans' remaining skeptics into believers.
USC's disappointing loss to Arizona once again shows how important it is for Andy Enfield to find a way to stop the annual cycle of crashing and burning.
"We're showing we're one of the best teams in the country," Eaddy said. "We felt like we let one slip against Arizona. We just wanted to let teams know, you can't bully us. We're fighters. We're not going to give in like that."
USC didn't waste time throwing the first punch ... or the second … or the third on Monday night. As Eaddy sunk his trio of triples to open the game, the Trojans soared to a 15-0 run, while Oregon missed its first 12 shots from the field, failing to hit a shot until more than eight minutes had already passed.
That intensity never waned, even as USC's scorching hot shooting did in the second half. Eaddy was an offensive assassin again, pacing the Trojans with 24 points. But it was the rest of the supporting cast that suffocated Oregon's offense and left its defense out of sorts early on.
After USC was outworked on the boards and outmuscled in the paint by Arizona on Saturday, the entire team came out with something to prove Monday.
"We wanted to make a point tonight," Eaddy said.
Ethan Anderson, pushing just past six feet, flew into the lane for rebounds. Drew Peterson barreled into the paint for loose balls. Even Eaddy, whose defense was lax two nights earlier, locked down, suffocating Oregon's backcourt with pressure.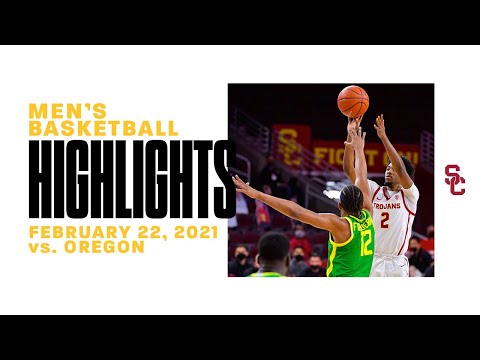 Highlights from USC's 72-58 win over Oregon on Monday.
Peterson and Anderson, who have struggled at times on offense, did a bit of everything, combining for 18 rebounds and 12 assists, to go with 21 points.
"Their defensive effort and intensity were much better," coach Andy Enfield said. "That's what we expect out of those guys."
What Enfield hadn't expected was to be playing Oregon at all on Monday. The Pac-12 sprung that decision on USC late last week, much to the clear dismay of the Trojans coach, who took every opportunity to point out how the team had overcome the circumstances its conference had thrust upon it.
"Very proud of them, the way they responded on short notice," Enfield quipped.
Another setback left USC short-handed even before its crucial, bounce-back victory began. Sophomore forward Isaiah Mobley was held out with a strained calf that he suffered against Arizona. The turnaround time was too short, Enfield said, to be sure that Mobley, an important part of the Trojans starting lineup, was healthy.
Mobley remains day to day and could travel with the team to Colorado next week, Enfield said.
So, with Mobley out and the impediments stacking up, Enfield adjusted the game plan, relying more on a four-guard approach around star freshman Evan Mobley. He put Anderson into the lineup for Peterson, who, Enfield said, "needed to play better."
USC lost to Arizona 81-72 at Galen Center on Saturday, ending its win streak at seven. The Trojans fell to 12-3 in the Pac-12 and are tied with UCLA.
Mobley was mobbed again by the Ducks defense, dooming him to a quiet 11 points and five rebounds. But for Peterson, the lineup adjustment "woke me up a little bit," he said.
The Saturday night loss, Peterson added, had done the same.
"Going into the Arizona game, you're kind of thinking you're rolling a little bit, everything is coming a little easier," Peterson said.
"But honestly, going into March, you need games like that, to get your head on straight."
USC didn't waver much Monday night. Even as Oregon got hot from deep, firing back to within 10 late in the second half, the Trojans kept their foot on the gas.
"We knew they'd go on a run eventually, and we were able to withstand that," Enfield said.
More obstacles remain from here. But for Monday at least, that rising doubt had dissipated in a hurry.
Get the latest on L.A.'s teams in the daily Sports Report newsletter.
You may occasionally receive promotional content from the Los Angeles Times.