Evan Mobley stars as USC survives Utah in double overtime to advance in Pac-12 tournament
Evan Mobley had had enough of the back and forth. The USC freshman had sat out most of the first half in foul trouble, watched as Utah hung around in the second, sneaked into overtime, and even extended the game into double overtime, refusing to go away.
But now, it was his time, the kind of moment that might portend March stardom, and so Mobley, at the start of his first and last postseason at USC, flipped the switch some skeptical NBA scouts doubted he had.
Even as the fatigue set in for everyone else, as the depth chart was decimated by foul trouble, Mobley took over in the second overtime, sending USC to a 91-85 win over Utah in an endless endurance test of a Pac-12 quarterfinal game at Las Vegas.
"It took everything we had to pull out this win," USC coach Andy Enfield said.
They'll have to do it again in the semifinals Friday against the winner of Colorado and California, a game that started late after back-to-back overtime games from USC and UCLA delayed the proceedings.
The Trojans (22-6) left little in the tank Thursday, holding off run after run from the Utes, who refused to yield until Mobley gave them no other choice. The freshman broke out for a season-high 26 points, all but two of which came after halftime, to go with nine rebounds and five blocks.
It was the kind of aggressive performance coaches were clamoring for as Mobley slammed headlong into a freshman wall over the last two weeks, fatigued and struggling to match his previously stellar play. But as USC slogged toward a second overtime, the 7-footer put the weight of the Trojans' Pac-12 tournament hopes on his shoulders.
"He came in and did what he's always done," Enfield said. "He's aggressive. You might not think he's aggressive sometimes, but he was very aggressive tonight."
For most of Thursday's first half, he was on the bench, after drawing a questionable second foul on an early charge call. Instead of risking further foul trouble, Enfield relied on his supporting cast.
The risk wound up paying off. Isaiah White, who missed the UCLA win with back spasms, scored nine points in the first half, and 14 total, despite not being at 100%. Ethan Anderson helped spark an early 9-0 run with his aggressive play on both ends, ending with 10. And Isaiah Mobley added seven in the first half, stepping in for his brother in the frontcourt.
When Evan Mobley returned in the second half, he quickly reminded why this week he became the first Pac-12 player in history to sweep the conference's end-of-season honors. Still, his presence in the paint couldn't scare away the Utes, who twice before this season held Mobley in serious check. In their first meeting, they held the freshman without a single field goal attempt.
Duke's elimination from the ACC tournament because of a positive coronavirus test serves as a warning of the fragility for the NCAA tournament field.
But after a great deal of drama in regulation and the first overtime, including long three-pointers and missed free throws, Mobley took over, scoring eight points in the second overtime. The wall he'd hit at the end of the regular season was far in the rearview.
So, mercifully, was USC's first difficult test of March.
"It was a long game, a hard game," Mobley said. "That's what March Madness, the postseason is. There's going to be big shots, overtimes, hard games. You just have to stay tough and stay focused."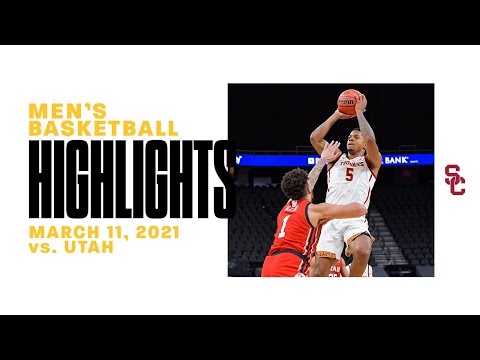 Get the latest on L.A.'s teams in the daily Sports Report newsletter.
You may occasionally receive promotional content from the Los Angeles Times.