Steve Sarkisian fired as USC's football coach
Faced with mounting reports of erratic behavior by its football coach, USC fired the troubled Steve Sarkisian on Monday afternoon.
The announcement capped a string of incidents that included Sarkisian appearing intoxicated at a football booster event in August and seeming not himself during a recent game.
The final straw came Sunday when he acted strangely at a team meeting, then left campus before practice began. Athletic Director Pat Haden immediately put him on indefinite leave before following up with Monday's decision.
"After careful consideration of what is in the best interest of the university and our student-athletes, I have made the decision to terminate Steve Sarkisian, effective immediately," Haden said in a statement.
News circulated from player to player by way of texts and phone calls, further jolting a highly touted team that had already stumbled to a 3-2 record, slipping out of the national rankings. Offensive lineman Damien Mama said: "It's definitely just a shock."
In recent weeks, Haden has faced criticism for not acting more swiftly, especially after Sarkisian acknowledged mixing alcohol with medication before the "Salute to Troy" pep rally in August.
Todd Marinovich, a former USC quarterback who has publicly battled heroin addiction, attended that gathering and said he warned university officials Sarkisian needed help.
"I knew he was intoxicated and I wanted to protect him," Marinovich told HuffPost Live. "And I went to the people in charge and I said, "We've got to stop this.' "
Former USC coach Pete Carroll, who first brought Sarkisian to the team's coaching staff as a young assistant in 2001, said his protégé now understands the gravity of the situation.
"He's going to do something about it, so this is the day the turn occurs," Carroll, now with the NFL's Seattle Seahawks, told an ESPN radio station in Seattle before the news of Sarkisian's firing was announced. "This is going to take a long time. This is a big battle."
Clay Helton, USC's offensive coordinator, has been named interim head coach. He will lead the Trojans against Notre Dame in South Bend, Ind., on Saturday in the resumption of one of college football's great, traditional rivalry games.
"I want to thank Clay Helton for stepping into the interim head coach role," Haden said in his statement announcing Sarkisian's dismissal, "and I want to add how proud I am of our coaching staff and players and the way they are responding to this difficult situation.
"Through all of this we remain concerned for Steve and hope that it will give him the opportunity to focus on his personal well being."
The announcement came quickly after the decision was made, according to an athletic department official who, when he was asked about it by a reporter shortly after 1:30 p.m., expressed surprise the news was already out.
Gary Klein and Lindsey Thiry discuss the firing of USC football Coach Steve Sarkisian.
USC did not practice on Monday, so players were scattered and being informed via text messages by the coaches of their position groups.
Kenny Bigelow, a defensive lineman, said he was saddened by the news.
"Coach Sark is a great guy despite what anyone might think," Bigelow said. "He really cared about us and the program. Whatever he's going through, I pray he finds peace."
Other players spoke anonymously because they had been told not to comment publicly.
"He should handle what he's got to handle," one said.
Said another: "We wish him the best. He has serious issues to handle. We have to focus on the season."
Sarkisian, 41, was placed on indefinite leave by Haden on Sunday after the coach failed to show up at a team practice.
At a meeting with his team Sunday morning, Sarkisian "did not seem right," according to a USC player. When he didn't show up for the midday practice, Haden was alerted to the situation.
Haden said he called Sarkisian and it was clear to him the coach was "not healthy." At that point, Sarkisian was told he was being put on leave.
Sarkisian had been under scrutiny since August when, two weeks before USC's season opener, he slurred his words, insulted opponents and shouted an expletive during the football program's annual "Salute to Troy" pep rally.
The event was closed to media, but witnesses said Sarkisian appeared to be intoxicated.
A day later, Sarkisian apologized in a statement on USC's athletic website. "Pat Haden talked to me after the event about my actions and I assured him this will not happen again," the coach said.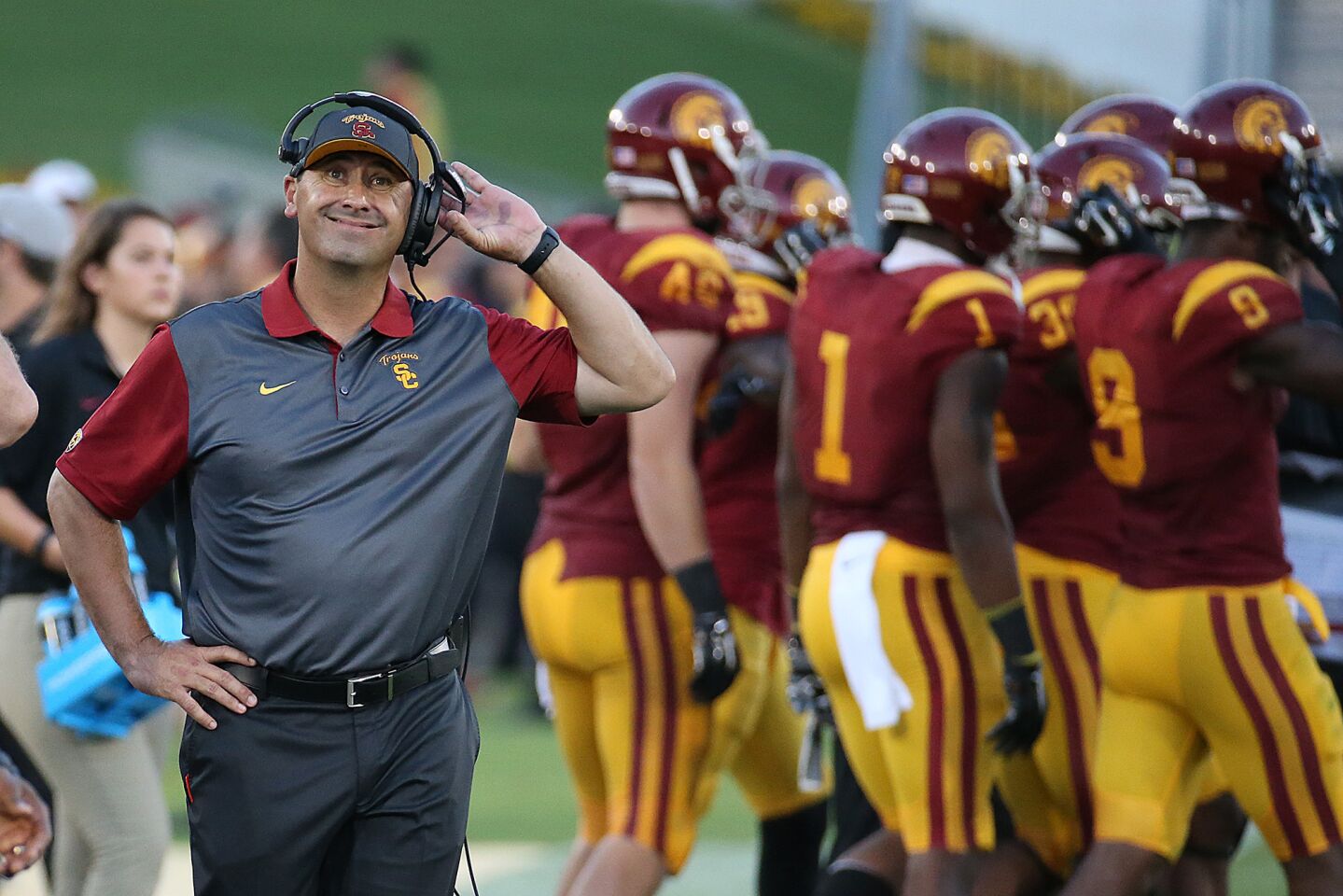 USC Coach Steve Sarkisian looks at the scoreboard after Stanford scored a touchdown on Sept. 19, 2015.
(Robert Gauthier / Los Angeles Times)
USC football Coach Steve Sarkisian addressing the media on Aug. 25, 2015, about his behavior and language during a booster event on campus days earlier.
(Al Seib / Los Angeles Times)
USC football head Coach Steve Sarkisian looks on during action against Utah at Rice-Eccles Stadium.
(Robert Gauthier / Los Angeles Times)
USC Coach Steve Sarkisian leads practice at Howard Jones Field.
(Robert Gauthier / Los Angeles Times)
USC football Coach Steve Sarkisian takes to the practice field after addressing the media about his behavior and language during a booster event days earlier.
(Al Seib / Los Angeles Times)
USC football Coach Steve Sarkisian addresses the media on Aug. 25, 2015, about his behavior and language during a booster event on campus days earlier
(Al Seib / Los Angeles Times)
USC Coach Steve Sarkisian watches his Trojans squad warm-up before the game against Idaho on Sept. 12, 2015.
(Luis Sinco / Los Angeles Times)
Haden, in his own statement at the time, said he was confident Sarkisian had received his message "loud and clear."
The following day, Sarkisian held a news conference on campus and explained the incident was the result of his mixing alcohol -- "not much" -- with medication he did not specify. He also said he would seek counseling to see if he had a drinking problem.
Sarkisian was thought to be among the highest-paid coaches in the Pac-12 Conference.
As a private university, USC is not required to make details of coaches' contracts available to the public. So Sarkisian's annual compensation will not be revealed until May, when the school must file a tax return that includes a list of the most highly compensated employees. The latest tax reporting year will be from July 1, 2014, to June 15, 2015.
Sarkisian was hired in December 2013 after Haden fired Lane Kiffin during the 2013 season.
Kiffin earned about $3.4 million in total compensation, according to the school's tax return for that fiscal year. Sarkisian, who was signed to a multiyear deal, is believed to make at least that amount.
Sarkisian reportedly earned about $2.9 million in total compensation from the University of Washington in 2013.
It is not known whether Sarkisian's USC contract included a morals or behavior clause, or whether USC must pay the remainder of his contract.
UCLA has a clause in football Coach Jim Mora's contract that is specifically related to alcohol and drug use.
His contract reads: "If Coach has committed, or shall commit, any act, or has been, or in the future becomes, knowingly or intentionally involved in any situation or occurrence involving his improper use of or other improper association with drugs and alcohol, or otherwise tending to bring himself into public disrepute, contempt, scandal, or ridicule, or tending to shock, insult or offend the people of this nation or any class or group thereof, or reflecting unfavorably upon University's reputation or products, then the University shall have the right" to terminate his contract.
Correspondent Lindsey Thiry and staff writer Mike Hiserman contributed to this report.
---
Get the latest on L.A.'s teams in the daily Sports Report newsletter.
You may occasionally receive promotional content from the Los Angeles Times.