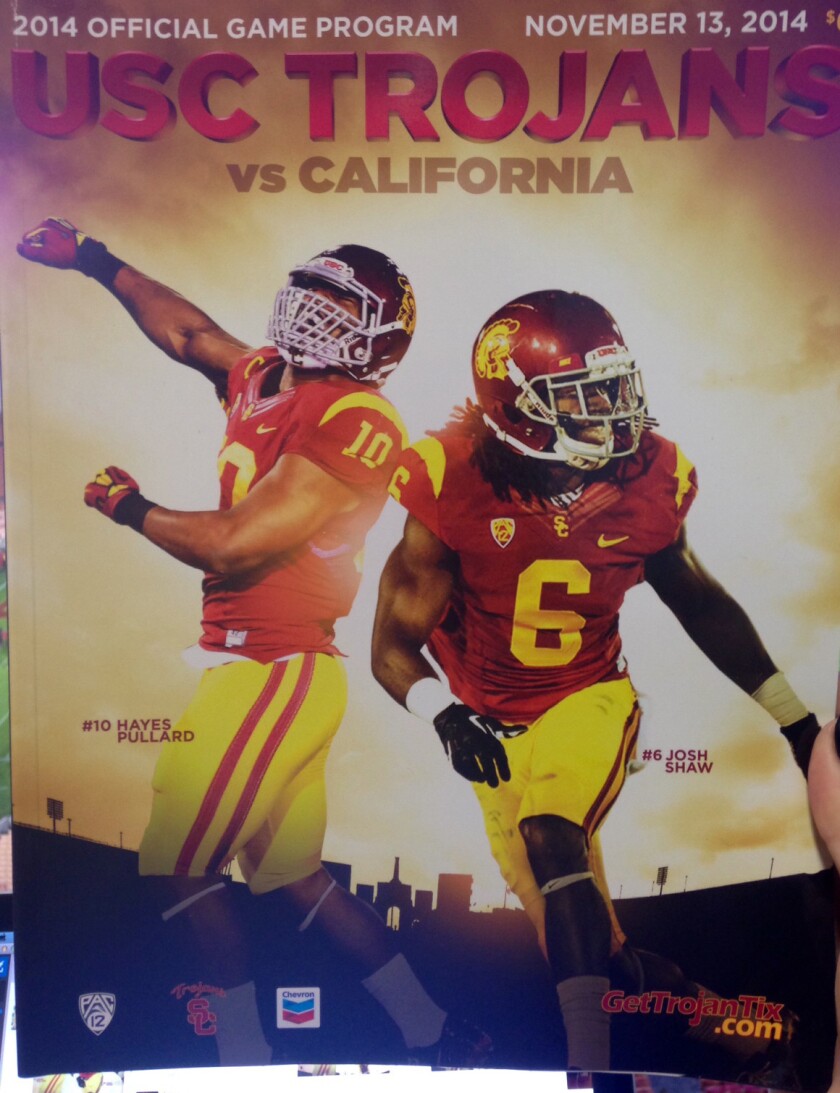 USC cornerback Josh Shaw, who was suspended indefinitely before the season, was a presence at Thursday night's game against California at the Coliseum.
Shaw's photo appeared on the cover of the game program.
The programs, which also feature linebacker Hayes Pullard on the cover, were printed before the season, a USC official said. Shaw's image also was on the ticket for the Oct. 18 Colorado game.
USC officials declined to comment when asked their reaction to Shaw's comments in a story by The Times' Bill Plaschke that appeared in Thursday's editions of the Times and online.
Shaw was suspended the week of the opener against Fresno State for fabricating a story about how he suffered ankle injuries. In a story that appeared on USC's website, Shaw said he suffered high ankle sprains when he leaped from a balcony to save a young relative who was in distress in a swimming pool.
The story was picked up by media outlets, including The Times.
The next day, USC received phone calls from people questioning the veracity of Shaw's story. Shaw admitted a few days later that he made up the story.
Shaw told Plaschke that he jumped from a balcony of a downtown apartment complex after he saw that police had arrived to investigate an argument he had with his girlfriend. He said there was no domestic violence.
The Los Angeles Police Dept. has been investigating the case.
Athletic Director Pat Haden said Thursday that once the police report is completed, the university's process is to conduct its own investigation.
---