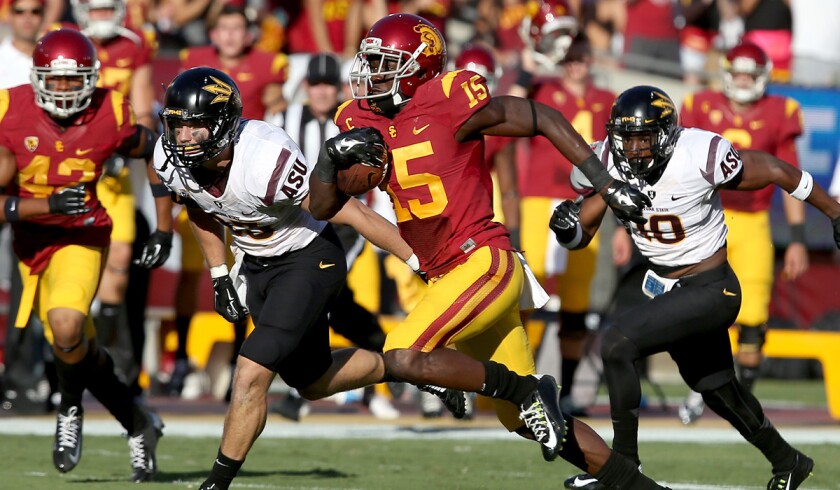 USC receiver Nelson Agholor is making plenty of catches. His goal now is to make them for longer gains.
USC Coach Steve Sarkisian spoke all week about the need for the Trojans to produce more "explosive plays" in the passing game.
Agholor, who has a team-best 35 catches, is all for it.
Last season, Agholor caught seven passes for 161 yards, including a 62-yard touchdown, in a 38-31 victory over Arizona.
The Trojans play the No. 10-ranked Wildcats on Saturday night at Tucson.
"Whether we go deep or we go short, it's up to the receivers to make the most of those plays," said Agholor, who is averaging seven catches and 64.8 yards receiving per game. "I think that's where I can get better.
"I'm having a couple runs here or there that are going for 10 [yards] or whatever, but I want to take my game to the next level and run past that."
Last week, Sarkisian urged tailbacks Javorius Allen and Justin Davis to break more tackles once they got past the line of scrimmage. Allen responded with a 53-yard touchdown run.
Sarkisian hopes receivers are next, with help from quarterback Cody Kessler.
"It's not just getting open, it's not just catching the ball," Sarkisian said Thursday. "It's 'What are you going to do with the ball after you catch it?'
"And from the quarterback's perspective, trusting those guys that they are going to run those routes. To give them those chances, one on one, to go make plays."

---