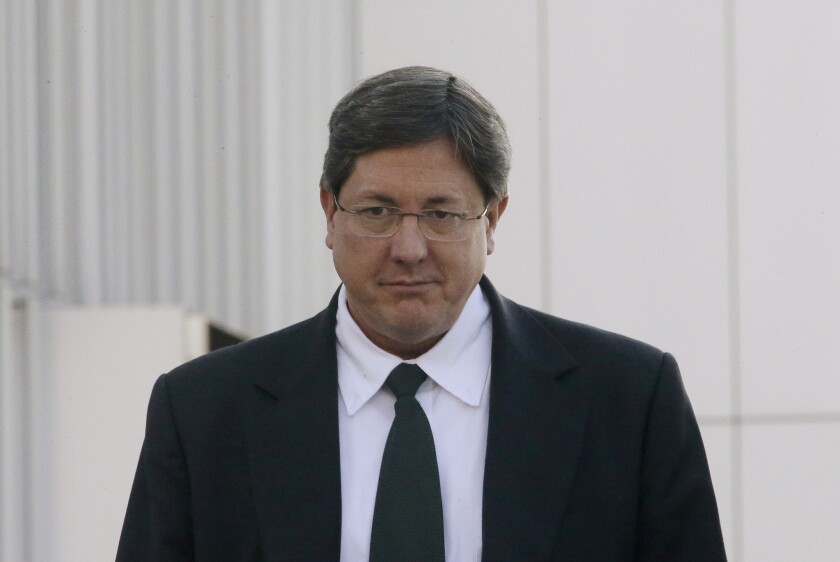 Reporting from Phoenix —
Time ran out for Lyle Jeffs, the fugitive polygamist arrested in South Dakota after a yearlong search.
The FBI promised Jeffs' flight from justice was simply a waiting game that would end when he erred, or someone decided to cash in on the $50,000 reward hanging over his head. In the end, it was the latter, with a tipster relaying Jeffs' location to the FBI.
"It's a good story," said Eric Barnhart, special agent in charge of the FBI's Salt Lake City field office, but one he would not reveal at a Thursday news conference.
"You can stay hidden for a while, but not forever."
Jeffs is the lead defendant in a food-stamp fraud case allegedly operating in the bordering towns of Colorado City, Ariz., and Hildale, Utah, which form the community collectively known as Short Creek.
In June 2016, while on house arrest pending trial, Jeffs disappeared, leaving behind the court-ordered ankle monitor. Prosecutors believe he slathered the device in olive oil to free his ankle.
Utah U.S. Atty. John Huber said wryly that he does not expect Jeffs to be released again on pretrial house arrest in Salt Lake City.
In 2016, prosecutors had said Jeffs was a flight risk, but U.S. District Judge Ted Stewart let him out that June, citing the fact that 10 other defendants in the food-stamp fraud case had complied with the court's conditions.
"You don't want to say, 'I told you so,' but that's kind of where we're at," Huber said.
The Short Creek community is predominantly made up of members of the Fundamentalist Church of Jesus Christ of Latter-Day Saints, or FLDS, a polygamist sect once run by Jeffs' brother, Warren. When Warren Jeffs was imprisoned in Texas after receiving a life sentence for child sexual abuse, Lyle Jeffs assumed his role as sect leader.
Prosecutors allege Lyle Jeffs and church leadership ordered followers to make purchases with their food stamp cards, then turn over the goods to the church.
In another segment of the alleged scheme, food stamps were cashed at FLDS-owned businesses, no goods were turned over to the purchasers and the money was handed over to church-owned companies or used to pay for capital expenses, such as vehicles.
The FLDS church is not affiliated with the Church of Jesus Christ of Latter-day Saints, the formal name of the Mormon Church, which banned polygamy in 1890, though plural marriages remained a custom through the 1930s, when Mormons began to excommunicate those who took multiple wives.
While he was on the run, Jeffs apparently lived out of his pickup truck, Barnhart said, a far cry from the relative ease by which Warren Jeffs was secreted from FLDS compound to FLDS compound while he, too, fled from justice.
Lyle Jeffs "probably had less support than his brother had when he fled years ago," Barnhart said.
Barnhart has previously told the Los Angeles Times that surveillance of Warren Jeffs' communications in prison revealed that Lyle and Warren had a falling-out that might have precipitated Lyle's escape. It's unclear what, if any, support Warren Jeffs offered to Lyle.
Barnhart was confident Thursday that Lyle Jeffs did not escape on his own.
"He had help," Barnhart said, adding that Lyle Jeffs will now face fugitive charges if and when he is returned to Utah.
FROM THE ARCHIVES:
Polygamous sect's control of Utah and Arizona towns seems certain to end after jury's verdict
Polygamous sect member takes plea deal in food stamp fraud case
Did cities collude with fundamentalist Mormon sect to persecute nonbelievers? A jury will decide
---
UPDATES:
6:05 p.m.: This article was updated with comments from Eric Barnhart and John Huber.
This article was originally published at 6:40 a.m.
---