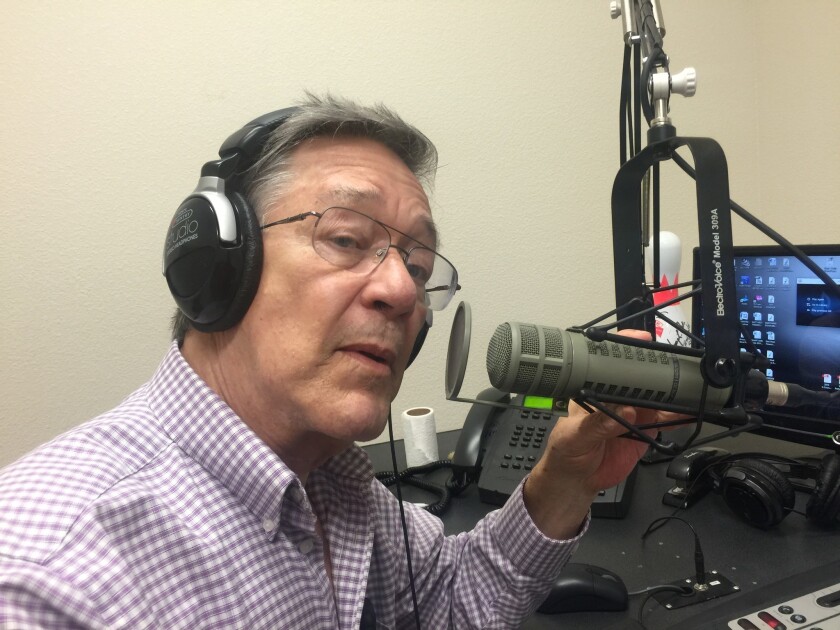 Reporting from BULLHEAD CITY, Ariz. —
Gary Sheler couldn't wait to get to his second segment, when the "Auto Doctor" comes on and takes creaky-engine questions. But first, the morning show host had to get through the news hour. The news was Jim Comey.
Sheler, 70, is the local voice in Kingman and Bullhead City, Ariz., on the stations KAAA and KZZZ, from 7 to 9 a.m., followed by national conservatives Rush Limbaugh, Glenn Beck and Laura Ingraham. His Comey spiel is practiced, and he delivers it easily, despite the early hour.
"We're fed up. We're so fed up with the Democratic Party pushing this Russia thing," Sheler said. "They're trying to find anything to impeach" Trump.
Sheler has been on the air in some form or another for 50 years — radio jobs in San Diego, television in El Paso, and finally here, the hot scrubland between Las Vegas and the Grand Canyon that went 74% for Trump in 2016.
Conservatives will never accept the testimony of someone as partisan as Comey, Sheler said, and that probably applies to anyone, liberal or conservative, who persists in trying to connect Russia to the president. Trump needs at least a year in office before any alarm bells should ring.
Callers into his show during the Thursday news hour seemed more interested in denigrating the station's late-afternoon hosts for being insufficiently conservative than in engaging with the news.
The biggest hit among them was a conservative parody of Garth Brooks called "I've Got Friends in Safe Spaces," mocking liberals:
"You saw the surprise and the fear in our eyes / When Donald became president / Screamed this can't be true, America's through / And to the safe spaces we went"
Did callers care about Comey's testimony as it was unfolding?
"I really don't think so," Sheler said when he was off the air. "Part of that is, he's a showboat looking for attention. He did the same thing to Hillary."
Sheler shouldn't be confused with a Clinton sympathizer, but neither is he a Trump loyalist. He supported Sen. Ted Cruz for president in the 2016 primaries.
"Expect a kangaroo court, and nothing to come of it," Sheler said.
After Sheler's show ended, Limbaugh's began, focused entirely on Comey. Every time Comey responded that he could not answer a question in open court, Limbaugh asserted that the answer probably "further exonerates Trump and his people." He then cut to the local news and weather.
It would be 106 degrees in Bullhead City, and getting hotter every day.
ALSO
Fired FBI Director James Comey accuses president of 'lies plain and simple' - but not obstruction of justice
James Comey does the impossible: Brings America together (for a little while, anyway)
It's the end of the road for the GOP's big tax experiment in Kansas
Follow Nigel Duara on Twitter: @nigelduara
---