10 Images
Photos from 'Albert Einstein: The Persistent Illusion of Transience'
"Albert Einstein: The Persistent Illusion of Transience" reveals an enlightening collection of documents and photos that bring the Nobelist to life. Shown in his mid-20s in this circa-1905 photo, Einstein sports a tailor-made plaid suit while seated at his Bern, Switzerland, patent office post.
(Lucien Chavan / Magnes Press)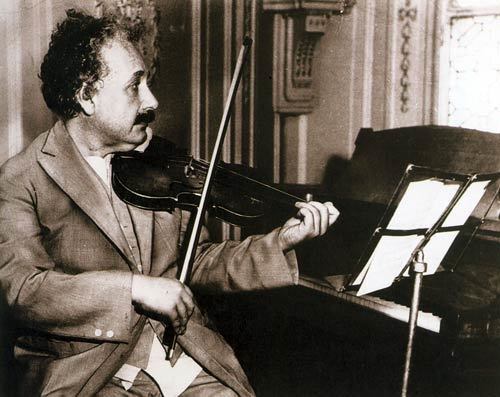 Einstein adds a soundtrack to his passage aboard the Belgenland in December 1930. As part of the Hebrew University of Jerusalem, the book's publisher, Magnes Press, had wide access to Einstein's personal and scientific papers, which were bequeathed to the university and are housed at the Albert Einstein Archives.
(Magnes Press)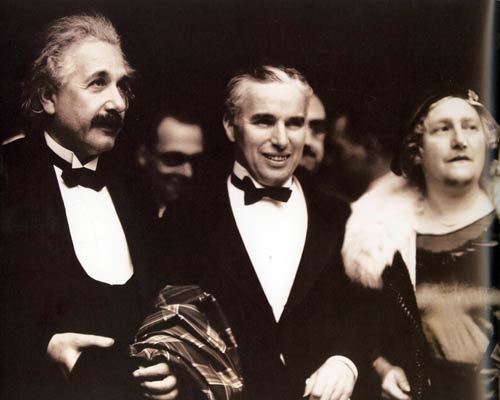 The book pictures aspects of Einstein's life beyond the realm of serious science. Here, he and wife Elsa join director-writer-star Charlie Chaplin, center, at the premiere of "City Lights" in Los Angeles, Jan. 30, 1931.
(Emil Hilb / Magnes Press)
Shown during one of his visits to Pasadena, Einstein writes and discusses an equation for the density of the Milky Way at the Carnegie Institution on Jan. 14, 1931.
(Magnes Press)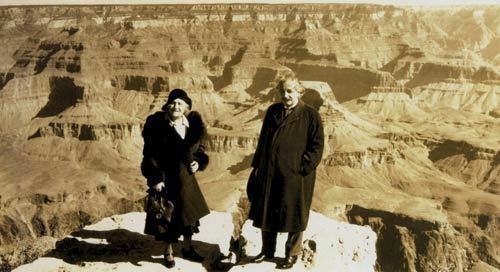 Einstein and his second wife (and cousin), Elsa, pose on a precipice at the Grand Canyon National Park on Feb. 28, 1931, the landscape of deep time stretching beyond them.
(El Tovar Studio / Magnes Press)
Caught in a carefree moment, Einstein takes a spin in Santa Barbara in February 1933.
(Magnes Press)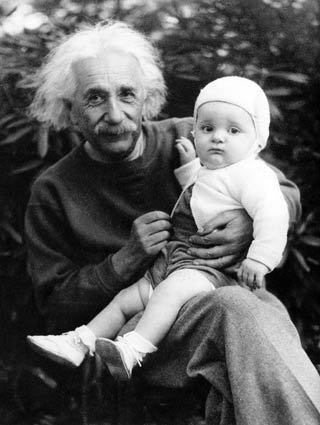 It's an auspicious moment for 8-month-old John R. Steiding (although he likely didn't know it for years to come), sitting on the famed scientist's lap in Deep Creek Lake, Md., in September 1946.
(Magnes Press)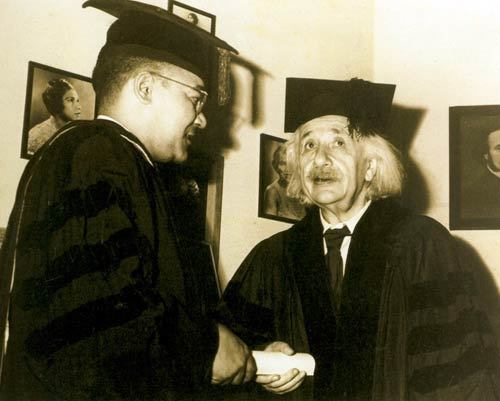 Horace Mann Bond, president of Lincoln University, a Pennsylvania institution serving African American students, bestows an honorary degree on Einstein on May 3, 1946. When asked about the reason for his fame, Einstein repeatedly replied: "When the blind beetle crawls over the surface of a globe, he doesn't realize that the track he has covered is curved. I was lucky enough to have spotted it."
(Magnes Press)
Einstein strolls the leafy streets of Princeton, N.J., in the early '50s while, a few steps behind him, secretary Helen Dukas supervises Chico the dog. The Nobel Prize winner died in the city in 1955.
(Magnes Press)
"Albert Einstein: The Persistent Illusion of Transience" includes the iconic portrait of Einstein snapped on his 72nd birthday, March 14, 1951. After a day of public appearances and reluctant to smile yet again, Einstein strikes a unique visage for UPI photographer Arthur Sasse. At right is Frank Aydelotte, then director of the Institute for Advanced Study at Princeton, with Mrs. Aydelotte at left.
(Arthur Sasse / Magnes Press)