Recipe: Maple bacon biscuits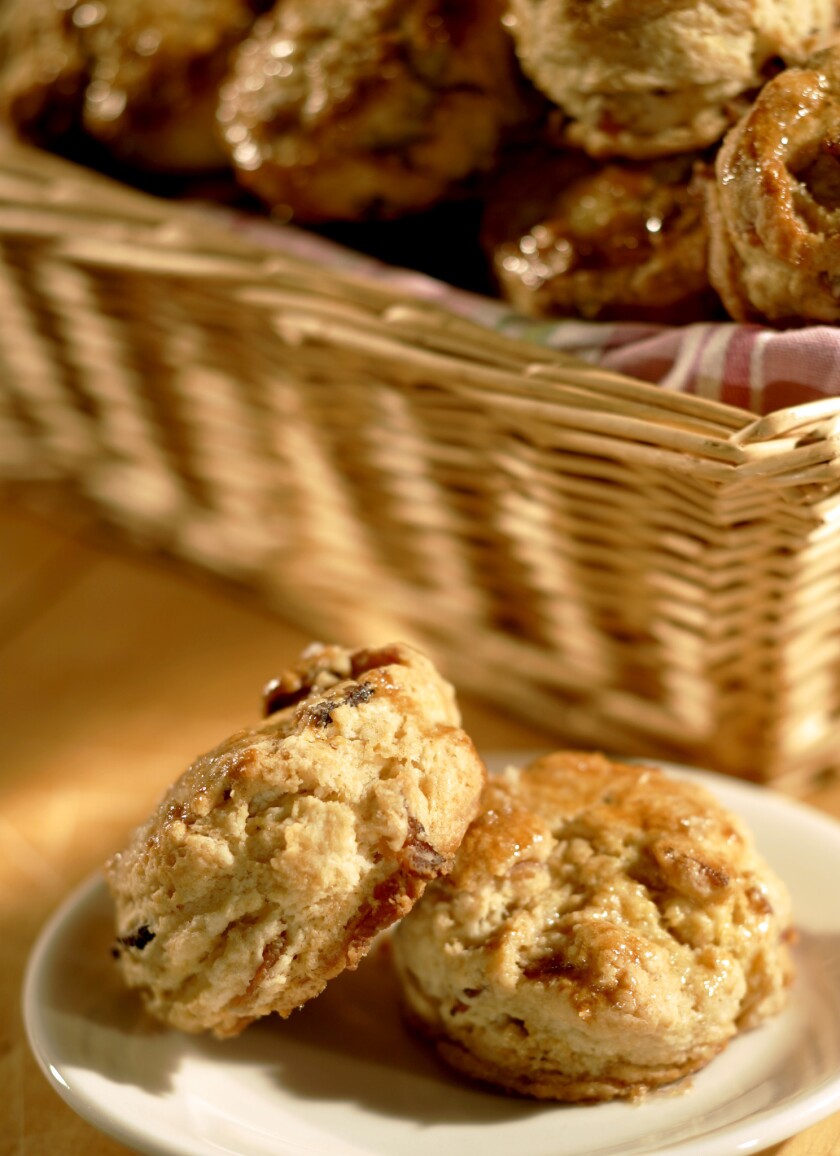 Breakfast is making a comeback in Southern California restaurants -- even in places you might not expect it. Such as at hip Rustic Canyon in Santa Monica, where pastry chef Zoe Nathan makes these amazing biscuits. Made with a full pound of bacon and 1/2 pound of butter, Times restaurant critic S. Irene Virbila calls them "gloriously crumbly." So successful was the meal that it's been canceled -- not for the usual reasons, but because Nathan and Rustic Canyon owner Josh Loeb are opening up a bakery-cafe two blocks away.
Total time: 1 hour, 15 minutes
Servings: Makes 2 dozen biscuits
Note: Adapted from Zoe Nathan of Rustic Canyon
1 pound bacon, cut into 1/2 -inch pieces
3 1/2 cups flour
2 tablespoons sugar
1 tablespoon baking powder
1/2 teaspoon baking soda
3/4 teaspoon salt
1/2 pound (2 sticks) butter, cut into 1/2 -inch cubes
3/4 cup plus 2 tablespoons maple syrup, divided
3/4 cup plus 2 tablespoons buttermilk
1 egg yolk
1 egg
1 tablespoon heavy cream
Fleur de sel
1. In a medium frying pan, cook the bacon over medium heat until cooked but not crispy, 10 to 12 minutes, stirring frequently. Remove the bacon to a paper towel-lined plate or pan, to remove excess fat.
2. In a large bowl, whisk together the flour, sugar, baking powder, baking soda and salt.
3. Using a pastry cutter or fork, cut in the diced butter, until it resembles small peas. Stir in the bacon, then one-fourth cup plus 2 tablespoons of maple syrup and the buttermilk until the dough just comes together (it will still be clumpy). Be careful not to overwork the dough.
4. On a lightly floured surface, gently press or roll the dough to 1-inch thickness. Cut the biscuits using a 2-inch round cutter; you should have 24 biscuits. Place 12 biscuits on each of two parchment-lined baking sheets, spaced 2 inches apart. Freeze the trays just until the biscuits are chilled, about 10 minutes.
5. Heat the oven to 350 degrees. While the biscuits are chilling, prepare the egg wash: In a small bowl, whisk together the egg yolk, egg and cream. Brush the chilled biscuits with egg wash and top each with a pinch of fleur de sel.
6. Bake the biscuits until they just begin to brown, about 25 minutes (you should easily be able to pick the biscuits up off the tray). Remove the tray from the oven. Quickly drizzle 1 teaspoon of the remaining maple syrup over each biscuit, then place the tray back in the oven for 3 minutes more. Serve while still warm.
Each serving: 214 calories; 5 grams protein; 24 grams carbohydrates; 0 fiber; 11 grams fat; 6 grams saturated fat; 46 mg. cholesterol; 607 mg. sodium.
---
The essential weekly guide to enjoying the outdoors in Southern California. Insider tips on the best of our beaches, trails, parks, deserts, forests and mountains.
You may occasionally receive promotional content from the Los Angeles Times.