Recipe: Buckwheat blini with Greek yogurt and strawberries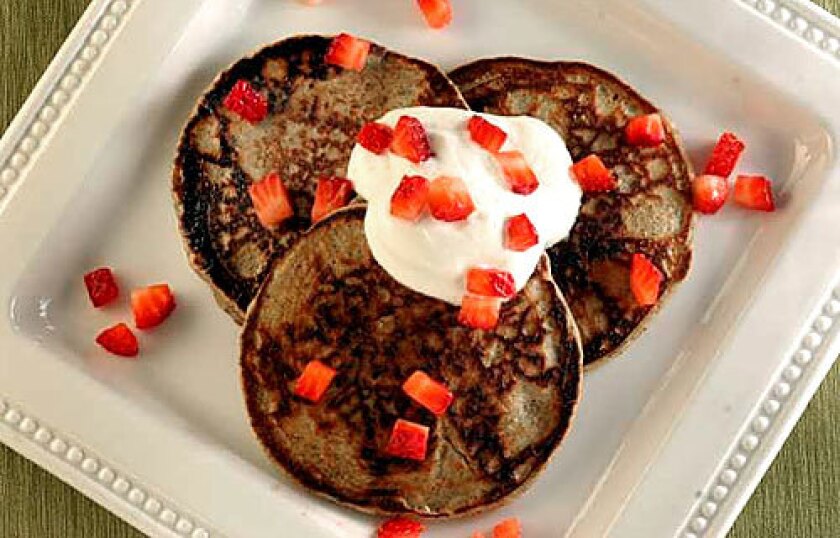 Total time: 45 minutes, plus overnight chilling and 2 hours resting time
Servings: 8
Note: Buckwheat and unbleached bread flours are available at well-stocked supermarkets, and cooking and baking supply stores. Serve with honey on the side, if desired.
1/2 cup buckwheat flour
1 1/4 cups unbleached bread flour
1 teaspoon salt
1 1/2 teaspoons instant yeast
1 cup milk
1 1/4 cups crème fraîche
2 eggs, separated
1 1/2 cups Greek yogurt
1 1/2 tablespoons maple syrup
2 cups fresh strawberries
1. In a large bowl, sift together the buckwheat and bread flours and the salt. Sprinkle with the yeast and set aside.
2. In a small saucepan, stir together the milk and crème fraîche. Heat over low heat just until lukewarm, stirring occasionally. Whisk in the egg yolks, then whisk the mixture into the dry ingredients to form a stiff batter. 3. Cover the bowl loosely with a damp cloth or plastic wrap and refrigerate overnight. Allow the batter to come to room temperature, still covered, one hour before using.
4. Whisk the egg whites to stiff peaks, then gently fold them into the batter with a spatula. Loosely cover the bowl and allow to rise for 1 hour.
5. While the batter is rising, combine the yogurt and syrup in a small bowl. Trim and dice the strawberries into one-half-inch pieces and place in a medium bowl. Cover both bowls and refrigerate until needed.
6. Heat a heavy cast-iron skillet or griddle over medium heat. Lightly butter the skillet. Scoop the batter into the pan, using a 1-ounce ladle or a generous 2 tablespoons. Spread the batter with the back of a spoon to form pancakes 3 1/2 to 4 inches in diameter. Cook the pancakes 1 1/2 to 2 minutes on each side until golden brown and set. Repeat with all of the batter, buttering the skillet as needed, keeping the cooked pancakes warm.
7. Plate three pancakes per serving, topping each with a dollop of sweetened yogurt and strawberries.
Each serving: 293 calories; 11 grams protein; 31 grams carbohydrates; 2 grams fiber; 15 grams fat; 9 grams saturated fat; 79 mg. cholesterol; 355 mg. sodium.
---
The essential weekly guide to enjoying the outdoors in Southern California. Insider tips on the best of our beaches, trails, parks, deserts, forests and mountains.
You may occasionally receive promotional content from the Los Angeles Times.