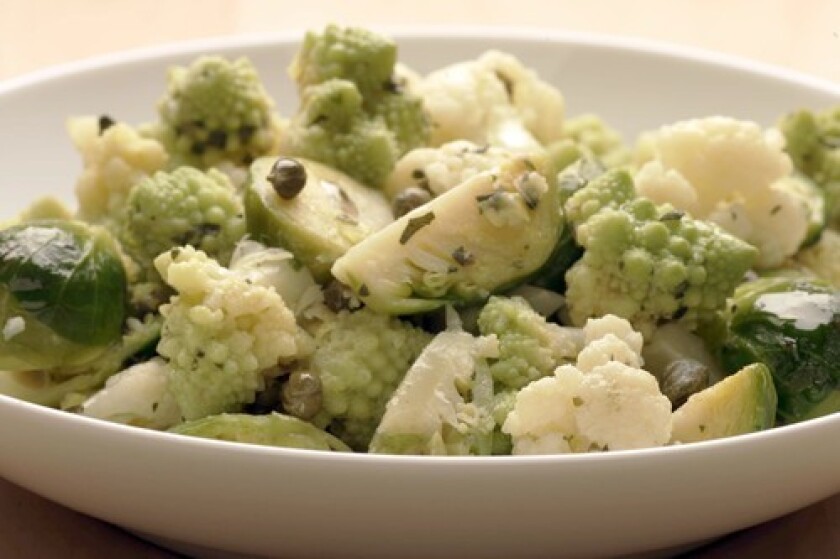 Total time: 30 minutes
Servings: 8
Note: From "Local Flavors" by Deborah Madison. Romanesco cauliflower is available at Bristol Farms and Whole Foods markets, select supermarkets and farmers markets. White cauliflower can be substituted.
2 garlic cloves
Sea salt
6 tablespoons butter, softened
2 teaspoons Dijon mustard
1/4 cup drained small capers, rinsed
Grated zest of 1 lemon
3 tablespoons chopped marjoram
Black pepper
1 pound Brussels sprouts
1 small head ( 1/2 pound) white cauliflower
1 small head ( 1/2 pound) Romanesco (green) cauliflower
1. To make the mustard-caper butter, pound the garlic with a half-teaspoon salt in a mortar until smooth. Stir the garlic into the butter with the mustard, capers, lemon zest and marjoram. Season to taste with pepper. (The butter can be made a day ahead and refrigerated. Bring to room temperature before serving.)
2. Trim the base off the Brussels sprouts, then slice them in half or, if large, into quarters. Cut the cauliflower into bite-sized pieces.
3. Bring a large pot of water to a boil and add salt. Add the Brussels sprouts and cook for 3 minutes. Then add the other vegetables and continue to cook until tender, about 5 minutes. Drain, shake off any excess water, then toss with the mustard-caper butter. Taste for salt, season with pepper and toss again.
Each serving: 108 calories; 2 grams protein; 6 grams carbohydrates; 2 grams fiber; 9 grams fat; 5 grams saturated fat; 23 mg. cholesterol; 281 mg. sodium.
---