Recipe: Ginger chicken soup with baby bok choy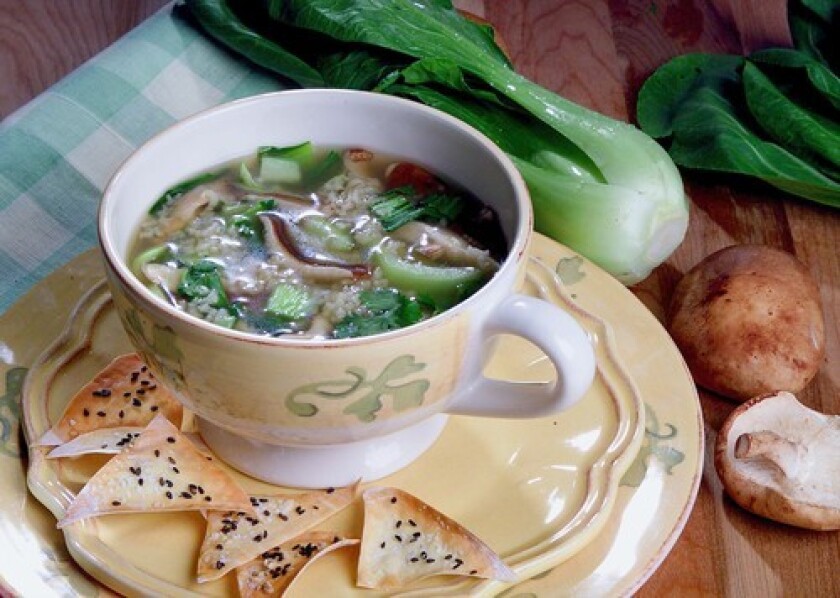 Active Work Time: 30 minutes Total Preparation Time: 1 hour 40 minutes plus 8 hours chilling
3 chicken breast halves, about 1 1/2 pounds
2 (49 1/2-ounce) cans chicken broth
4 slices ginger, about 1/2-inch thick
1 small onion, quartered
3 cloves garlic
1 green onion with top, cut in 3-inch lengths
2 stalks lemon grass, cut into thirds and crushed
1/2 cup rice
1/4 pound fresh shiitake mushrooms, sliced
2 baby bok choy, sliced crosswise
Place the chicken breasts in a 5-quart saucepot along with the broth, ginger, onion, garlic, green onion and lemon grass. Bring to a boil. Reduce the heat, cover and simmer until the chicken is tender, 30 to 45 minutes. Remove the chicken from the broth, let it cool, then cover and refrigerate it overnight. Cover the chicken broth and refrigerate it overnight as well.
The next day, skim any excess fat from the top of the soup. Heat the soup until it's hot, then strain it through a cheesecloth-lined strainer.
Return the strained broth to the pot and bring to a simmer. Add the rice. Return the soup to a simmer, cover and cook until the rice is tender, 15 to 20 minutes.
Add the mushrooms and bok choy during the last 5 minutes of cooking. Remove the skin and bones from the chicken breasts and dice the meat. Place the chicken in a microwave safe bowl or container and heat in the microwave 1 to 2 minutes to warm.
Place the chicken into the bottom of a serving bowl and ladle the soup over the top.
6 servings. Each serving: 212 calories; 95 mg sodium; 62 mg cholesterol; 6 grams fat; 2 grams saturated fat; 7 grams carbohydrates; 30 grams protein; 0.87 gram fiber.
---
The essential weekly guide to enjoying the outdoors in Southern California. Insider tips on the best of our beaches, trails, parks, deserts, forests and mountains.
You may occasionally receive promotional content from the Los Angeles Times.