New branches of Shin-Sen-Gumi, Honda-Ya keep retro spirit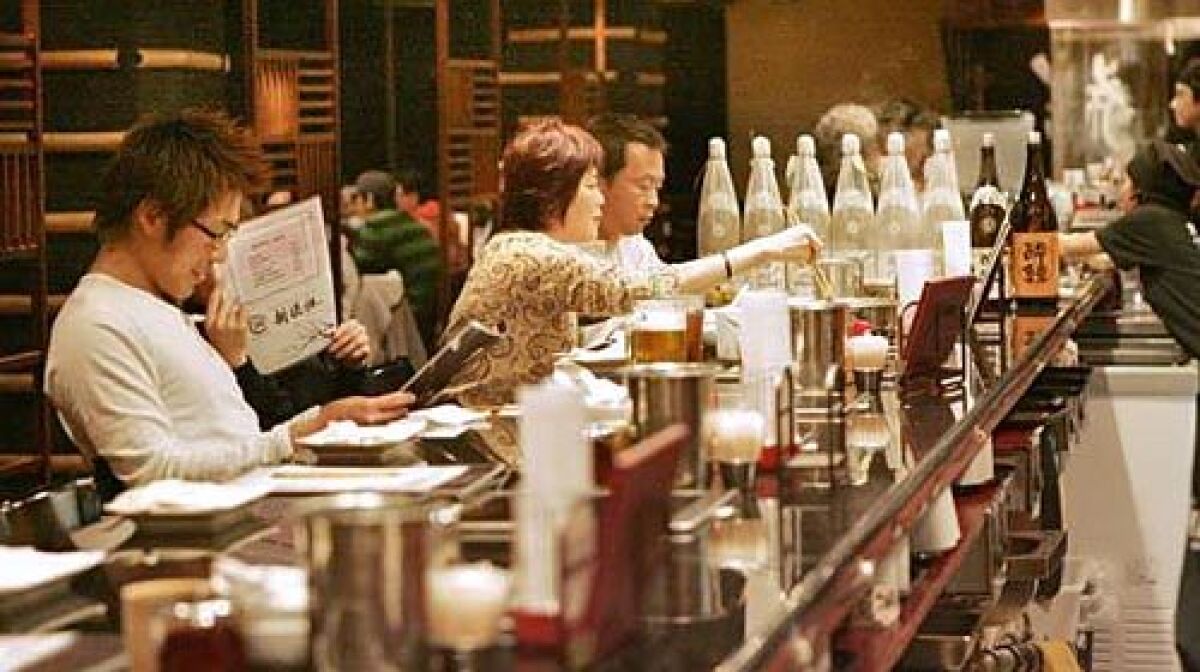 Special to The Times
BONG! Boahhhnnggg, bonggggg! "Haieeee dozo!" Bonggggg.
Thunderous rumblings reverberate from a taiko drum the size of a Honda Civic. The instrument, which sits near the exit of the new Shin-Sen-Gumi in Monterey Park, signals each customer's departure. "Dewa mata nochi hodo!" ("See you later!"), bellows a pack of black-clad employees in unison, bowing low as people leave.
The wacky routine mimics the boisterous throw-your-cares-to the wind ambience of old-fashioned izakaya, Japanese pubs, where male workers loosened their ties, tossed back drinks and downed flavor-packed tidbits.
Newer, hipified takes on these Japanese pubs may boast flashy décor, global cuisine and mango martinis, but there are still a few that aim to preserve the traditional spirit of such places -- ever so slightly tongue-in-cheek.
Shin-Sen-Gumi and, in Little Tokyo, Honda-Ya are wildly successful examples. When the originals opened more than a decade ago, their patrons tended to be Japanese nationals. As the festive fun of eating a bit of this and a bit of that (along with plenty to drink) caught on with a growing and diverse crowd, both places opened additional locations. Recently, each has set up shop in larger quarters.
The latest Honda-Ya brings a cheery spark of life to the third floor of the Little Tokyo Shopping Center. There's a feeling you could be in a Tokyo suburb, maybe because you can stop before dining at the huge Mitsuwa Marketplace on the ground floor to stock up on yuzu and pocky sticks.
Late hours and a long and varied menu make the cozy, rustically decorated spot a wonderful place for a light meal before or after a concert or an art opening. Sit in a booth or, if you're alone, at the rustic communal table in front of the glassed-in kushiyaki bar and watch the cooks turning their skewers at the charcoal grill (the Japanese steak with grilled mushrooms is terrific).
If you reserve one of the tatami rooms, your party can spend an evening hanging out and comparing sake styles or experimenting with the various sojus made from barley, rice or sweet potato.
Some dishes on the vast menu -- tempura-fried wieners come to mind -- may be popular in Japan, but more widely appealing are such classic items as sautéed eggplant in miso sauce, garlic greens with bacon and stewed pork buta kakuni.
One evening, deep-fried oysters are lightly crisp and briny within and siu mai (dumplings) made in a lighter Japanese style, are delicious. The scallion pancake and Hawaiian poke salad with sesame-anointed tuna cubes vanish quickly. Sushi, a nontraditional izakaya offering, is available, but it's just average.
The new Shin-Sen-Gumi, despite the cornball antics of its staff and the funky rough-around-the-edges vibe of its other yakitori restaurants, is in an attractive wood-paneled space with sophisticated décor that walks a line between contemporary and countrified.
There's a long, elegant counter fitted with individual burners for shabu-shabu, which here is no mere sideline. It's based on beautifully, lightly marbled "American Wagyu" beef and is best with the udon "set."
On one visit, our waiter prepares ours by adding dabs of hot chile-yuzu paste to the beefy broth, then cracking in an ultra-large egg from cage-free vegetarian-fed chickens, the menu says, but regardless, one of the most delicious eggs available anywhere.
The chefs, groomed at other Shin-Sen-Gumi branches, turn out yakitori that's consistently perfect. Small plates, including a simple dish of warm house-made tofu with sour plum dressing, crisp-crusted crab croquets and baby greens with vegetable chips, are faultless.
Servings of fried chicken chunks, spicy stir-fried shrimp with eggplant and a very Euro-style dish of steamed mussels in white wine keep things interesting.
Emblematic of what many foodies love about our city, Shin-Sen-Gumi and Honda-Ya import the true taste of another country and its culture to a spot right around the corner. What could be more satisfying?
Honda-Ya
Location: 333 S. Alameda St., Little Tokyo Shopping Center, No. 314, L.A., (213) 625-1184.
Price: Yakitori, $1.80 to $4.50; small plates and noodles, $3 to $9; entrees, $11 to $13.
Best dishes: Yakitori, Japanese steak with mushrooms, stewed pork buta kakuni, deep-fried oysters, Hawaiian poke salad.
Details: Open from 5:30 p.m. to 1 a.m. Tuesday though Sunday. Lot parking. Beer, sake, soju. Visa, Mastercard.
Shin-Sen-Gumi
Location: 111 N. Atlantic Blvd., No. 248, Monterey Park, (626) 943-7956; www.shinsengumiusa.com.
Price: Yakitori, $2.25 to $3; shareable shabus, $20 to $40; small plates, $3 to $12.50.
Best dishes:Shabu with udon "set." Yakitori, warm tofu salad, stir-fried shrimp.
Details: Open for lunch from 11:30 a.m. to 2 p.m. and for dinner from 6 to 11 p.m., Monday through Friday and 11:30 a.m. to 11 p.m. Saturday and Sunday. Lot parking. Beer, wine, sake, soju. Visa, MasterCard.
Get our L.A. Goes Out newsletter, with the week's best events, to help you explore and experience our city.
You may occasionally receive promotional content from the Los Angeles Times.