A honey of a dessert idea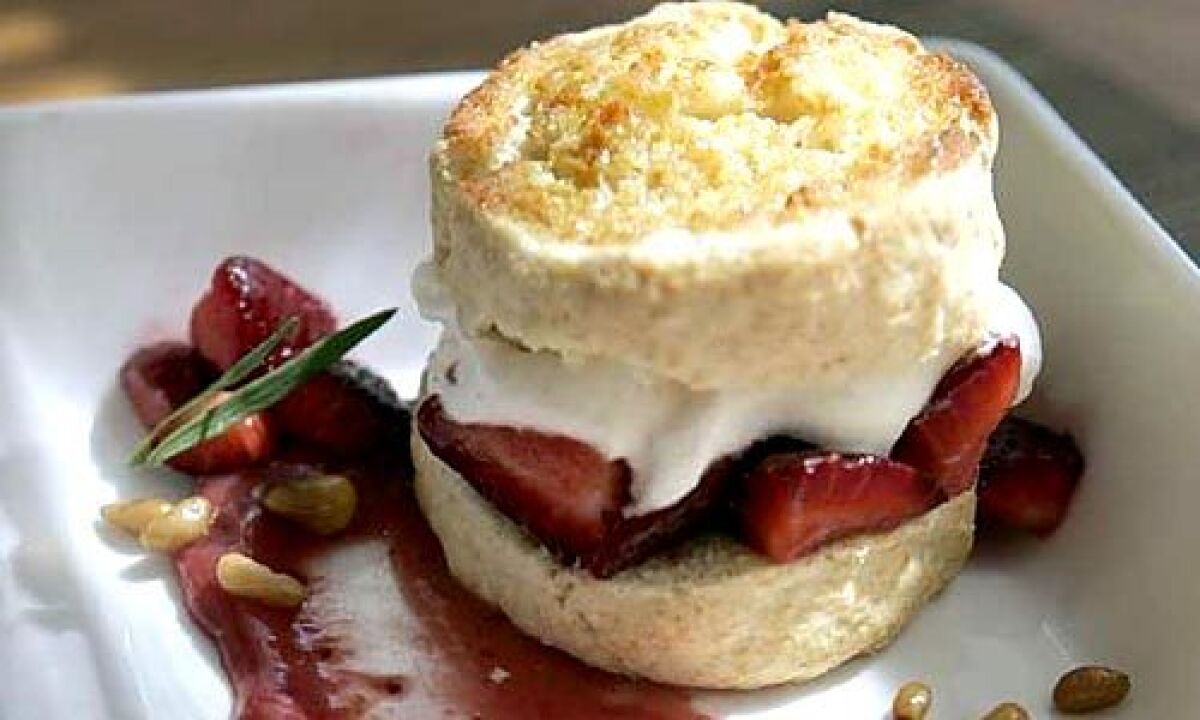 Special to The Times
DAYS spent lolling around the blooming fields of lavender and wild sage and hanging out in the fragrant orange orchards. A pause on the way home to lick sweet nectar from honeysuckle blossoms. A session in the home office, transforming the day's take into glistening, flower-scented syrup. It's a good time of year to be a honeybee.
And it's an even better time for tasting the honeyed creations of Los Angeles-area pastry chefs. Acacia honey sweetens a shimmering panna cotta with blood oranges at Lucques in West Hollywood. Lavender honey flavors the pillowy bavarois (Bavarian cream) spooned over pistachio cream cake at nearby Sona. Wildflower honey captures the countryside spirit of a goat cheese and apple tart at Santa Monica's Rustic Canyon, and orange blossom or wildflower honey brings a homey note to honey-glazed strawberry shortcakes with honey and pine nut gelato at Century City's Craft.
"Honey has a complexity and depth of flavor you don't get with sugar," says Breanne Varela, pastry chef at Lucques and AOC restaurants in West Hollywood. "Sugar lets you show off another ingredient, maybe chocolate or fruit, but when you use honey as a sweetener, it's the honey you're showing off."
To highlight honey's complex flavor in a show-stopping dessert, first you must choose from among the hundreds of varieties available. Unlike typical "pure" honeys (cultivated mild honeys blended for their nondescript flavor) available at most supermarkets, "free-range" honeys, as it were, have distinct personalities, each reflecting the flower nectars and the bees' geographic territory.
"Orange blossom honey from one farm is going to taste different from another farm's orange blossom," explains Sona pastry chef Ramon Perez.
That range of flavor is what makes honey so alluring to pastry chefs. Lighter honeys such as acacia and star thistle have a more subtle honeysuckle-like flavor that shines in simple, creamy desserts that won't overpower its delicate flavor (think ice cream, panna cotta, crème brûlée). Molasses-colored avocado and buckwheat honeys lend a buttery sweetness when drizzled over pungent cheeses such as Gorgonzola or when baked into earthy dried fruit-nut breads and cookies. Perez's favorite, orange blossom (a generic name for any citrus blossom honey), ranges in color from light to golden amber, with a mild or piquant citrus perfume. It all depends on the wanderlust of the honeybees.
At Rustic Canyon, pastry chef Zoe Nathan prefers wildflower honey (honey made from any combination of wildflowers), such as wild sage blossom, in her honey goat cheese tart with Pink Lady apples. Baked into pastries it lends depth and a golden hue; drizzled on top it adds a lilting floral perfume.
"I like to cook with honey first, then drizzle a little more on before serving so you get a double hit -- a subtle sweetness and caramelization from baking and a raw, fresh flavor when you drizzle it on top," Nathan says.
To give the honey goat cheese filling a silky texture, she uses creamy wildflower honey. Creamy honey, also known as whipped honey, is natural honey that has been prematurely crystallized (most honeys naturally crystallize with age or temperature changes) to create tiny interlocking crystals and a dense, whipped cream-like texture.
To make the tart, roll the crust and drape it into a pie pan, leaving the edges untrimmed. Mound the filling, a luxurious combination of crumbled goat cheese, tangy Pink Lady apples sautéed in brown butter, and dollops of creamy wildflower honey, in the center and fold the edges of the dough inward. You'll need to freeze the entire tart before baking (the biscuit-like dough is rich with butter, so freezing helps maintain its shape) and bake until the honey begins to caramelize along the edges of the golden brown crust. Resist the urge to dive into the tart before it's completely cool -- the juicy filling needs time to fully set up -- but get your wooden honey dipper ready to plunge into the honey pot for one last drizzle of wildflowers on top.
Wildflower honeys have a wonderfully vibrant perfume, but some desserts are better suited to lighter honeys. One light honey in particular is prized for its fluid, viscous quality as much as its ethereal, honeysuckle flavor.
"Acacia honey has a milder flavor than most honeys and isn't quite as sweet, so it lends a more subtle flavor, more a hint of honey," says Craft pastry chef Catherine Schimenti.
And its consistency is almost liquid, so it's easy to stir into creamy desserts or brush on top of baked goods. Schimenti brushes her honey shortcakes with acacia honey not once but twice, first before baking to give the tender cakes a golden glaze (honey caramelizes more quickly than sugar), and then after for a dewy fresh flavor.
To serve the shortcakes, tuck sliced strawberries between the tender honey biscuit halves and top with a dollop of sweetened crème fraîche. You could stop here, but add a scoop of toasted pine nut-wildflower honey gelato and the dessert becomes a scrumptious study of honey's versatility. The shortcake, lightly kissed with acacia honey, suggests a glimmer of its delicate floral roots; the nutty gelato is bursting with fresh-picked wildflowers.
At Lucques, pastry chef Varela takes a more restrained approach, stirring the acacia honey into a mixture of heavy cream, crème fraîche and a touch of gelatin. You can make the panna cotta up to a few days before you plan to serve (it takes less time to prepare than it does to wash the honey from sticky measuring cups), and chill until ready to serve. Turn the shimmering custard onto a plate, fan a few blood orange sections beside it for a crimson-colored tang, and drizzle with acacia honey.
---
Life is stressful. Our weekly mental wellness newsletter can help.
You may occasionally receive promotional content from the Los Angeles Times.