Chef José Andrés comes to conquer L.A. with the Bazaar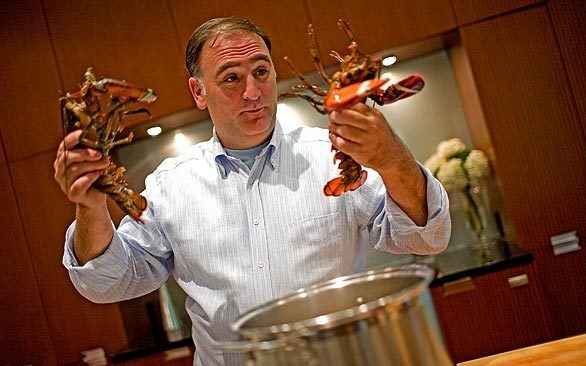 Chef José Andrés faces off with two lobsters before they go into the pot for his lobster and potatoes dish in his home in Bethesda, Md.
(Joshua Roberts / For The Times)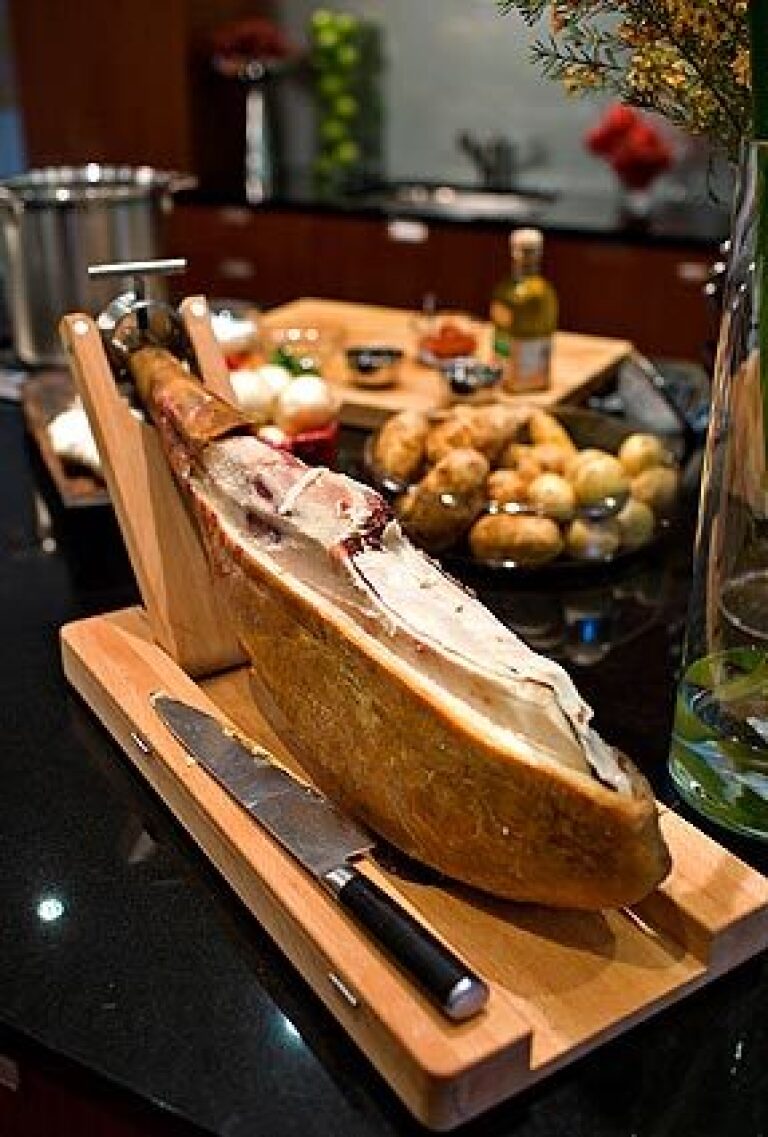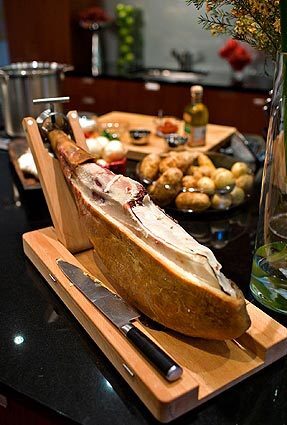 A Spanish ham used by chef José Andrés for his meal.
(Joshua Roberts / For The Times)
Potatoes, olive oil and Spanish paprika used by Andrés for lobsters with potatoes.
(Joshua Roberts / For The Times)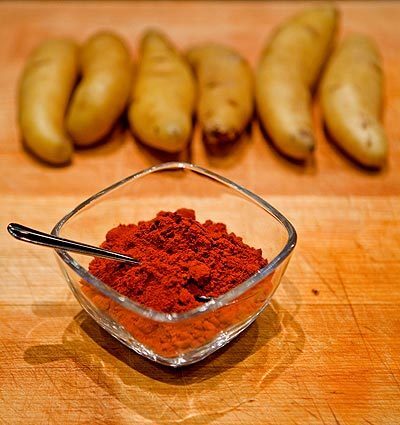 Potatoes and Spanish paprika used by Andrés for his dish.
(Joshua Roberts / For The Times)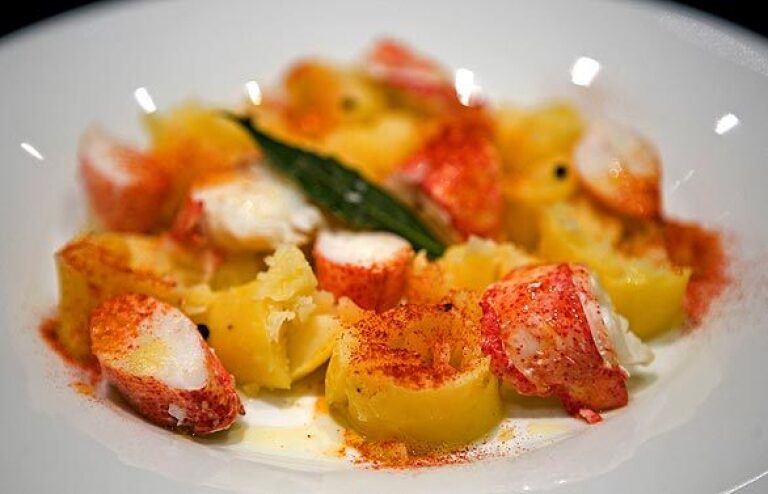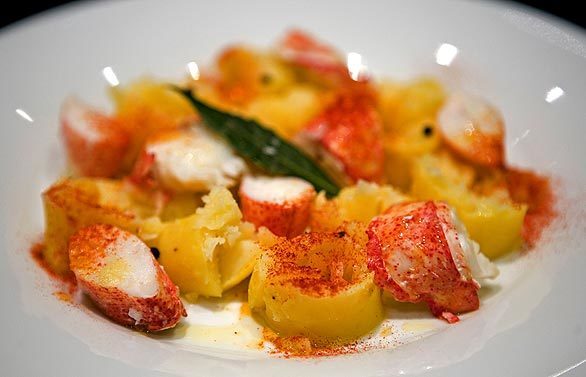 José Andrés' lobster and potatoes dish.
(Joshua Roberts / For The Times)
Chef José Andrés is chef-partner of seven restaurants in and around Washington, D.C., and stars in his PBS-aired cooking show, "Made in Spain." His Los Angeles restaurant —the Bazaar at the new SLS Hotel at Beverly Hills — is expected to open in November.
(Joshua Roberts / For The Times)
Los Angeles Times Staff Writer
JOSÉ ANDRÉS, always charming, is the life of the party at a soiree in the Hollywood Hills, and guests are circling around him next to the infinity pool. Chef Andrés is scooping caviar onto slices of jamón ibérico (ham from the black-footed pigs of Spain), rolling it up and placing it directly into their mouths.
"I'm feeding you one bite at a time," Andrés tells the small crowd. It's a line he uses often. Who knew he meant it literally?
---
FOR THE RECORD:
Chef Jose Andres: An article in today's Food section about Spanish chef Jose Andres states that "Spain . . . On the Road Again" is a new PBS show; actually, it is distributed by American Public Television. —

---
---
FOR THE RECORD:
Recipes: Recipes that accompanied Wednesday's article in the Food section about Spanish chef Jose Andres should have included more information. The Galician lobster and the apple and fennel salad recipes were developed by Andres. The olive oil pancakes were developed by Andres and published in the cookbook "Made in Spain." —

---
Andrés, bright-blue-eyed and often dressed in an untucked button-down shirt and khakis or jeans, has, with his restaurants, TV show and cookbooks, helped bring a Spanish culinary revolution to the U.S. in the last 15 years -- and he's busier than ever feeding people. Says Sam Nazarian, the host of the party and chief executive of SBE, the company behind Andrés' coming L.A. restaurant: "I've had a harder time chasing José than chasing women."
Already chef-partner of seven restaurants in and around Washington, D.C., Andrés has recently returned from the Canary Islands, where he taped the final episode of the second season of his PBS-aired cooking show, "Made in Spain." His third book, "Made in Spain: Spanish Dishes for the American Kitchen," hits the shelves in November, the month his L.A. restaurant -- the Bazaar at the new SLS Hotel at Beverly Hills -- is expected to open.
It's an exuberant experiment in dining, located in the public space of the 11,500-square-foot hotel lobby, with several whimsical dining areas: a cocktail bar and raw bar, a space featuring his tapas as well as cured meats and cheeses, a "patisserie" with a display kitchen and a roving "street food" cart. "Who needs one more chef in one more building with four walls and a kitchen?" Andrés asks.
"I'm bored with the system of it. I want people to be able to move around, not feel chained at a table," he says, sitting down to lunch at Gordon Ramsay at the London West Hollywood (he's starting to look uncomfortable squeezed into a circular banquette in the middle of the dining room). "I want energetic, unpretentious, fun."
Diving right in
THOSE ARE the same words that describe Andrés, who often punctuates his sentences with "amiga" or "amigo" and is a bit of a daredevil, a bullfighting fan not afraid to battle a big wave or two for gooseneck barnacles.
He and Nazarian, a nightlife impresario who has successfully marketed the Katsuya chain of slick sushi restaurants (among others), "were meant for each other," says Andrés, whose title is culinary director and partner of SLS Hotels. They have in common unbridled ambition.
The SLS Hotel at Beverly Hills is a reportedly $230-million project, and more hotels are planned for Las Vegas, Miami and beyond. The hotels, the restaurants, the clubs -- all seem to promote what a brand manager might call "the SBE lifestyle."
But Andrés insists the Bazaar, designed by Philippe Starck, "isn't gimmicky." It might be exactly the way people want to eat right now -- a little of this, a little of that, with a lot of entertainment factor.
SBE also is opening XIV in West Hollywood next month, a venue for chef Michael Mina and yet another Starck-designed restaurant -- the theme is a European château.
Andrés, who was born in the Asturias province of Spain and grew up in Barcelona, opened Jaleo tapas restaurant in D.C.'s Penn Quarter in 1993 after stints at a couple of less successful restaurants in New York.
"When I would tell people I work in a tapas place -- I don't know if it was my accent -- they would think topless. . . . Everyone would look at me very weird," he said during an appearance on "Late Show With David Letterman" a couple of years ago. But now "Spanish cooking is very hot and everyone is eating, reading Spanish things." Nobody thinks he's working in a topless place.
Andrés and his partners, under the name ThinkFoodGroup, have two more Jaleo restaurants, Café Atlántico (with a nuevo Latino menu), Oyamel (Mexican) and Zaytinya (eastern Mediterranean), all in the D.C. area.
Minibar is his six-seat restaurant on the second floor of Café Atlántico. There he unleashes his most creative culinary techniques -- a deconstructed glass of white wine (white wine gelée dotted with flavor components such as a mint leaf, lemon zest or vanilla bean seeds), salmon-pineapple "ravioli" with crispy quinoa, a saffron gumdrop in an edible wrapper -- the meal orchestrated in a series of "bites."
There's no doubt that Andrés, 39, a onetime crew member of a four-masted schooner ("the most beautiful ship in the world") who studied cooking at Barcelona's Escola de Restauracio i Hostalatge and worked for Ferran Adrià at El Bulli, is a busy man. "I'm in meetings all day, about the Bazaar and other projects, testing new recipes all day, talking to key members of my team, trying to get the new system up and running, finalizing the opening menus," he says.
Chef or TV star?
HE'S HARDLY an in-your-face Food Network type of chef -- but in Spain, he can't walk down the street without being asked for his autograph, thanks to his Spanish prime-time cooking show, "Vamos a Cocinar." He taped more than 200 episodes of "Vamos" in three years beginning in 2005 but is no longer doing the show.
"My wife said, 'If you want to be a chef, we stay in Washington. If you want to be a TV star, we go to Spain.' " He's staying in Washington, with trips to L.A. to help oversee the Bazaar, as well as other restaurants in the hotel -- the more intimate Saam and the guests-only 3 Meal.
He did return to Spain last month for a vacation, spent in a beach town in the south (with a side trip to see bullfighter sensation José Tomás in the ring). "I had visits from my best friends. Ferran Adrià and Juan Mari Arzak [of Arzak in San Sebastian] came for five days -- we spent all day shopping, all day cooking."
But he also fit work in ("I get bored of vacation"), traveling to the Canary Islands for "Made in Spain," a vehicle for his enthusiasm for Spanish ingredients. The next season will air on KCET beginning Oct. 4.
"I was cooking on the top of a volcano, can you believe that? . . . They make this amazing wine there, [the grapes grow] on top of volcanic dirt. I went fishing for a very special fish -- they call it la vieja, it means old woman -- it's like a parrot fish, very unique in the Canary Islands, and they make a unique stew, with water and the liver of the fish. . . . And did I tell you -- I rode a camel!"
That's unbelievable!
DURING lunch at Gordon Ramsay, Andrés spoons into an amuse bouche of chawan mushi (Japanese savory custard), finishes it off in a couple of bites and looks at the empty cup: "An English chef comes to Los Angeles and is cooking Japanese food. Incredible!"
To full-of-life Andrés, much of the world is incredible . . . or unbelievable . . . or astonishing. "My producer [of "Made in Spain"] told me, 'José, you say astonishing too much. Stop saying astonishing.' But I say, it is astonishing."
He's so animated and excitable when he talks on the show that once in awhile it's difficult to understand exactly what he's saying -- but even if you don't catch the words, the meaning comes across in his zeal. But when the waiter comes to the table to take his order for an after-lunch macchiato with a side of steamed milk, he makes sure he's not misunderstood -- "I want steamed milk, not skim milk," he emphasizes.
Others are following in Andrés' public-television footsteps. "Spain . . . On the Road Again" is a new show featuring Mario Batali (an Italian chef) with Gwyneth Paltrow (who doesn't eat pork!).
The cookbook "Made in Spain" highlights the ingredients for which Andrés is such an ardent spokesman, in recipes such as: padrón peppers with Tetilla cheese; olive oil pancakes studded with Spanish chocolate; nectarines and anchovies with Pedro Ximénez dressing. The recipes are straightforward, with the occasional "spherification" instruction (using alginate to make yogurt spheres, for example), with Andrés' notes on background and ingredient sources.
The menu for Bazaar leans toward the Minibar-type: oysters with lemon "air," salmon tartare smoked á la minute, shrimp cocktail on a pipette (you eat the shrimp from the pipette and then squeeze the sauce into your mouth).
Andrés is a fanatic about fruits and vegetables ("Man, the flavor of a pineapple is 100 times more powerful than the flavor of meat."); Bazaar offers dishes such as sweet peas "spherification," melon with almond foam and spaghetti made of carrots.
Also on the menu: a "nitro caipirinha" cocktail; caviar served with steamed buns; ibérico ham sliced to order; and dragon fruit with lemon "air."
And the foie gras cotton candy? Cotton candy -- it's what Andrés calls the "most amazing form of caramelization ever made by man."
You might even call it astonishing.
---
Life is stressful. Our weekly mental wellness newsletter can help.
You may occasionally receive promotional content from the Los Angeles Times.